Russell Westbrook's Family Has a Big Influence on His 'Why Not' Campaign
Russell Westbrook's "Why Not?" slogan is more than just a way of life.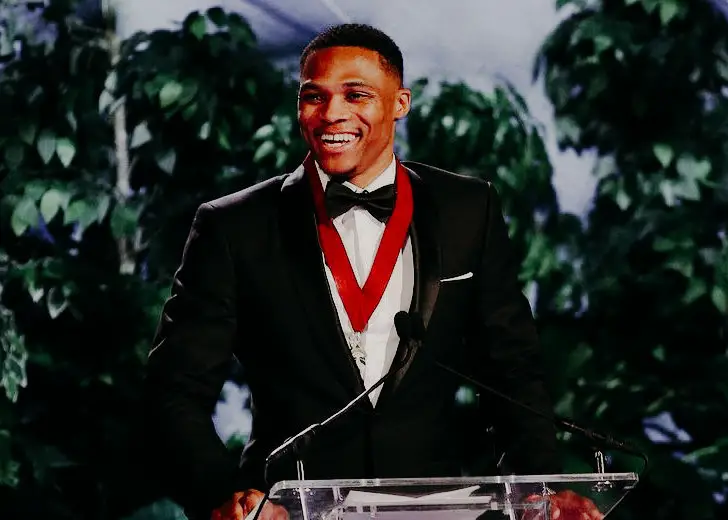 Have you ever wondered why Russell Westbrook uses the "Why Not?" slogan?
Westbrook's motivational phrase is a way of life, and the confidence-boosting expression has helped him in his ascend in the NBA. The basketball star shared the message far and wide until it became a lifestyle to inspire people to believe in themselves.
He wears the slogan on his clothing and writes it on his signature Jordan brand line Why Not? shoes and explained that it is a mindset that he lives his life by, and it defines how he plays, dresses and how his signature products come to life. 
He wants to inspire children worldwide to think, 'Why not me?' and help them activate personal growth that the naysayers have hindered. 
Westbrook Is Most Influenced by His Family
Westbrook is not the only one empowered by the motivational tagline. He has gotten his entire family behind the motto because they were the ones that influenced him while growing up and helped achieve his NBA dreams. In honor of their support, he dedicated The Family colorway to them. 
He switched things up with black and white for his The Family colorway instead of his usually colorful signature look. The shoe represented his family being there for him throughout his hardship before all the bright lights and accomplishments. 
He revealed he asked his mother for outfit advice until today because she was his style icon and always encouraged him to be unique. The idea of putting a size tag on the outsole rather than inside the shoe, rather than inside, was inspired by his mother's support. 
As a father himself, he used his parents' blueprints to raise his own children. "She and my dad are my role models, and they taught me to put family first," he adds. He also expressed his gratitude to his younger brother, Ray, who has been an inspiration to him throughout his life. 
On Raising His Own Family
Apart from being influenced by his family and honoring them, Westbrook is busy taking care of his own family. The former NBA MVP and wife Nina Westbrook are parents to three adorable children — including twin girls. 
However, spending time together is not always easy, especially since Westbrook is away most of the time for the NBA championships season. Nina admitted that while taking care of 3 young kids is challenging, she had her tricks.  
In an interview with E! News, Nina shared her strategies. She revealed she kept their kids busy, so their days comprised of swimming lessons, arts and crafts, and plenty of playtime in their backyard. 
The couple also ensured Westbrook's presence is felt with FaceTime. She explained that they have breakfast together through FaceTime, which their kids enjoy. She thanked Westbrook for never missing in on the family time and kept the communication going. 
During his offseason, the NBA star spends quality time with his kids, evident from his wife's frequent Instagram clips, where Westbrook is seen spending time with his children and traveling together as a family.