ESPN's Nicole Briscoe ETERNALLY Married With Husband! Pregnant, Family, Salary Details
Only a few are lucky enough to be blessed with a lovely marriage. Nicole Briscoe is one of the lucky few, who have been blessed with a loving husband. Whats more, the bond between the two is showing no signs of loosening and the love between the two is growing with every passing minute.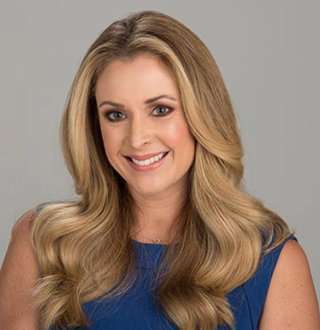 Nicole Briscoe is one of the few lucky ones who has been blessed with a loving husband. What's more, the bond between the two is showing no signs of loosening and the love between the adorable couple is growing with every passing minute. 
The 37-year-old reporter is the anchor of ESPN's flagship show SportsCenter. Before the show, she was involved in a racing program and hosted various NASCAR related shows in the network. 
Just Kidding: Nicole Briscoe gets pranked by American basketball player Jay Williams on air on ESPN (Published on 1 April 2018)
You May Also Like: Is Beth Mowins Married & Lesbian? Personal Details - Gay, Partner, & More
Nicole, with the height of 5 feet and 7 inches (1.7 m) became the first runner-up in the superior version of the pageant Miss Illinois USA 2001.
Nicole Briscoe Paved Smooth Career Path
Born on 2 July 1980, in Wisconsin, Nicole is a Roscoe Illinois native. Her first appearance in the TV was during the beauty pageant Miss Illinois Teen USA 1998, a competition which she won. 
After graduating from Northern Illinois University, the beautiful presenter chose to pursue a career in media and landed her first role as a reporter with WREX-TV. After a year with WREX, she joined another local TV channel WANE-TV as a general assignment reporter. A year later, she moved into WISH-TV. It was with WISH-TV that she got her first experience of a sportscaster. 
The experience whetted her appetite and joined Charlotte-based Speed Channel. At the channel, she co-hosted the show The Speed Report, a motorsport related program. 
After working for two years with the channel, she joined ESPN in 2008 as a host for various NASCAR shows. During a six-year spell, she hosted NASCAR Countdown and NASCAR Now along with pre-race shows. In 2014, she moved to SportsCenter as an anchor, a position she holds till now. 
The association with ESPN has not only made her a household name in the broadcasting industry but also been beneficial to her financially.  As one of the most prominent female sportscaster in business, she commands a salary higher than 100Ks which is the average base salary for anchors associated with ESPN. 
Nicole Looked Back On Her Career Of 20 years
It was in September 2018 that Nicole was the keynote speaker during an event that celebrated a group of four local sports figures with another edition of Sports Stories that was held by the Rockford Area Convention & Visitors Bureau.
Read Also: ESPN's Ryen Russillo Status - Mystery Girlfriend Turned Wife, Explicit Detail
She started off with stories of how she had gotten her career off the ground in Rockford. 
I'm not me without the push that I got, right here, 20 years ago. I learned to never say never. It's the foundation that I got right here that gave me that.
The audience held 140 people with members of her family, some of her former school teachers and a few past co-workers from WREX. And Nicole nearly teared up multiple times as she spoke to the crowd on several facets of her professional life and her world outside the ESPN studio.
While she was talking, pictures of her two young daughters flashed across the monitor screens and Nicole could barely hold in her tears as she concluded her speech with the gratitude she shared with the people.
Nicole Lives Serene Life With Family, Love For Ever
Nicole was married to IndyCar racer Ryan Briscoe in 2009, and the couple has two children together, both daughters.
The beautiful TV persona is active in social media and regularly flaunts her family in her Instagram. In June 2016, she posted a picture with her eldest daughter in Instagram where her pregnant baby bump was apparently on display. A month later, her husband announced that Nicole had given birth to another baby girl and both mother and the daughter were doing fine after the pregnancy. 
The family of four, with both spouses related to racing in some capacities, are living their blissful family life to the fullest. Not only Nicole but her husband, Ryan is also very vocal in flaunting his family life on Instagram. And reflecting on their Instagram, whose walls are adorned with intimate family moments, the couple's relationship is in a lovely state. 
After her promotion to SportsCenter in 2014, Nicole spoke to USAToday and explained that despite the considerable amount of travels the loved-up husband and wife had to undergo, they still managed to find time for each other. She also claimed the success of their marital life was understanding the situations both were in and acting accordingly. 
You Don't Want To Miss: Yvonne Orji Wiki: From Age, Height, Parents To Dating Analyst Boyfriend | Bio Tells
The couple's love was on display on their eighth anniversary on 20 December 2017 where both husband and wife took on Instagram to shower each other with affection. The dotting husband wrote that he was the luckiest man alive to have found such a beautiful and loving wife.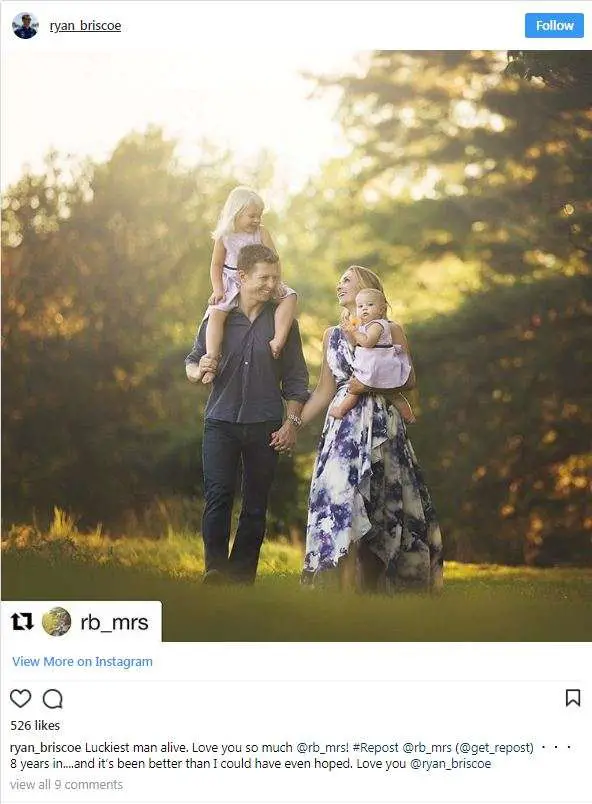 Perfect Frame: Nicole Briscoe with husband Ryan and daughters celebrate eighth marriage anniversary (Photo: Ryan Briscoe's Instagram)
The loving wife returned the favor saying the eight years had exceeded the expectations she had from her marriage. 
Despite having spent close to a decade with each other and two daughters to show from their association, their romance shows no signs of slowing down.