Could Lautaro Martinez Be The Player To Lead Barcelona After Messi Retires?
Lautaro Martinez is FC Barcelona's top target for the coming summer transfer window. Looking at his stats and also his playing style, couple with his age and the impact he could have on other players in the team, Martinez could be the guy to lead FC Barcelona's attack after Messi's retirement.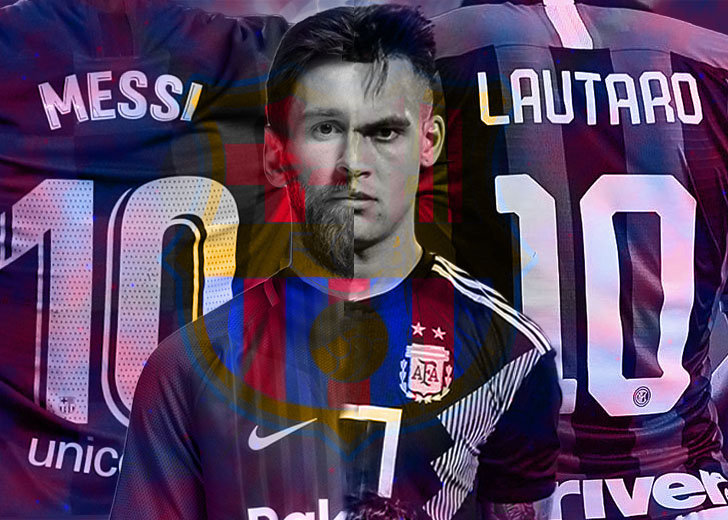 FC Barcelona are very lucky to have Lionel Messi playing for them. He has been at the club for more than 20 years, and in that time, he has gone from being a La Masia graduate to being one of the best players in the history of the game. However, Messi is now 33 and his playing days are almost over. And FC Barcelona will need someone to continue scoring goals for them after Messi's retirement.
This is where Lautaro Martinez comes in. The Argentine has been touted by the club and fans alike to be the immediate and perfect replacement for Luis Suarez, who is also 33 years old. However, the club might not have targeted Martinez just for the immediate future, but also for the long-term future.
Martinez, who is enjoying his best yet season at Inter Milan, does have the quality and the attributes required to be an immediate success at the club. However, could he also be the player to lead Barcelona's attack and the team in general after Messi retires? Here, we analyze all the aspects of the 22-year-old that could help him take on the mantle of Messi and become the next leader of FC Barcelona.
Reasons Lautaro Martinez Could Be The Next Big Player for FC Barcelona
Age
At just 22, if Lautaro Martinez signs for FC Barcelona in the next transfer window, he could play for the club for a long time. This is one of the main factors why FC Barcelona are so adamant to sign him.
He basically has his whole career ahead of him, and if a team is built around him at the club just like it was for Messi, he could go on to lead the team's attack for at least the next ten years if he chooses to remain at the club.
Playing Style
Martinez's playing style is another major factor for him becoming FC Barcelona's top target for the coming summer transfer window. He has been praised by many to have the qualities to become a perfect striker for Barcelona.
Nicknamed "El Toro" which means 'The Bull' in Spanish, the nickname fits Lautaro very well. He has everything a striker would need; incredible physique, power, and pace. However, it's not only his physical attributes that make him good; it's his mental prowess, too. Martinez has excellent off-the-ball movement and positioning, qualities that are a must for any striker that wants to play for FC Barcelona.
These movement and intelligent runs are crucial because FC Barcelona usually face low and deep blocks from the opposition. These movements are essential to break down the opposition defense.
Another quality that he has and an FC Barcelona striker needs is the ability to perform hold-up play with your back against the goal and the ability to drop deep to create space and confusion. If we take Suarez as an example, he has all these qualities. And so does Lautaro, justifying the comparisons between him and Suarez.
Lautaro spends much of his time in and around the opposition penalty box, as shown in the heatmap below, another trait that he shares with Suarez. This makes him a near-perfect replacement for Suarez as the Uruguayan has lost reasonable pace and movement as he has aged, especially in the last three seasons.

Comparison between heatmaps of Lautaro Martinez and Luis Suarez during the 2019-20 season (Photo: Total Football Analysis)
Messi himself has recognized the similarities between Martinez and Suarez. During an interview with Mundo Deportivo in February 2020, Messi confided that he saw many similar qualities between Suarez and Martinez, and also (jokingly) said that he wished Martinez could join the club so that they could fight for the Champions League.
So, his playing style is one of the reasons why he could be a long-term success at the club.
Stats And Expected Stats
All the qualities mentioned above mean nothing if they don't translate into statistical results on the field. Fortunately for Martinez, he has the stats to back up the claims about his quality.
According to figures obtained from FBref, during the ongoing 2019-20 season, Martinez has scored 17 goals and provided 4 assists in 35 matches for Inter Milan. This includes 2 penalties and 5 goals in the Champions League.
17 goals in 35 matches might not seem like much at first, but if we take into account his expected stats, it seems a little more impressive. Lautaro has expected goals of 15.8 and non-penalty expected goals of 13.5 this season. This means that Martinez has overperformed his expected stats for goals. The story is similar with assists as he has 4 assists up until now when he has 3.4 expected assists, meaning he's overperforming on assist count as well.
On the possession side of things, he has 206 touches inside the opposition's penalty area, and 61.1% dribble success rate completing 44 out of 72 attempted dribbles this season until now.
Lautaro is equally effective when the opposition have the ball. Pressing and intercepting is an important part of football in Barcelona and Martinez is very good at that part of the game. According to Total Football Analysis, he boasts around 2.4 interceptions per 90 and wins 33.8% loose ball duels that he engages with this season.
There are a lot of matches left to play this season, with 13 games left in the Serie A and bulk of matches in the Europa League depending on how the team performs. And Martinez is expected to get some more goals and assists before the season ends, along with stats in other areas of play. These stats are good enough on their own to get him into the current Barcelona starting lineup, and with his age, he will definitely improve upon his stats with better players around him than at Inter.
Compatibility With Griezmann
Lautaro Martinez's arrival will be a welcome addition to the squad for Antoine Griezmann. The French striker has not been able to perform this season due to being played in unnatural positions and roles, and Lautaro's arrival will provide him with an opportunity to play in his natural role not only in the immediate future but also after Messi's departure.
Griezmann was initially brought in as a replacement for Luis Suarez. However, the current board did not consider the fact that they are not the same profile of players. Suarez is much more of a poacher and Griezmann is a free-roaming player, similar to Messi, as shown by his heatmap during the 2018-19 season at Atletico Madrid below. And on top of that, both Valverde and Setien have played him either on the left flank or as an out-and-out striker, neither of which is his natural position.

Antoine Griezmann's heatmap at Atletico Madrid during the 2018-19 season (Photo: Total Football Analysis)
However, with Martinez's arrival, this could change. Martinez will occupy the role of a target man. Therefore, the Frenchman won't be required to play there and could return to his natural role of playing just behind the striker. Admittedly, this role is currently occupied by Messi. However, he is now 33, and cannot play all the games. This will be a chance for Griezmann to do what he does best, as seen during his time with Atletico Madrid and the French National Team. He could be the provider for Martinez from behind, feeding him through balls and utilizing the space created by him between the lines.
This will also benefit Martinez as there won't be any pressure on him to create goals, and he won't have to deal with someone else occupying his space on the pitch. This partnership, if it happens, will be a good thing for FC Barcelona in the long run and can result in wonderful things.
Conclusion
Lautaro Martinez is a player with a very high ceiling and can do great things on a football pitch. Almost-perfect for the Barcelona way of playing football, he can be an excellent addition to the club and can be the focal point of the team once players like Suarez and especially Messi leave the club. The way he is improving his game and posting great performances both aesthetically and numerically, he can be the next big thing in attack for FC Barcelona.
For now, however, negotiations between Barcelona and Inter Milan have stalled, and fans will have to wait and see if anything happens in regards to him in the near future.