Theo James Prefers Keeping His Relationship with Wife Lowkey
Theo James has been married for over two years now. Still, very little is known about his relationship.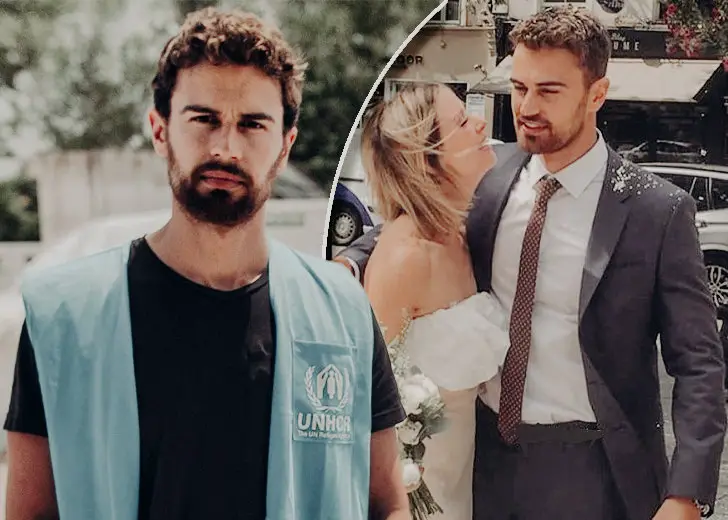 Like many others in Tinseltown, Divergent star Theo James has been in the habit of keeping his love life away from the public eye. 
Despite that, the actor made headlines back in September 2018 when he finally tied the knot with his longtime girlfriend, Ruth Kearney. 
Is Theo James Married?
According to Hype, James and Kearney got married in a beautiful ceremony in Chianti, Italy in 2018. 
The outlet also featured snaps of the couple walking hand in hand on their special day. The groom was clad in a classic navy blue suit, paired with a formal white shirt.
As for the bride, Kearney looked drop-dead gorgeous in an elegant white dress with a plunging neckline. The two were surrounded by family and friends. 
The outlet also spoke of a rumor which stated that the couple had already signed their marriage certificate a month prior to the actual ceremony. 
They Had Been Dating Since 2009
The adorable couple reportedly got engaged in 2015, a year after James found fame for his role in Divergent. 
However, the alleged inception of their romance dates even further back. James and Kearney were said to be dating since 2009, after their first encounter at the Bristol Old Vic Theatre School.
They began dating in the public eye in 2012 when the actor invited Kearney as his date to the Underworld: Awakening premiere.
That being said, there has been no official word on the matter from the actor, as he has been notoriously tight-lipped about his romantic life. 
Kearney's Upward Trajectory in Showbiz
Much like James, Kearney has been on her own path to showbiz success with titles like the sci-fi hit Primeval, The Following, and the huge Netflix hit Flaked under her belt. 
Still, Kearney has gone on record to state that fame was not what drove her to perform in the industry. In an interview with Irish Mirror, she said, 
I'm not in this industry to become famous, I don't go for jobs because they will make me well known, it's so hopefully they will lead me on to more interesting roles.
The actress further confessed that she actively avoided reading reviews of her work and even avoids looking at feedback from social media platforms. 
Instead, she was more interested in "normal people" watching her work and their reaction. 
James Sang Praises for His Wife
Although both husband and wife try to keep their relationship under wraps, there have been times that James has spoken about his wife on record. 
In a March 2020 interview with Evening Standard, the Downton Abbey star described his wife as a very sanguine, thoughtful, and funny person. He further added that the two of them being together made sense to him early on in their relationship. 
Furthermore, the actor explained that the spark in their relationship was very much alive. 
It's interesting being together this long because we have really navigated through the very beginnings of a career to lots of different percolations of it.
Even though being in the show business hadn't always been easy, the actor admitted that going through those hardships together made their relationship stronger, and in turn helped them nurture a lasting relationship.