Who Is Taron Egerton's Girlfriend? Everything About His on and off Relationship
Taron Egerton and Emily Thomas started as a couple in 2016.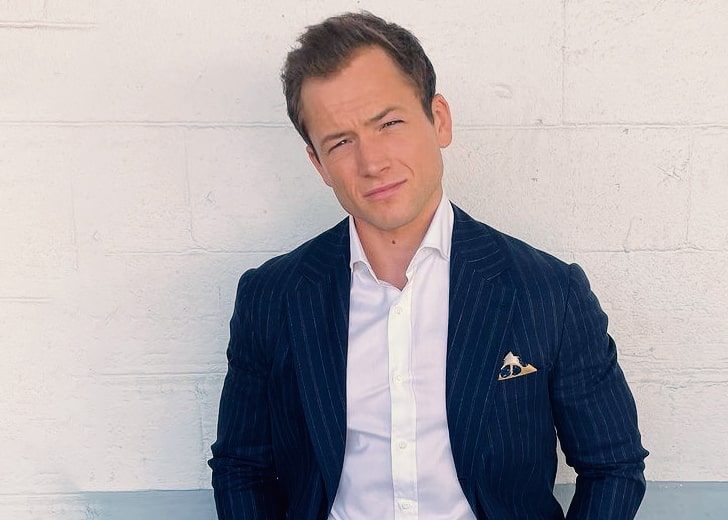 Golden Globe Award-winning actor Taron Egerton is a Welsh actor renowned for his portrayal of singer Elton John in the 2019's musical film Rocketman.
The Royal Academy of Dramatic Art graduate has further acted in projects such as Kingsman: The Secret Service, Testament of Youth, and Eddie the Eagle.
Unlike his consistent career, Egerton has had a roller coaster love life with his girlfriend, Emily Thomas.
Taron Egerton's on and off Relationship With Emily Thomas
Although it is unclear when and how they met, Egerton and Thomas started as a couple in 2016.
But due to the conflicting work schedules, the two grew differences between them and briefly had a breakup after two years of dating in November 2018.
However, speaking with Vogue in April 2019, the actor confirmed that he and Thomas had rekindled their relationship, which he was "really proud" of.
"Unless you're really vigilant, you can start to occupy separate worlds," he said about the breakup.
He further shared about an old card from Thomas, which he found on his bedside table when they were broken up. He said that the card made him cry since it was very touching.
Emily Thomas Is a Seasoned Assistant Director
Egerton's girlfriend Thomas is also a part of the film industry. She has worked as an assistant director in several movies, including 7 Days in Entebbe, Solo: A Star Wars Story, The Kid Who Would Be King, and No Time to Die.
She was also actress Gal Gadot's assistant on Justice League and Wonder Woman, in addition to being an uncredited production assistant on Captain America: The Winter Soldier.
Their Present Relationship Status
Since both Egerton and Thomas are very private about their personal lives, it is unclear if they are still in a relationship together.
The Rocketman star's social media also does not feature any snaps of the couple. Instead, his feed is filled with his pictures with his co-stars, film sets, and his family members.
On that note, Egerton made headlines back in early 2020 when he hit the 2020 BAFTA Red Carpet with two dates: his mother and his girlfriend. While the girlfriend matched Egerton in a sleek black outfit, his mother went with a pretty navy lace dress.
It was not the first time that the three of them walked the red carpet together, case in point: the 77th Golden Globes, where he won Best Actor in a Film - Musical or Comedy for his role in Rocketman.
That being said, neither Egerton nor Thomas has dropped a hint that would suggest their split. Hence, it would be safe to assume that they are still going strong in their relationship but in private.
Taron Egerton Was Rumored to Be Gay Once
Netizens started speculating the actor to be gay after he posted a picture of another man on October 27, 2018, with the caption, "Cutie. My boy."
During an interview with Metro News the same year, Egerton addressed those rumors, clarifying he was not gay.
"One of the lads was at my London flat and I Instagrammed a picture of him and said 'Look at this cutie', and a million outlets reported I was coming out as gay," he said. "I'm not gay but two of my mates came out when I was 15 and it was a joy to support them because, as a group, we are all secure in who we are."
Taron Egerton Is Busy With His Acting Works 
The Birkenhead, Merseyside native, who made his television debut in 2013, has been busy in the latter years with his acting works.
His last few releases are Moominvalley, The Dark Crystal: Age of Resistance, Rocketman, and Watership Down.
As for his upcoming projects, he recently signed to co-star opposite Margaret Qualley in Claire Denis' Nicaragua-set thriller Stars At Noon. His role was previously signed by Robert Pattinson, who left the role due to other shooting commitments.
The film, based on US writer Denis Johnson's 1986 novel of the same name, is set against the political intrigues and violence of 1980s Nicaragua during the civil war between leftist Sandinista revolutionaries and US-backed counter-revolutionaries.
His other projects, which are currently in the pre-production phase, are Little Shop of Horrors, Glimpse, and Tetris.