Who Is Stjepan Hauser's Wife, Is He Married Or Dating?
Hauser wasted practically no time, jumping right back into the dating pool and getting in a relationship with the Italian singer.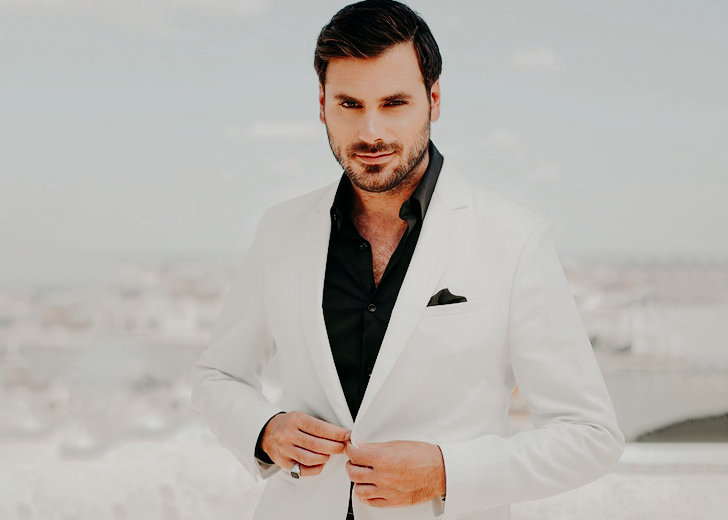 Croatian cellist Stjepan Hauser, a member of 2CELLOS alongside Slovenian virtuoso cello player Luka Sulic, is a true master at enthralling audiences with his music. His performances are an exceptional synthesis of technical mastery and emotional depth, eliciting a wide range of emotions in listeners.
Having a masterful command of his instrument, he plays with accuracy and control, giving each note a purpose and a sense of emotion. He experiments with new forms of music and songs and brings his own style to the audience without fear, making each performance a thrilling and one-of-a-kind experience.
Above all, the five feet and seven inches-tall musician's renditions of romantic ballads are infused with a sense of passion. His music will definitely make you fall in love all over again. 
But who has won over the heart of the Castle On the Hill star? The cellist doesn't seem to be the kind of person to give up on love.
Find the answers to all of the questions related to his dating life, including his relationship status and past relationships if they were.  
Does Stjepan Hauser has a wife?
Many have been asking over the internet and on social media platforms, "When did Stjepan Hauser get married?" Time and again, the question has sneaked among his fandom online because of his past Instagram and social media posts hinting at his possible engagement or marriage.  
A few years back, Hauser publicly showcased his love for his then-girlfriend, Benedetta Caretta. The two were often seen together, usually performing cover songs on social media.
His relationship with the Gladiator singer came not long after his split from fiancee Jelena Rozga, which took his fans by surprise. And he wasted practically no time, jumping right back into the dating pool and getting into a relationship with the Italian singer.
As time passed, netizens saw Hauser and Caretta's solid chemistry on-screen and later Hauser's post on social media of them seemingly getting engaged. The engagement post also made fans wonder about the possibility of his marriage to the Italian singer.
 As per Hauser's Instagram stories (via The Focus), he got engaged for a second time in March 2021. 
To be fair, Hauser didn't make an official announcement, but the picture of him getting down on one knee as he put a ring on his girlfriend's left-hand finger spoke for itself. 
But did Benedetta Caretta ever get married to Hauser? We don't know. 
Did Stjepan Hauser and Benedetta spilt?
Stjepan and Benedetta stopped making collaborations long ago and are barely seen making appearances on each other's social media. They have likely separated, but it will not be known until they make the matter official. 
Similarly, there has been no news in recent years regarding Hauser getting married to anyone. Hence, it will be a safe bet to deem Hauser unmarried as of now.
Previously, in 2018, Hauser made a wedding-related post on Facebook that showcased a bride whose face remained unrevealed, holding his arms. In the caption, he wrote, "It couldn't be a better day to get married, Happy Easter, everyone! Mr & Mrs Hauser."
However, he made the post on the occasion of April 1 and tried to take a laugh out of everyone.
If not officially married, is Hauser dating anyone now?
As far as what has been reported, Hauser hasn't officially disclosed about his relationship status. But in one of his interviews with Nova RS in 2022, he talked about his image of a seducer in Croatia.
He related to the many women falling for him, saying, "I like that compliment because it is mutual. Like I said, I love women, women love me. That's our magic match. We won't lie; it's true. I don't mind that title."
In the same interview, he also expressed his love for women and said he would "fulfill their wish." 
"Brandy, kebabs, and Serbian women. I adore women; I love women, and women love me. Chelo is my wife, my lover, my partner, my life companion. And very often, women ask me if they can be my forehead - and then, what am I going to do? I have to fulfill their wish," he boasted, relating to his 'Rebel with Cello' performance pipelined in Belgrade.
His social media is filled with his melodic tunes and collaborations. His recent performances have also featured numerous gorgeous women, which obviously angered the fandom, who loved to see Benedetta and Hauser together.
In one of his posts titled "Story of a Love," where he is seen playing for a masked woman on a boat, one fan wrote, "Nothing without Benedeta, all the others are pale copies."
But many also think Benedetta and Hauser collaborated a few years back, and nothing was going on between them romantically. Another fan commented," But Hauser had just a music collaboration for some songs years ago with this singer! Also ... all the women in his life were and are amazing! Arrogance is not beautiful!"
How did Stjepan Hauser and then-girlfriend Benedetta meet?
After parting ways with former fiancée Jelena Rozga, Hauser began dating Italian singer Benedetta Caretta and sharing their duet videos on their respective Instagram handles.
In August 2020, Caretta posted a duet video of her and the cello player in a beautiful duet cover of the song Something Stupid. In the video, Caretta sang in her angelic voice while sitting on her boyfriend's lap as he passionately tried to match her spirit.
The August 2020 video was just one of a handful of duets the musical couple posted. The videos can be seen on Hauser's Instagram handle. A few of them even made it to his eponymous Youtube channel.
On April 17, 2021, Hauser, age 34, and his partner, Caretta, made a duet cover of Endless Love. Caretta posted the video on her Instagram.
Going by all these details, it seemed that Hauser moved on quickly after his breakup with Rozga. 
How did Stjepan Hauser and Rozga break up?
Although Hauser's Instagram got flooded with pictures of his then-girlfriend Caretta from 2019 to 2021, he was once madly in love with fellow Croatian songstress Jelena Rozga. After getting together in the summer of 2015, Hauser proposed to the Croatian singer and asked him to marry him in 2016.
Their relationship thrived even when they were busy with their respective schedules and constant traveling.
After the engagement, Rozga moved in with her fiance to an apartment Hauser bought in the Zagreb center.

Stjepan Hauser adoringly looking at his ex-fiancée Jelena Rozga. (Source: Dubrovnik Times)
The musician couple seemed so much in love that their relationship was even considered a marketing ploy. To this, Hauser said:
[Translated]: You tell me, why can't people get into their heads for so long that we are together. Beautiful woman, a guy who loves a beautiful woman, is that unbelievable?
Although Rozga didn't reveal exactly when she would be his wife, they seemed quite committed to each other. The 45-year-old singer even went on to say that she believed in first love. 
However, things didn't work out between these two sweethearts, and they eventually called it off in 2017. The reason behind their breakup has not been disclosed.
What is Stjepan Hauser's age?
Hauser was born in a musical family on June 15, 1986, in Pula, Croatia. He got his early musical knowledge from his family. His mother played percussion. 
Hauser has a sinter named Pula, who is a journalist.