'All American' Star Spencer Paysinger Lives a Blissful Married Life with Entrepreneur Wife
'All American' star Spencer Paysinger is a happily married man. He has been married to Blair Paysinger for over five years and has two kids too.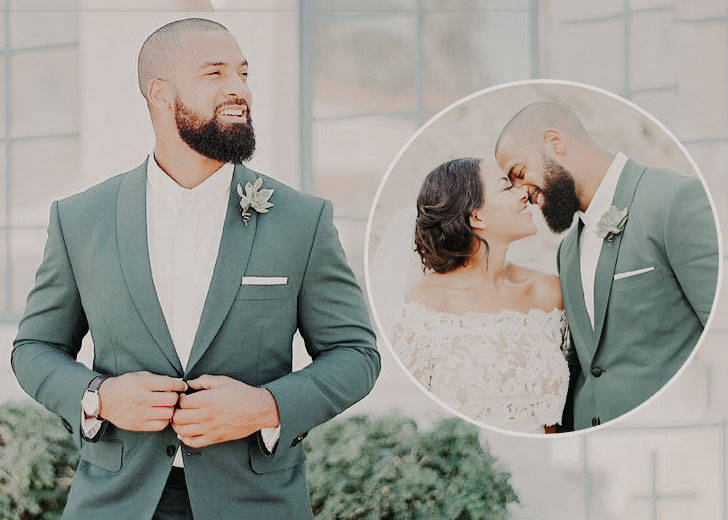 Spencer Paysinger, the inspiration behind the sports drama series All American, is a happily married man. 
The former American football linebacker is married to Blair Paysinger, a graphic designer, and entrepreneur. She is the creator of Post 21, an online shopping platform, and co-owner of Hilltop Coffee and Kitchen, a restaurant franchise located at View Park-Windsor Hills, Inglewood, and Glassell Park.
A Dream Wedding At Palm Springs
The two have known each other since high school. And they have been married for nearly five years now.
They tied the knot at a destination wedding in California's Palm Springs in La Quinta Resort on May 27, 2016.
Their wedding saw the bride flaunt a modern two-piece gown, a Chantilly lace crop top, and a silk organza skirt. The groom complemented Blair with his custom green suit and white shirt with a vintage pearl tie bar and suede loafers.
The presence of the couple's family and close friends enhanced the beauty of the wedding. The cherry on top was Blair's mother's rewriting of the lyrics to 'Real Good Hands,' which was sung for the bride's processional into the courtyard.
The highlight of the wedding was a playlist of '90s R & B jams, a family-style feast of blackened catfish with crawfish étouffée, five naked cakes in three different flavors, and giant Jenga blocks.
Impressed with her wedding planning, Blair said, "We chose 'Love on Top' by Beyoncé because every time it comes on in the car, we both jam!"
It was the biggest surprise of the day...This is now one of our favorite features in our home and a constant reminder of our wedding.
Blair's Instagram Is A Family Album
Their wedding anniversary, in May 2021, saw them celebrating their 5th. Both of them posted a picture on their respective Instagrams highlighting the bliss of being with one another for 5 years. 
Spencer, on his Instagram post, mentioned his disagreement with people who claimed: "marriage meant settling down." In reference to his pictures that framed him and his wife five years apart, he iterated, in all caps, that "THERE ARE NO SIGNS OF "SETTLING DOWN."
The couple is also blessed with two adorable children: Cairo and Madden. Cairo celebrated her fourth birthday on May 15, 2021, while Madden celebrated his second in July 2021.
'All American' is based on Spencer's Career
Spencer has recently gathered huge media attention because his life and career served as an inspiration for 2018's The CW series All American. Netflix acquired the series in 2021, which brought former sportsman's life in to spotlight once again.
The series follows the real-life events of Spencer [the character's name in the series is Spencer James] with fictional inputs.
Moreover, the California native has also starred in the series in a minor role of an assistant football coach at Beverly Hills High and has lent his hands as a consulting producer.