Olympian Simone Biles' Work Ethic Was the First Thing That Caught Her Boyfriend's Eye
Simone Biles is a decorated gymnast and her boyfriend is proud of her.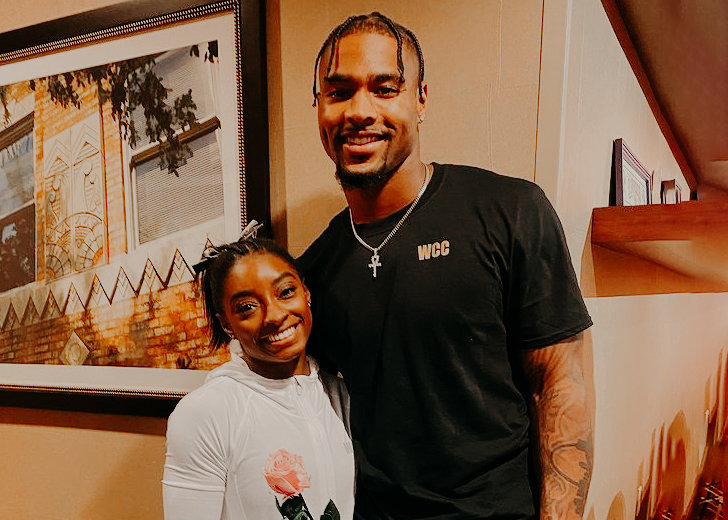 Simone Biles is arguably the world's most decorated gymnast. With four Olympic golds and 25 world championship medals, there is no doubt that she will need room for more. 
She is now headed to the Tokyo Games and could likely walk away with five more gold medals. And her NFL athlete boyfriend, Jonathan Owens, could not be more proud. 
Owens, who was at the U.S. Olympic gymnastics trials in St. Louis to cheer for his lady love, shared photos to his Instagram story of him posing with the champion gymnast wearing a red shirt that said, "Because I can — Simone Biles."
Biles had let the world know she had a new boyfriend back in August 2020 by sharing photos of her and the Houston Texans member. "it's just us 🤎," she captioned the shots.
The two appear to be besotted with each other, according to their Instagram posts. 
They also gushed about each other in the third episode of Biles's Facebook Watch docu-series, Simone Vs. Herself. 
Biles's Work Ethics
In the docuseries, Biles called Owens "absolutely amazing" and iterated that both of them hit it off because of their many similarities.
She noted that they were both elite athletes, understood each other, and even had the same sense of humor.
She then added that everybody loved him, even her family, much to her relief. 
Owens also talked about his relationship with Biles. The NFL player confessed that while he knew she was a gymnast, he was unaware of just how big of a deal she was because he did not really follow gymnastics.
He saw that she had many followers but made little of it and only realized just how famous Biles was after he told people, and they would be shocked.
Owens then added that it was her work ethic that initially thing that caught his eye. 
Her work ethic was the first thing that caught my eye. The coolest thing for me is that I get to witness someone who is literally at the pinnacle of their sport. It's motivating just to see that and the impact that she has on people. 
It looks like both the athletes are in for the long haul, but for Biles, it won't be her first time. 
Biles's Past Relationship
A month before going public with Owens last year, Biles confirmed in Vogue's cover story that she and her then-boyfriend, Stacey Ervin Jr., had called it quits in early March. The two had been together for three years. 
Biles's confirmation of their breakup came months after fans noticed Ervin, a wrestler, former gymnast, and fitness coach, had not wished Biles on her birthday in March.
The pair had bonded and formed a connection after Biles' grandmother hired Ervin to coach her at her gym.
Although Biles did not reveal the reason for their breakup, she mentioned that it was for the best.