Meet Roy Choi's Wife and Daughter — Inside His Marriage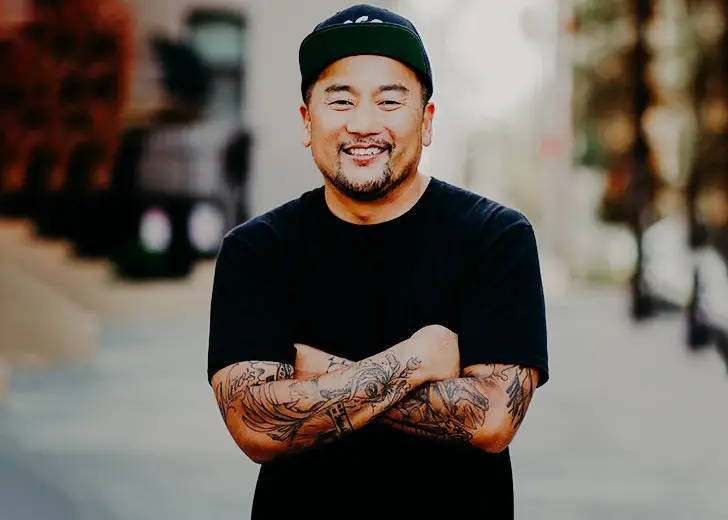 Celebrity chef Roy Choi became famous after appearing in the Netflix series, The Chef Show, alongside Jon Favreau.
Along with professional bliss, he has been married to his wife for a long time. During all these years, he has been notoriously private about his personal life — especially regarding his marriage.
Roy Choi Keeps Wife and Daughter Details Private
The Chef Show star uploaded a picture of his family (perhaps for the first time) on his Instagram account in April 2020.
That being said, the picture only established he had a spouse and a daughter as it didn't reveal their faces. 
In the photo, he was flaunting his bearded look but he overlapped his wife and kid's faces with a bunny and a koala emoji, respectively.
"Trying to grow a beard. Figure I got a month. Hello from my family to yours. Much love and strength," he captioned the post.
His fans respected the cooking expert's need for privacy and didn't delve further.
One of the comments read, "Hello there family!… looking good," and another user commented, "Who's the lady, glad you have a puppy and a family to spend quarantine with."
Roy Choi spending family time with his wife and daughter.
(
Photo: Instagram
)
Information about Choi's wife has been veiled in secrecy throughout the chef's career.
While he has successfully kept his family details away from social media, some reports claim that his spouse is Caroline Shin. 
And it has also come to light that his other half equally supports his career.
In fact, his spouse is also his business partner. They together launched the dining restaurant Kogi BBQ, featuring a mash-up of Korean and Mexican food, in 2008. 
The eatery's success introduced Choi to the fame of the culinary industry. Following the success, the chef dabbled into new endeavors, which turned out to be successful and serious padding to his net worth.
Roy Choi Shares a Close Bond with Daughter
Although Choi's wife is apparently away from the media's prying eyes, his daughter Kaelyn, on the other hand, has often been seen in public.
The celebrity chef doesn't hesitate to bring his child along with him to some of his public events. The father-daughter duo was seen together at the premiere of the movie The Lion King in July 2019.
Roy Choi with his daughter Kaelyn in August 2018. (Photo: Instagram)
His kid was also visible in a throwback picture on Instagram in August 2018.
In the post, Choi shared a photo of his restaurant's opening where he was busy making a meal, and little Kaelyn was sitting on the counter.
He wrote in the caption, "#tbt opening night of the original @eatchego on Overland Ave. in Palms, circa Spring 2010."
The proud dad also shared Kaelyn's first professional endeavor as a Magazine creator in May 2020.
He posted a picture of her magazine design that featured the name 'Zines By Kae.' The father-of-one then expressed his pride in the caption, writing, "My kid's starting a mag. Dad feels rad." 
His fans chimed in the comment section to praise the kid.
The comment read, "Creative like her father. Another user commented, "That's the entrepreneur spirit like her father." A third person praised her talents, penning "greatness is in her DNA."