Family Man Richard Wilkins Fourth Wife In Line? Heating Affair To Partner Revealed
Richard first married at the age of 18 after his 16 years old girlfriend got pregnant...After Adam, his first wife, Lynette gave birth to a daughter Rebecca...Richard then married Michelle Burke as a second wife...Richard, with a 30-year long experience and having been the face of Nine Network for so long, commands a seven-figure salary...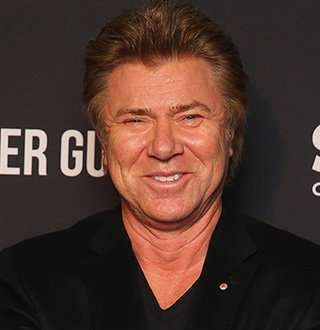 Australian journalist and actor Richard Wilkins sent marriage rumors ablaze after his girlfriend was pictured wearing a mystery wedding ring in an event in July 2018. 
The native of Auckland, New Zealand, Richard currently serves as an entertainment editor and presenter for the Nine Network. Richard has been associated with the Nine network for more than three decades.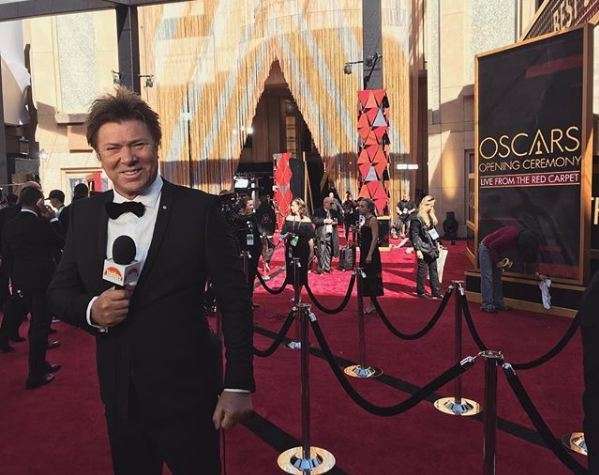 Richard covers the red carpet ceremony of the 90th Academy Awards for the Nine network in March 2018. (Photo: Richard Wilkins's Instagram)
Wilkins was the recipient of Variety Club's "Heart of Variety" Award in 2000 for his outstanding, compassionate efforts to humanity.
Richard Wilkin's Bio: How It All Began!
The multitalented personality was born as Richard Stephen Wilkins on 19 June 1954 in Newzealand.
He is a teacher's college graduate, majoring in English and Music. Having graduated in Music, he started as a pop singer after completing his graduation in music. He even opened a band named Wilde and Reckless.
Moreover, he released not only some singles but also a six-track Ep. However, after flopping as a musical artist, his career took a very different shape. He made a move as a Promotions and Marketing Manager for Sydney radio stations and then later jotted into television in 1987.
Read Also: Jessica Rogan Wiki: Wife To Joe Rogan, What's Her Age, Height, Net Worth?
Well, it was inscribed in stone for Richard to become a Television persona as he swamped a lot of successes from his broadcasting career becoming an original host of MTV Australia just after it was launched on Nine.
Impressive Salary With Nine
Richard, who recently celebrated his celebrated his 30 year anniversary in the Nine network in November 2017 derives prominent part of salary from the channel. As the average salary of the channel's employee reaches $55.98k. Richard, with a 30-year long experience and has been the face of Nine Network for so long, commands a seven-figure salary, with the exact figure remaining confined.
Apart from the network, he hosted a music game show, Keynotes in ITV in 1992. He also anchored the Australian version of Entertainment Tonight in 1999.
Richard annually covers various special events in Nine Network such as The Academy Awards and The Golden Globes Awards. Similarly, he presents the daily features and interviews from right across the world in Today network.
We can also hear Richard on smooth FM station, where he speaks in the weekend program every Saturday and Sunday.
Richard has also demonstrated his skill in acting, best known for 1996 horror movie, The Crying Child. In 2006, he appeared in a stage role as Vince Fontaine in the mega-production, Grease: the Arena Spectacular.
Married Twice With Lynette And Michelle
Notwithstanding his successful career, Richard is terrible at marriage as his multiple marriages did not work well.
Talking to the Australian morning talk show, Today Extra in April 2017, he acknowledged his failures in marriage stating that  'marriage is not his specialty.'
Richard first married at the age of 18 after his 16 years old girlfriend, Lynette became pregnant. The couple welcomed a son named Adam, 44, who was born with  Down Syndrome.
After Adam, his first wife, Lynette gave birth to a daughter Rebecca, 34, and later their son named Nicholas, 32 was born as a third child. The couple got divorced after the birth of Nicholas.
Richard then married Michelle Burke as a second wife, and they share a 22 years old son, Christain from the relationship. However, as with his first wife, things did not work out between Richard and Michelle leading to a separation.
Read Also: John Canzano Puts Family Upfront! Wife, Age 42, Dotes Over Relentlessly
His fifth child, a daughter Estella, 12, was born from his relationship with a famous Australian fashion designer partner, Colette Dinnigan. However, he did not marry Colette.
 Moreover, his dating affair list comprises the names such as Rebecca Naso, Bronwyn Jones, Rebecca Gibney, and Totti Goldsmith.
Richard Calls Daughter Glue, Son; Heart & Soul
Richard is a devoted family man and a responsible dad who believes in maintaining a sound relationship with his children. His eldest son, Adam has Down Syndrome. He is very close to Adam and regards himself as the rock that stopped him running off the rails.
Similarly, his daughter Rebecca, who got engaged in 2015 is the glue that binds his family together.  His second son, Nicholas is the heart and soul and such a solid guy for him.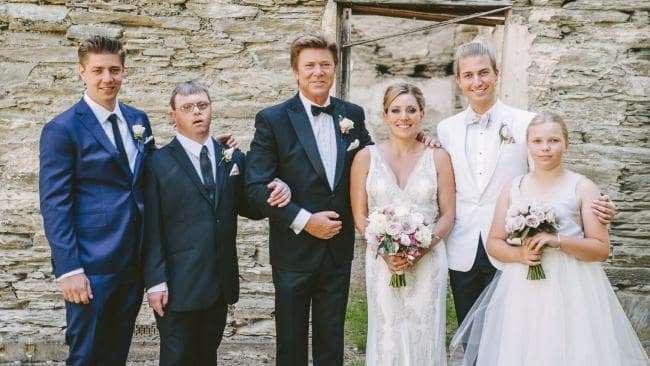 Richard poses with his children at his first daughter Rebecca's wedding in February 2016. (Photo: DailyTelegraph)
Richard's another son Christian is a gay rights advocate and he is the theatrical one in the family. His youngest child Estella is mad about the horse.
Moreover, his children demonstrated the love towards their father by supporting him when he was appointed as Member of the Order of Australia for his charitable work in 2014.
Hints New Marriage With Partner
Richard is currently involved in a romantic affair with 50-year-old girlfriend, Virginia Burmeister. Their wedding rumors surfaced after Virginia was seen sporting a mysterious ring on her wedding finger at Logie Awards in early July 2018. However, the shine of Richard's partner's ring was offset by her bright dress so wore at the ceremony.
Related: Is SiriusXM's Host Nikki Glaser Married? Husband, Relationship Talks & Family Details
Moreover, her $2.65 million Manly home went under an auction recently, which supplemented the rumors about her she plans to settle with Richard.
The duo went public in their relationship in October 2017 as they were seen looking affectionate at Lisa Wilkinson's vow renewal ceremony. With plenty of love and affection between the two, only time will tell if the couple gets pronounced as husband and wife. 
And considering Richard's history with marriages, it would be understandable if the couple decided to bide their time before their wedding.