Know Ryan Upchurch's Wife, Mom, Net Worth, Girlfriend & Dating
Rapper Ryan Upchurch, best known for hit country songs such as Holler Boys and Outlaw, married his best friend and lover, Taylor Eileen Smith. He even became a dad to his stepdaughter. However, there arose rumors that the singer parted ways with his wife. Get acquainted with the whole story!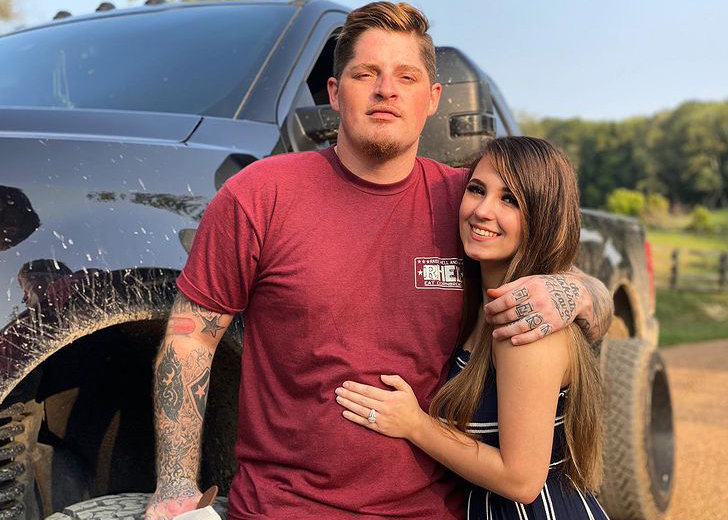 American singer, rapper, songwriter, and comedian Rapper Ryan Upchurch is one of the rare artists who have diversified music in multiple genres, including, rock, metal, and country.
Altogether, The Nashville native has 19 albums to date, that includes his most popular country rap album Chicken Wikkie to his latest Pioneer. He is also the owner of the clothing brand Raise Hell and Eat Cornbread.
Before getting fame, he was popular on Youtube for his comedy skits posted on his channel Upchurch the Redneck, portraying the alter-ego of the same name.
Now, he is a popular country music rap and country music hard rock artist with songs such as 'Holler Boys' 'Outlaw,' 'Dirty South,' 'Come and Get It,' Can I Get a Outlaw,' 'Animal' and 'Ghost Ranch.' 
In his personal life, Upchurch was previously soon-to-be married thrice, including with his best friend and lover, Taylor Eileen Smith. He even became a dad to his stepdaughter.
In this article, we cover how the singer parted ways with his wife and why he no longer chronicles his personal life on social media.
Further, get acquainted with his allegation against his parents (mom and dad) for financial mismanagement of his income.
We have also briefly covered his net worth, house, and concert. Read the full article. 
Is Ryan Upchurch married or Dating?
Upchurch has never been married. However, he has had three engagements in the past.
His past relationship indicates that he is someone who goes after long-term relationships rather than casual dating. All of her past fiances were his good to best friends.
Currently, he is single and moving on from his relationship and family drama that engulfed his life in the past.
Are Ryan Upchurch and his Third fiancee Bethani Culp?
Bethani and Upchurch got engaged in June 2022.
That month, she featured the ring on an Instagram post in which she wrote, "I GET TO MARRY MY BEST FRIEND [red heart emoji, man and woman holding hands emoji]."
The two were longtime best friends and that's why fans have been able to trace the pictures of them together from as back as 2019. 
It is not known when they started dating. She saved him in December 2022 by calling 911 when he was in his bathroom and suddenly couldn't breathe.
After getting together, Culp started to be a regular feature on his social media, as they were seen sharing a Christmas together, going to places enjoying their time, and dedicating lovely posts to one another on social media. 
In Marc 2022, Upchurch expressed his gratitude to Culp and credited her for saving his mental health.
And in another of his post in January, she was seen holding two mugs while she climbed a bed. In the post, he thanked her for being there for taking care of him.
He said, "Your everything I ever wanted in a woman and then some. Plus you put up with me which is a job in itself...I just wanted to post this to show my appreciation for everything you do for me. Your the best girlfriend I ever had. And I adore you & love you so much [Love emoji] [Kiss emoji]."
Later, in the same month, he wrote a long caption to a picture of them together, missing her and hoping he would get to home soon. He expressed,
I miss my Baby! [crying emoji]. This is day 3 with me not having your hugs or your kisses and it's soo hard. Being hundreds of miles away from you has made me realize how strong our bond is and how much our souls are connected. Ryan Edward thank you for loving me the way you do and giving me a life better than I could ever imagine. I can't wait to spend forever with you. I'll be home in a couple of days babe. P.s. you better have your broom ready to sweep some cobwebs cause a week without dusting is no bueno for me.
But sadly, the couple has been already separated now. Behani has embarked on a mission of self-love, whereas Upchurch has been trying to move on in his life. 
While answering fans' questions, he revealed on Youtube that he had no family and all he had was his music. He also asked people to not be his psychiatrist and stop asking questions about his personal life.
The Youtube video was titled 'Ryan Upchurch - Officially Single Again, Tired Of Being Stabbed In The Back!,' which proved that the singer was officially single. 
Are Ryan Upchurch and his second fiancee Taylor Still Together?
The 'Mud To Gold' singer and his then-fiancee Taylor Eileen Smith started going low-key about their relationship after they got engaged by 2020. 
So much so, both of them deleted the pictures they previously posted for one another. It is still unknown when they started dating.
Moreover, the country singer also stopped following her on Instagram. He started talking, posting, and promoting his new songs and album only.
There were also no special uploads on Valentine's Day from the duo. Instead, he posted the picture with his male friends while Taylor uploaded her new hair color on the day.
To make things more confusing, Taylor posted a video of her daughter and, in the caption, she asked her fans not to question her relationship with Upchurch. She wrote:
Please don't ask if Ryan and I are still together. This post is about my child.
Later, while all the evidence hinted that the duo could have separated, one post from Taylor's best friend, Haylee Dickerson's Instagram, indicated otherwise. On 2 January 2021, she uploaded a picture with Taylor and revealed that Ryan Upchurch photographed the photo.
Two posts in one day because why not. Shoutout to @ryanupchurch for being our photographer
And by March 2021, Taylor officially announced that she was in a relationship with Clayton Pettry. 
In the same month, Upchurch, while answering fans' questions on Youtube, also revealed that they hadn't been together since the last couple of months.
He replied, "Just wasn't working out..you know, no hard feelings or nothing. It's just different people have different lives, different morals, that's all."
Ryan Upchurch was Near to Getting Married to Taylor Eileen Smith
Upchurch started dating Taylor Eileen Smith circa 2020. At the time, she had already given birth to her baby daughter Raelynn Ann (Rae).
However, her motherhood didn't bring complexities to the duo's dating relationship. Instead, Upchurch started spending time with his girlfriend's four-year-old as a dad figure.
She was featured in many of his social media posts and they were beloved by the fans as they shared pictures of vising places and spending cozy time together .  
Taking the relationship to the next level, the Nashville native finally proposed to his girlfriend. They got engaged on July 10, 2020.
On the day of engagement, the songster shared an intimate picture with Smith on Instagram. He held her hands while she flaunted a big and shiny engagement ring.
Later in October of the same year, she advertised a beautiful wedding dress owned by her friend and stated that her friend was selling it for a discount. 
After the post, one of her followers commented and queried why she wouldn't purchase it for herself, she replied that she already had it. 
And their love story saga progressed to a level that Taylor shared a photo collage of the two, representing her future life with the singer along with twins, triplets, and quadruplets.  
In August 2020, Upchurch had first mentioned her as his fiancee in a post he dedicated to expose someone trying to steal his vehicles. He said Taylor had recorded his interaction with the person. 
After the engagement, on 4 August 2020, Upchurch shared a heartwarming note for his fiancee through a now-deleted Instagram post. He thanked her for letting him be himself.
Simply, thank you for letting me be exactly who I am & not trying to make me something I'm not. You make me feel normal in a world where I don't feel normal most the time. Thank you for everything you do for me day in and day out. You really are my best friend & im thankful that im about to marry you & be happy for the rest of my life...I love you with all my heart
Later, the couple planned to get married at a wedding ceremony held on 18 September 2020, according to The Knot. However, their journey ended before the expected date. 
What Happened to Ryan Upchurch and then-girlfriend Brianna Vanvleet?
Upchurch and track athlete Brianna Vanvleet were in a relationship circa 2015. They got engaged, and he even dedicated a heartfelt message for his fiancee through a now-deleted Facebook post.
Addressing that he got occupied with work, Upchurch vocalized that his business may negatively impact his partner.
Then, he said that she was the first thing that came to his mind every day, although it may not seem so due to his hectic schedule.
The status is for my fiancé, Brianna; I know I'm always busy with my life, it seems. And you may think a lot of time you're the last thing on my mind, but that isn't true. You're always the first thing. I know videoing and brainstorming, and coming up with ideas for projects get in the way, along with the music and everything. But, still, baby girl, you are always in the front of my mind, with your beautiful face smiling and when I lay down with you at night, and when we're just backroad cruising or even when we're just sight-seeing spending time with each other those are the times, I will cherish forever. And I know sometimes you think I don't care, but I'm only working hard for the little Upchurch's w will have one day. And the life we will have one day we're old and grey. I love you, sweetie, always and forever. 
Then in a tweet in 2016, he expressed his desire to marry Brianna and have "little brown Upchurch babies running around with fake tattoos all over."
Brianna Vanvleet I can't wait to marry you and have little brown Upchurch babies running around with fake tattoos all over them 󾌴󾌴󾌴 — Ryan Upchurch (@UpchurchRHEC) June 9, 2016
However, the desire never came to fruition as the pair ended their engagement and plans of getting married.
What Happened between Ryan Upchurch and his Mother?
Despite his unsuccessful relationship, Upchurch had a solid bond with one woman in his life—his mother Patty Lynn.
The mother and son duo was closely bonded so much so that she looked after the booking company responsible to book tickets for his son through the company Blue Moon Entertainment.
And until their relationship soured in 2022, the mother and son duo regularly appreciated each other on social media.  
If you didn't know, the controversy started in February 2022 when Upchurch uploaded an Instagram video alleging his mother's mishandling of his earnings by purchasing a house for $500 thousand under his name.
He alleged that the house was bought with the money transferred from his account by "a family member" (his mother). 
On the other hand, his mother, in her last posts (has now deleted her videos from her channel) said that she was fed up with all of the hate she and her family had been receiving.
She said that she would work with lawyers in order to protect herself and her other sons from Upchurch. 
She strongly argued that they were business partners and that she had nothing to do with the houses and claimed his son did wrong going to claim the properties that he didn't own.
She was content that the officers told her son not to visit the property again when he went to the particular house.
Lynn also alleged that Upchurch abused drugs, wasted his money, released a sex tape of her, and also showed the narcissistic side of himself by asking for gifts back that he gave. 
She insisted that she did everything to protect him from himself.
Again upon viewing her allegations, Upchurch released many videos clarifying everything she said one by one. He was shocked by everything his mother said.
He alleged both of his parents of financial mishandling of his income made from his career and also alleged that neither of them looked after his taxes and other business responsibilities properly. 
He also revealed that other properties were purchased using his money because of which he was said that she was broke.
He was so much saddened that he said he would no longer have a relationship with his mother and would no longer be a "mama's boy."
What's more, Upchurch felt so devastated because his family took advantage of him despite him purchasing houses for his mother and his brothers and taking care of them financially.
He expressed that it had been hard for him as an independent artist to break out as a country singer who rapped and wondered why his family was making his life harder. 
'Mom, you lived with me. I bought you a house of yours.' And what..and then I go do the show at the municipal—one of the best nights of my life. 'You sang with me, dude.' The song is called  Fallen and it's about picking up people in times of need, not stealing from them," he said.
"'Are you gonna sit here and tell me...well, you have a spending problem,''' he questioned his mother. "'No, you do,'" he remarked.
Not only that, the talented singer and rapper disclosed that her mother, without prior notice, sold the house he had brought for her and he had to urgently take out his instruments kept there.
He said that his mother previously had insisted he keep them there since his house was being remodeled.
He revealed that the new owners asked him to take his stuff and when he did, he found that there was a brand new car lying in a garage, again purchased with his money. 
In addition, Upchurch called out his father, Ronnie Church, for threatening to sue him on an Instagram post.
He argued that his father was lying when saying he didn't need his money since in the past he had asked his son's help to pay for his taxes, and his workers or sponsor his race car. 
Later, Upchurch's aunt also spoke out against Ryan's parents Patty and Ronnie's bad parenting and their false allegations regarding their son.
Similarly, in April 2023, Ryan's dad dedicated a long video to his son, accessing the whole situation and claiming that he didn't ask his son to buy anything big for him.
He requested his son realize that his dad worked his whole life to take care of him and his family and requested his son stop making false allegations. 
He admitted that it was only one time his son Ryan gave him $5000 to aid in the operation of his growing factory, but he claimed that he went to return them back but his son didn't want them.
His father, Ronnie, also revealed that he hadn't spoken to Pattie (they are any longer together since his childhood) until she called him to discuss everything going on in the family with their son. 
What is Ryan Upchurch's Net Worth?
Upchurch's estimated net worth is around $20 million. 
Get tickets to Ryan Upchurch's official tours on his profile at Linktr.