NBC's Carol Lee And Army Husband's Secret Wedding
NBC's Carol E. Lee got married to an army officer in a private wedding, where only selected and close guests were spotted. Here we have collected a few available details about the reporter's nuptials. Also, take a look to know about her 8-year old son Hudson Lee!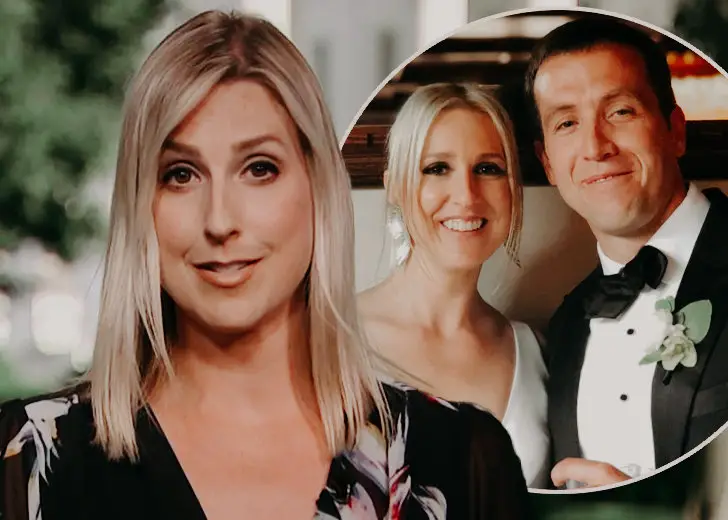 While some prefer to disclose their personal lives, NBC News' political reporter Carol Lee has chosen to keep hers private.
The White House Correspondents' Association's former president got married to an army officer husband in a private wedding, where only selected and close guests were invited. The information about her wedding comes from a source other than the reporter herself. 
Carol 

Lee's Marriage To Major Ryan Harmon Was A Hushed Affair

Carol's wedding was not particularly hyped, neither on social media nor elsewhere. She married Major Ryan Harmon in June 2019.

Carol Lee and her husband Ryan Harmon's wedding in June 2019
The Politico reported the bridal party's names: Brianna Keilar, Elyse Labott, and Anne Schroeder. Likewise, the wedding was officiated by Julie Mason.
Additionally, the guest list included names such as Adelman, Margaret Talev, Jeff Mason, Kate, and Brooke Brower, Erica Werner, Kristen Welker, and John Hughes, Dafna Linzer and Bart Gellman, Elena Nachmanoff, Nedra Pickler, Dana Milbank, and Anna Greenberg, Jerry Seib and John Garcia.
The wedding was held at Hotel du Village in New Hope, Pennsylvania.
Carol 

Lee & Husband Met Through Mutual Friends

Thanks to the couple's mutual friends Fernando Lujan and Brianna Keilar, also a married couple. They introduced Lee to the man who she would go on to call her husband, or so the Politico Newsletter from the time reported.

Lee and Harmon were first introduced at a barbecue scene hosted by Lujan and Keilar. The two stayed in touch after their first meet and greet, and in time, were seriously dating. As per the newsletter, Lee got engaged to her husband over the 2018 holidays.
Carol 

Lee Is Already A Mother To One

The national political reporter was a mother to a son named Hudson Lee before getting married to her husband. The son is, possibly, from her past relationship, but it isn't certain as she has not spoken about the details of her past relationship publicly. 

This bit of information actually came from the reporter herself when she made a birthday tweet for Hudson's birthday in 2018. 

Her 2018 birthday tweet to her son was the only time that the reporter ever made a mention of him in her social media handles.
Carol 

Lee Is An Experienced Journalist

The Washington, DC resident took up a degree in Journalism from the New York University's school of journalism. After graduating, she covered politics for three years in Florida, including the 2008 presidential campaign.

She then moved to Washington and served as White House Correspondent for various media houses such as Politico and The Wall Street Journal. She joined the Wall Street Journal as White House Correspondent in 2011. Prior to that, she covered the White House for Politico, starting with President Obama's transition in Chicago.

She also served as president of the White House Correspondents' Association.

Presently, Lee is a regular national political reporter for NBC News while also making appearances as a commentator for television and radio networks, including CNN, MSNBC, NPR, and Sirius XM.