'Jersey Shore' Stars Mike Sorrentino and Wife Lauren Welcome First Baby
Iconic 'Jersey Shore' star Mike Sorrentino and his wife Lauren welcome Junior Situation!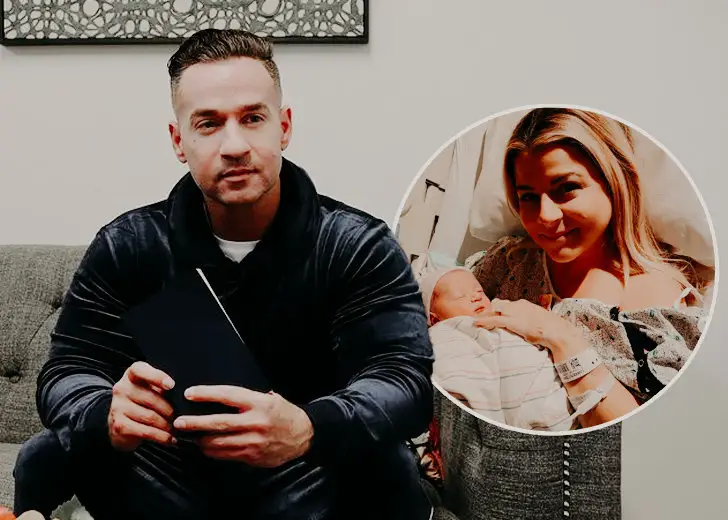 The Situation is a new dad! Mike Sorrentino and his wife Lauren announced the birth of their baby boy via Instagram on May 27, 2021.
He released the first pictures of their son, who was covered in a blanket with his name Romeo Reign Sorrentino embroidered on it. The reality television star celebrated his new family member with a rocket emoji.
The post featured a hospital shot of their little boy wrapped in a striped blanket in Lauren's arms as Sorrentino posed beside the bed wearing a wide grin. In another picture, the new dad was also seen holding baby Romeo on the couch.
The A Violent Man star also linked the official @itsbabysituation Instagram account, which already boasts over 400,000 followers. According to the Instagram account for baby Romeo, he was delivered by cesarean section, weighed 6 pounds 8 ounces, and measured 19 inches long.
The pair celebrated the arrival of their baby with an extravagant shower at their New Jersey home.
 In an exclusive interview with People in April 2021, they revealed that the family had such an amazing time showering baby Sitch with their closest family and friends.
"The day was truly magical, you could feel the love in the room," the Jersey Shore: Family Vacation alums said. 
Sharing the images from the shower taken by Kylee Yee Photography, they also mentioned that the two had been counting down the days till they met the precious baby boy.  
The Sorrentino couple confirmed their pregnancy on social media in November 2020. They revealed the news with images of themselves and their pet dog Mosey in their kitchen, along with the words "Baby Sorrentino May 2021" scrawled in flour on their kitchen island. 
They announced they were expecting a boy in December 2020, flaunting a cute and tiny pair of blue shoes and blue ornaments on the Christmas tree. 
Sorrentino Plans to Avoid the 'Dad Bod'
In an April 2021 interview with Daily Pop, The Situation discussed how he plans to avoid the dreaded "dad bod." 
"The gym is my best friend," he said. Sorrentino explained it was something that he had been doing for the past 10 to 20 years to be his best self, and it was also one tool he used to recover and tackle things one day at a time. 
Lauren revealed she was ecstatic to meet her tiny bundle of joy and decorated the baby's room. 
Sorrentino also noted that Romeo would have to wait till he's 18 years old to see some of the classic NSFW Jersey Shore clips.
The MTV personality who served eight months in prison for tax evasion admitted that he was certainly going to show him Jersey Shore: Family Vacation first since that series represents his recovery.
He further elaborated that he was a positive influence in the community and had been clean for five years. "I'm in a happy marriage with a positive message. I'll probably wait until he's 18 so he can watch Jersey Shore the series," he added.
The couple has been happily married since November 2018 after being engaged for five months.