Lyric Lewis Had Planned for a Baby with Partner since They Were 17
Lyric Lewis and her long-time partner Ben Lepley were blessed with a baby girl in March 2020.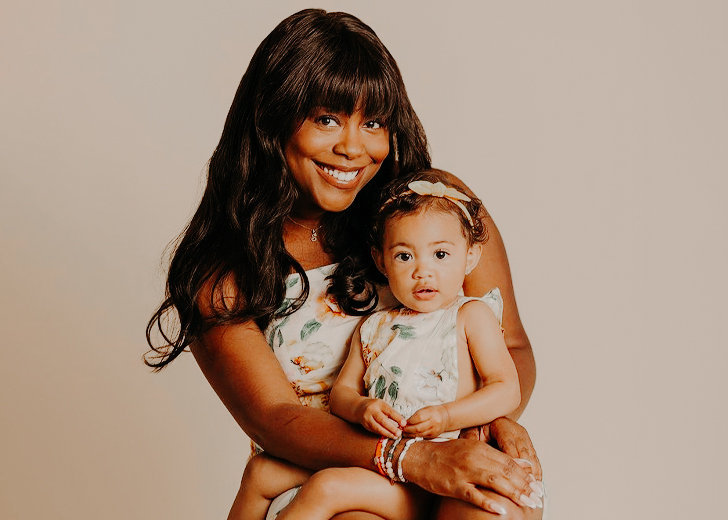 Lyric Lewis is one of the luckiest mothers who can proudly claim their entire pregnancy was recorded on camera. 
Almost every step of her pregnancy was caught on video, from presenting the Netflix reality cooking show American Barbecue Showdown weeks into her pregnancy to being weeks away from giving birth to her daughter by the time she concluded season 3 of the Peacock sitcom.
While the television personality has always kept her personal life under the wraps, it's not the case with her motherhood journey.
Welcomed Her Baby Girl in March 2020
The A.P. Bio star has been in a long-term relationship with her partner, Ben Lepley. The teenage sweethearts seem to have endured the test of time and have remained steady by one another for nearly two decades.
While the couple has already started their journey as parents, they are still to make their relationship official as husband and wife. They welcomed their baby girl, Stevie Jade, on March 9, 2020.
Few days after her birth, Lewis took to Instagram on March 15, 2020, to share their first picture as a family of three. The beautiful black and white portrait featured the new mother carrying her daughter in her arms while Lepley was looking over at Stevie with a smile.
In the caption, Lewis noted the couple had been talking about her since they were 17. She also described Stevie's birthday as her favorite day since then. The Girlfriend's Day artist also explained that the past week has been beyond her wildest dreams, and there are simply no words to express how in love the new parents are.
The actress also shared a cute picture of the mother-daughter duo on the occasion of Mother's Day on May 9, 2021. 
New Chapter As a Mother
In a 2020 interview with ET, when asked about her new chapter as a mother and bringing her daughter into the world. Lewis described her new journey as crazy, but she feels like her daughter came into their life at a great time.
She explained Stevie has kept her mental state relaxed, and it's because of her she has stayed grounded. 
Also, in the midst of the coronavirus pandemic, the protests, and everything else going on at that time, she was a little sentimental, but her child brought hope and joy to her life.
I wake up every day and I'm like, we're healthy and we're happy. I have this baby who is thriving. And it's reminded me of the things to really be thankful for.
Pregnant and Filming
The actress also shared about her pregnancy journey while shooting for A.P. Bio in the interaction with ET.
According to her, the experience was amazing. She also noted that she was ecstatic to share the news with the show's creator Mike O'Brien. But straight away, she was also worried that the pregnancy and maternity break could mess up the storyline. 
O'Brien, on the other hand, was delighted and asked, "Do you want it on the show?" as soon as she told him. She responded yes and was overjoyed and felt valued as a cast member. 
It thrilled her heart to see him embrace it totally, and she feels amazing to see her character now have a child. Lewis also revealed that she watched all the episodes and noticed how often she touched her stomach during the shoot.