Kate Wright Hints Wedding Details With Boyfriend Amid Surgery Rumors! Explicit Details
Kate and her boyfriend declined to announce the wedding dates but added that... She has also attracted plenty of criticism for her body and has been accused of undergoing surgery... The star took to snapchat in 2017 and bit back against the surgery claims saying her figure...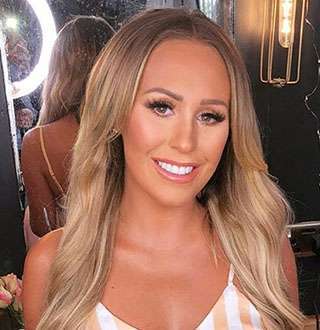 Kate Wright's relationship moved on nicely with her ex-footballer boyfriend. Not only did she get the approval of her beau's kids, but they urged the couple to take their relationship to a new level. 
Kate is the star of the reality show The Only Way is Essex (TOWIE).  She joined the show in 2015 and quickly won over the hearts of millions with her busty figure and flawless face. Since then, she has forged a successful modeling career in addition to TOWIE and has fronted various brands.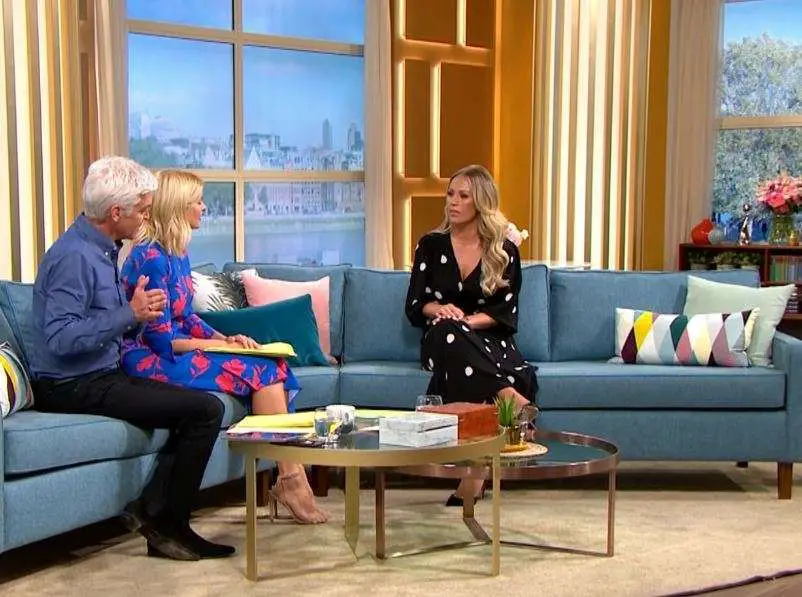 Kate Wright discusses her relationship with boyfriend Rio Ferdinand and his kids on This Morning in May 2018 (Photo: youtube.com)
The 27-year-old started her career as a banker, miles away from the hassles of the showbiz. However, she gave away a promising career in banking for the bright lights of Hollywood after joining the castmate of TOWIE in 2015 alongside her self-professed brother Mike Hassini.
It was after joining the BAFTA-winning series; she was able to carve a name for herself.  Blessed with a busty body and fantastic measurements, she sent the hearts running of millions of viewers.
Her fantastic body has been the work of countless hours spent in the gym. A fitness fanatic, she has claimed in the past to have attended the gym for five days a week to maintain her slender figure with desired measurements. 
Not only has she as one of the most desired girls in the UK, but she has also attracted plenty of criticism for her body and has been accused of undergoing surgery to enhance her body. The star, however, fed up with the endless quibbles about her body, issued a compassionate reply in response to surgery claims. 
The star took to snapchat in 2017 and bit back against the surgery claims saying her figure was god given and had not undergone surgery in any parts of her body and face.
Fronting up against her haters make-up free, she went lengths to stress that she had worked hard in the gym to maintain her figure and skin.  She did accept that she had her lips injected but apart from that everything about her was natural. 
Besides, TOWIE, she has also tried her hands in designing, releasing a fashion range with Miss Pap. Whats more, she released a party collection in 2016, with the online retailers. 
Born on 3 June 1991 in Essex, she bears no relationship with the Towie brothers and sister, Jess and Mark, who share the same family name, Wright. There has been little information about her parents and her early life. 
Her romantic life, unlike her family life, has received plenty of column inches. She dated TOWIE charmer Dan Edgar for a period of four years from 2010 to 2014.
The couple separated after he decided to join TOWIE with Kate opposing the decision. However, the duo seemed to reconcile and began dating again in early 2016. 
The reconciliation was shortlived as they separated in late 2016. Despite her separation with boyfriend, Dan, she found love again, this time with former Manchester United defender Rio Ferdinand. 
The pair started dating in 2017, and despite trying to keep their relationship a secret, it spilled out as the Manchester United legend was pictured along with her on various occasions. 
The couple's affection towards each other was evident in July 2017 as she ably supported her boyfriend Rio after the death of his mother. Not just that, Kate has provided a mother-like-figure to Rio's three kids, Lorenz, Tate, and Tia. 
Moreover, in May 2018 Rio praised her for her role of tending his kids in the absence of their biological mother. Her dedication to giving her boyfriend's children a better upbringing was a significant factor in her decision to leave the show TOWIE and her professional commitments. 
And with the couple hot in heels over each other, they seem to be getting ready to take that next step in their life. 
Boyfriend Rio Ferdinand's Kids Want Wedding With Kate  Wright
Despite having had to deny the rumors of engagement that surfaced online after Kate was seen flaunting a diamond ring in June 2018, it seems the couple is ready to get married.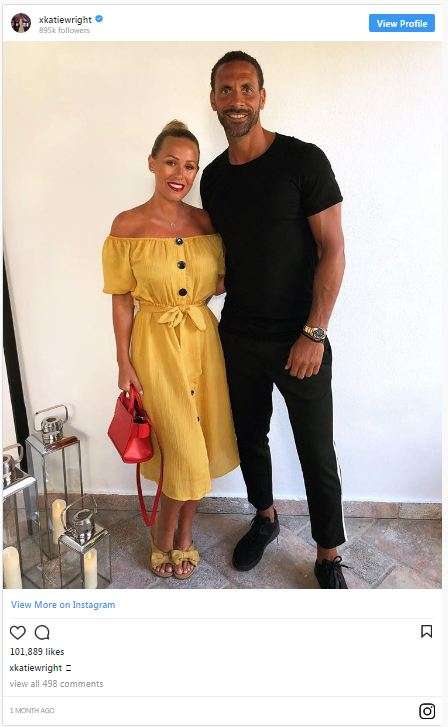 Kate Wright with footballer boyfriend, Rio Ferdinand in May 2018 (Photo: Kate Wright's Instagram)
However, the footballer did reveal to OK Magazine on 19 June 2018 that his kids had been pushing the couple towards a wedding. He even said that his daughter, Tia was so obsessed with his wedding that she had already stated she wanted a replica gown of her mother's bridal dress. 
And the former footballer turned pundit claimed that he was constantly surrounded with his kid's chant about the roles they would be playing in their father's wedding. 
The footballer, however, declined to announce the wedding dates but added that he and Kate had been giving marriage a thought. 
With Kate already proving to be a fantastic mother to Rio's kids, it seems to be a matter of only when not of, he turns her husband.