Jose Andres' Wife Is a Life Partner and Best Friend Wrapped in One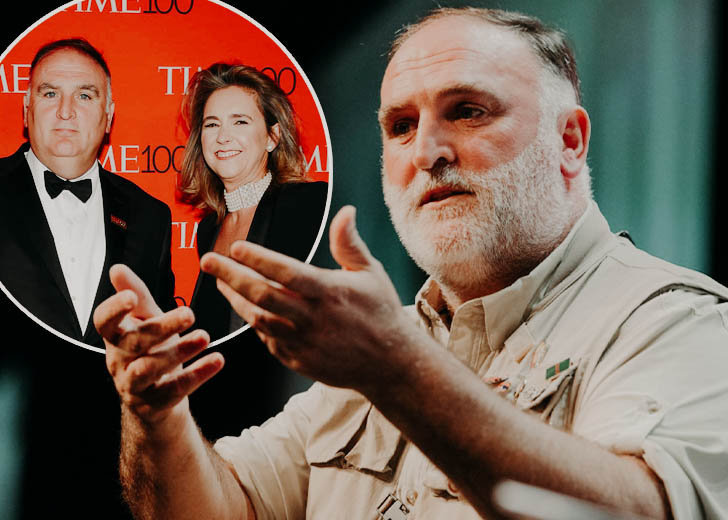 Michelin star chef Jose Andres is a fortunate man who found his life partner and best friend wrapped in the same person — his longtime wife, Patricia Andres.
The chef and his wife, who have a real-life rom-com love story, have been together for over two decades and are apparently thriving in their marriage.
Jose Andres and Wife Patricia Andres Met at a Restaurant
In an interview with Bethesda Magazine, Patricia shared that the couple first met at Cafe Atlantico, Washington DC.
While Patricia often went there with her friends, Andres would go to the same place for coffee after work.
Nothing short of a movie storyline. The celebrity chef had seen Patricia a couple of times dancing with other guys before they officially exchanged words.
Then, he made his move by offering her an invitation to a cafe named Atlantico.
"Actually, I was waiting in line with a friend, because there were long lines to get into Café Atlantico. And Jose came with a friend, and he was like, 'Do you want to come in?'  We said, 'Sure,'"she added.
Then Patricia and the group went in and said, "Thank you."
"She left me alone. She used me," he said laughingly. The couple, however, realized that they enjoyed each other's company and hence took their relationship forward.
Jose Andres and Patricia's 25th Wedding Anniversary
The Spanish-American chef has been married to his wife, Patricia Fernandez de la Cruz since 1995, and they completed their 25 years of togetherness in 2020.
The duo had a civil marriage first, followed by a "real wedding" with friends in Spain. 
But what is the secret to their long-lasting marriage? "Balance," said Patricia.
Her husband is spontaneous, frenetic, and philosophical, whereas she is sensible, calm, and nurturing.

Andres and his wife Patricia Andres on their wedding day. (Photo: Twitter)
In Andres' 2018 book on the aftermath of Hurricane Maria, he mentioned his spouse was caring, loving, and 'the best friend a nutjob like him can have.'
He referred to his better half as an "organized and sensible person in the family" who provides love and warmth to all the family members and the support they need to make it through life's most challenging days.
He also explained that Patricia and their children helped him make it through 2020, the virus period, as she stood like a rock behind him, providing all the support he needed.
My wife has been a rock for me. Without my wife, I wouldn't make it. My daughters, without them, I wouldn't make it.  I have my ups and downs. 
Jose Andres Has Three Children 
The married couple is proud parents of three children, all daughters: Carlota, Ines, and Lucia.
The oldest one, Carlota, is a 2017 Stone Ridge graduate and New York University alum.
Ines is two years younger than Carlota and attends Stone Ridge School of Sacred Heart, also in Bethesda, along with the couple's youngest teenage daughter, Lucia.
Andres loves spending time with his daughters.

Family Time: Andres with his spouse, Patricia, and children in 2013. (Photo: Twitter)
Together, they enjoy preparing homemade meals, some of which are shared on his Instagram, too.
In one such instance, he shared a six-minute fried rice cooking tutorial, dancing, and rapping while sauteeing the carrots and peas with his daughters in the kitchen.
Besides his family, the father-of-three is also quite passionate about feeding the needy.
He runs a nonprofit organization, World Central Kitchen, that places "community kitchens" to help deliver food to the ones who are in dire need.
During the coronavirus pandemic, the organization provided meals to over 25 million people affected by the lockdown.
Now, the organization is actively involved in distributing food in Ukraine and also helping Ukranian refugees. It has already served over 4 million meals since Russia imposed war against Ukraine.