Jordan Burroughs Is about to Have as Many Children as He Has Gold Medals
Wrestler Jordan Burroughs and his wife, Lauren, are expecting their fourth child in October 2021.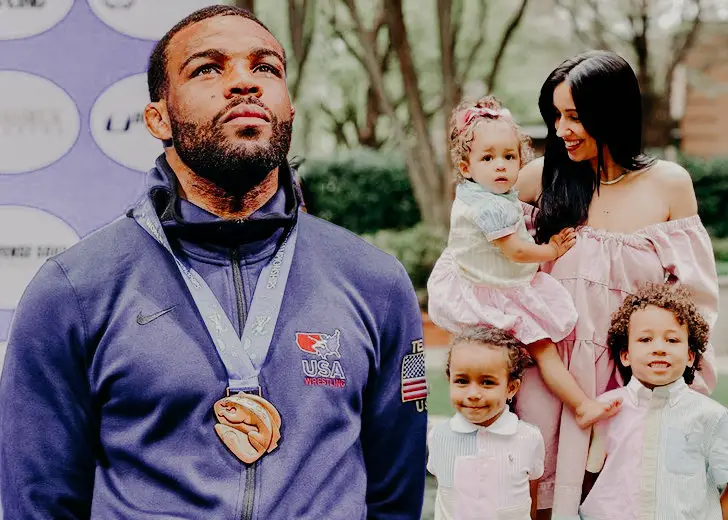 Wrestler Jordan Burroughs will soon have as many children as he has world championships — four. He and his wife Lauren Burroughs are ready to welcome their fourth child due in October 2021.
Lauren first broke the news through her Twitter on April 7, 2021. 
Jordan and Lauren are already parents to three children — son Beacon, and daughters Ora and Rise. They also had a miscarriage back in 2018. 
Jordan Met Lauren Because Of Wrestling
Jordan is one of the most accomplished wrestlers in the world. Aside from professional accolades, the sport has also helped him find a happy family. The duo shared their story on a website they created for their wedding.
Lauren first met Jordan at the 2011 NCAA Championship. She was there to watch her brother compete for American University, but Jordan caught her eye.
She later added Jordan on Facebook and the two began chatting. They connected over time and two years later, got married in October 2013. In a tweet the same month, Jordan wrote that marrying the woman of his dreams felt like a greater achievement than winning gold medals.
Marrying the woman of your dreams>Winning gold medals — Jordan Burroughs (@alliseeisgold) October 12, 2013
They Have Three Children
After tying the knot, Jordan and his wife welcomed their first child, son Beacon, on July 19, 2014. Two years later, they added to their family with the birth of daughter Ora on June 11, 2016.
The two were expecting their third child in 2018, but Lauren experienced a miscarriage. On her blog, she outlined the meaning she found in her miscarriage, saying it helped her slow down and appreciate her children and life more.
Miscarriages are a common thing. One in four women will experience pregnancy loss in her life. Though they're hard, they can be meaningful interruptions in life. They slow you down and remind you of the miracle of children and the realness of life.
Though the miscarriage was a painful episode in Jordan and Lauren's life, they weren't negatively impacted by it too much. The married couple looked at the brighter picture and towards expanding their family further.
After claiming his seventh career medal at the wrestling world championship in 2019, Jordan made the announcement of his third baby. Lauren too broke the news while celebrating her husband winning the bronze medal.
Adding medals, adding babies. Typical legendary stuff over here. The third Baby Burroughs coming Christmas 2019. God is good. P.s. Do you guys know how hard it is to hide a baby for six months?!
Jordan and his wife welcomed their youngest daughter, Rise, in January 2020.
The wrestler and his wife try to give meaningful and symbolic names to their children. It's likely that Rise was named as such to represent overcoming difficulties and perseverance.