Jon Gabrus & wife are college sweethearts, together for almost a decade now
The man of multiple layers: actor, comedian, reality TV Star, writer, storyteller, former lifeguard, construction worker, and sports mascot, Jon Gabrus has been living a very happy conjugal life with his beautiful wife Tiffany Bernard Gabrus for about a decade now and is the best life partner he could ask for.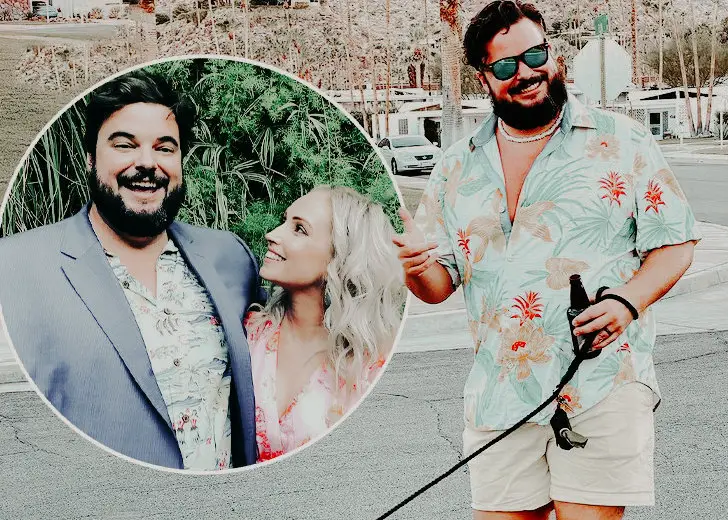 Jon Gabrus is known for being a man of multiple layers—actor, comedian, reality TV Star, writer, storyteller, former lifeguard, construction worker, and sports mascot. But the most important role he plays in his life? That of a husband.
Jon leads a happily married life with the beautiful Tiffany Bernard Gabrus—his wife and best friend.
The Love Story of Jon And Tiffanny
They say that an ideal college romance starts with a friendship and turns into a perfect marriage. Rightly so, the Guy Code star and his wife lived through it. The lovebirds, who have been together for almost eighteen years now, met during their junior year of college in 2002 at Marist College in New York. 
In February 2020, the stand-up comedian took to Instagram to share a photo of his beautiful wife on the occasion of their seventeenth anniversary of being a couple. Jon also shared that he had loved every moment of their life since they were together and looked forward to a hundred more years together. His caption, to be precise, read:
Holy s**t. 17 years with this broad. I have loved every minute of the 8.93 million minutes since I asked, 'would you like to be my girlfriend?' Here's to a hundred more years of telling me every single detail from your day. Love you, Rat Queen (and Cheech).
Not only that single photo but a scroll through Jon's Instagram will make it very clear that he is head-over-heels in love with his wife, Tiff.
The reality TV star has shared several heartwarming pictures with his better half, and we're all for it. One of those is a throwback portrait of their college days that he shared on Valentine's Day. In the picture, the duo looked very young and happy, smiling ears to ears. He wrote, "Happy #ValentinesDay to my wife. This is 14 years ago. Junior year at Marist (tho the wall should tell you it's college)..."
The Gabrus Couple Married a Decade Ago
After dating for almost nine years, the 38-year-old actor popped the question to his college sweetheart and then walked down the aisle on October 15, 2011.
Every year on their anniversary, Jon likes to post a beautiful picture of his wife to show his love and appreciation and celebrate their togetherness with his fans and followers. 
His most recent anniversary related post was that of their ninth year anniversary. It was a family portrait of Jon, Tiff, and their dog Arthur. Under the photo, he wrote:
We got married 9 years ago today. We dated for almost 9 years before getting married. So I guess it will be another 9 years before I ever know what the f**k you are talking about. Love you, boogs. (And I guess maybe I secretly like posing for all these 'dumb' family photos you make me take).
Tiffany Is a Marketing Guru
While the comedian is all about social media PDA, his better half, on the other hand, likes to keep her personal life to herself and has private social media accounts.
That being said, the Marist College Graduate is as multitalented as her husband. She is a marketing expert in the Entertainment and Digital Media field.
At present, she is working in the Global Creative Marketing Department of Netflix, the USA. According to her LinkedIn, she has gained quite the marketing experience as she has been working for over fifteen years.
The marketing proficient has worked as the Vice President and Executive Director of a media company named Starz. She has also taken several roles in that vicinity in the AMC Networks, where she worked for almost five years.