Rapper Jon Bellion Is Married but 'Conversations with My Wife' Song Isn't about His Wife
Rapper Jon Bellion manages his married life with his wife privately.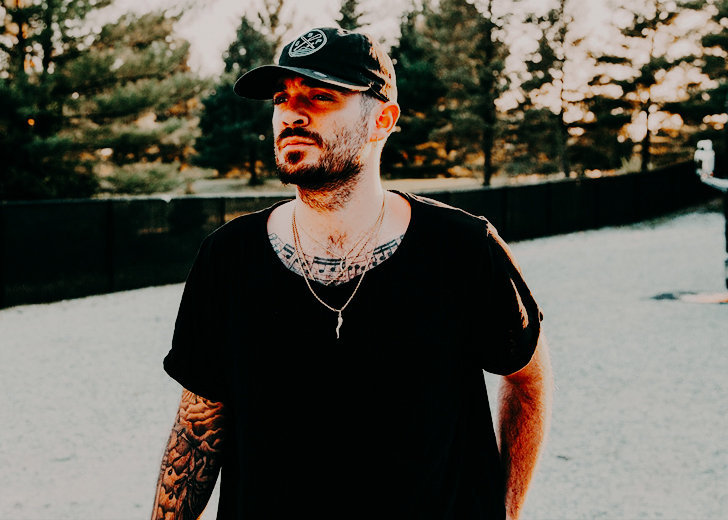 Rumors of rapper Jon Bellion being married have been floating around the internet for quite some time but it was hard to tell facts from fiction because all those rumors were based on a deleted tweet.
Then came the numbing yet beautiful track 'Conversations With My Wife' and the internet finally had a confirmation that the rumors floating around were true.
However, recent evidence suggests that the floating theory was only half true as the song was not about his wife at all but something else.
Rumor of Jon Bellion's Wife Originated from a Deleted Tweet
In October 2018, a Twitter handle by the username @emilyhburgett claimed that a close friend of Bellion had revealed to her that Bellion had been married from the beginning of 2018.

Jon Bellion replies to a tweet from a fan. (Source: SongsMeanings+Facts)
The tweet in itself was quite unremarkable but things took an interesting turn when Bellion replied to Emily's tweet on October 17, 2018.
In his reply, Bellion congratulated the user for solving the mystery and asked the readers to go back to enjoying the music.
Well, the response was hard to gauge. It was not certain if it was an honest answer or a sarcastic response because of the laughing emoji in the post.
Two days later, on 19th October, Bellion's official YouTube channel uploaded the track 'Conversations With My Wife,' and even reputed sources, speculated that the rumors were true.
The tweet in question has since been deleted.
Turns Out Bellion Is Married, but the Speculations Were Wrong
It is understandable how the speculations were made. The song is titled 'Conversations With My Wife' after all.
Even the lyrics of the song were widely interpreted as an attempt to question the commitment that the rapper's spouse has towards him. 
Will you love me when my phone turns off?
I don't want to be some digital Jesus
No more followers, we'll both get lost
When it's me and you inside real life
At first, the song sounds as if the artist is alluding to whether or not his wife would have the same feelings for him even if he was not rich and famous.
However, in an interview with Coup de Main magazine in 2019, Bellion confessed that the song was actually talking to his fans and followers on social media. He analogizes the 'digital life' to social media life.
He went on to compare how social media is slowly siphoning energy away from real-life, in that, people tend to get carried away comparing their lives to others.
The American artist later 'indirectly' confirmed that he was married and he shared how important a role his wife plays in his life's decisions.
Honestly, I just came to the conclusion after having a conversation with my wife and with people around me, that I have to do what's going to keep me mentally sane, and whatever comes from that, it is what it is.
That being said, Bellion kept some other details related to his married life and wife such as his wife's name, date of his marriage, among others private to himself. 
Story behind Bellion's 'Conversations with My Wife'
In the same interview with Coup de Main magazine, Bellion revealed that (like the words in the lyrics) he wanted to run away from the spotlight at one point when things were getting bigger than he could handle. In that particular instance, the artist recalled his days touring for 'The Human Condition' album when he particularly felt that way.
(They'll say that I found love and it's alright)
I'm so ready to run from the spotlight.
With reference to the Human Condition tour, Bellion shared that the album was doing so great and resonated very well with so many people that he was on three back-to-back tours, each one bigger than the last.
The rapper lamented that while those touring days were very intense and showed him a successful life, he was also the most miserable he had ever been. He clarified this statement by saying that what he initially thought as success was other people's opinions rather than his.
He further added that while the world wanted him to get bigger, he wasn't willing to operate on the same level just yet. 
Of course they want you to get bigger, but then you realise the level that you have to operate on, so is it worth it?
The answer for him was, "it's not,"— which is what gave life to 'Conversations With My Wife.'
Bellion said that 'Conversations With My Wife' featured raw guitar rhythms and real instruments with "dirty drum-fill" that was so unlike his previous songs.
In addition to that, he also revealed that the song was in direct opposition to what people actually expected of him, an 'anti-Jon Bellion' if you will; adding that it was more of a statement of building his career in his own terms.
He Delivered a Virtual Concert during Pandemic
When the world was feeling helpless due to the COVID-19 pandemic, Bellion thought of entertaining people by organizing a virtual concert. The goal of the concert was bigger than just entertaining people, as he also announced that all the proceeds of the concert would be used to support the Beautiful Mind band and crew.
The rapper performed on the virtual concert on December 10, 2020, live from Cove City.