Jim Morrison's Love Life — Self-Destructive Relationship with Girlfriend Pamela Courson Plus More
Jim Morrison had a wild relationship with his cosmic lover.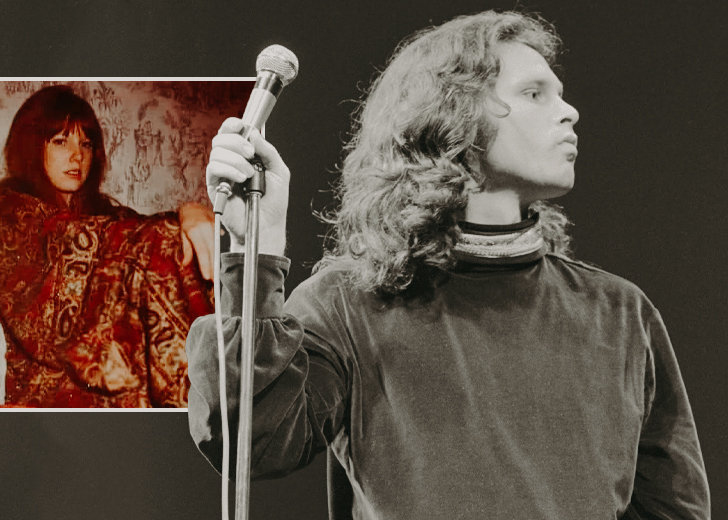 On July 3, 1971, Jim Morrison was found dead in a bathtub of a Paris nightclub. The exact cause of death was never determined, but speculation of a suspected overdose has emerged in recent years. He was just 27. 
He cemented his rock 'n' roll royalty legacy as a core member of The Doors, spawning several hits between 1965 and 1967 including 'Love Street' and 'Queen of the Highway' inspired by his girlfriend, Pamela Courson. 
Courson was a free-spirited art school dropout determined to make a name for herself. But ultimately, she was most famous for being Morrison's girlfriend. The couple had met at a young age, and their relationship was often described as tumultuous and intense.
Courson was the source of his inspiration and downfall who accompanied Morrison until his final days. 
Jim Morrison and Girlfriend Pamela Courson's  Relationship
Courson was often depicted as the quintessential 60s youth. She was rebellious and embraced the counterculture movement that focused on pursuing pleasure and the present, showing no concern for the future. 
It was during this time that she had met her kindred spirit. The Doors was playing at a Hollywood nightclub called London Fog, and Courson was an attendee. The two immediately hit it off, and Morrison was instantly attracted to Pam's hedonistic nature.
Morrison's bandmate Ray Manzarek even opined that Courson was the only person who complemented Morrison's bizarreness.
By the time 'Light My Fire' was released in 1967, the couple was already living together in Los Angeles. However, their relationship was far from a fairytale.
Jim Morrison and Pamela Courson Had an Rocky Open Relationship
There were reports of repeated infidelities and explosive arguments that sometimes escalated into violence. A well-known instance was when Morrison tried to kill Courson by locking her in the closet and setting it on fire. 
By this time, Morrison was already on the decline, consuming high levels of opium and alcohol daily. His addictions were getting the better of him, so in 1971, Morrison and Courson moved to Paris for a change of scenery. 
In Paris, the two continued to indulge in old habits and frequented notorious nightclubs, and his self-destructive ways finally caught up to him on July 3, 1971. He was declared dead of heart failure thought to be brought on by an overdose.
Courson's Tragic Death
This was the official version of his death, but not everyone bought it. One theory suggested that Courson had a role in his death. This was mainly because Morrison had appointed her as the only heir of his will.
Courson was investigated by the police, but there was insufficient evidence that pointed her to her boyfriend's death. She also never saw a dime of Morrison's fortune because of the legal battles she was embroiled in. 
After Jim's death, Courson's addiction worsened, and she gradually became delusional. She referred to herself as Morrison's wife although the two never got married. On April 25, 1974, Pamela Courson succumbed to her addiction and died of an overdose in her Los Angeles apartment.
Like her star-crossed lover, she died at 27 and was buried under the name Pamela Susan Morrison.