Jenni Farley and Ex Husband Handled Son's Autism Differently
Jenni Farley revealed her ex-husband Roger Mathews had a nervous breakdown when he found out about their son's condition.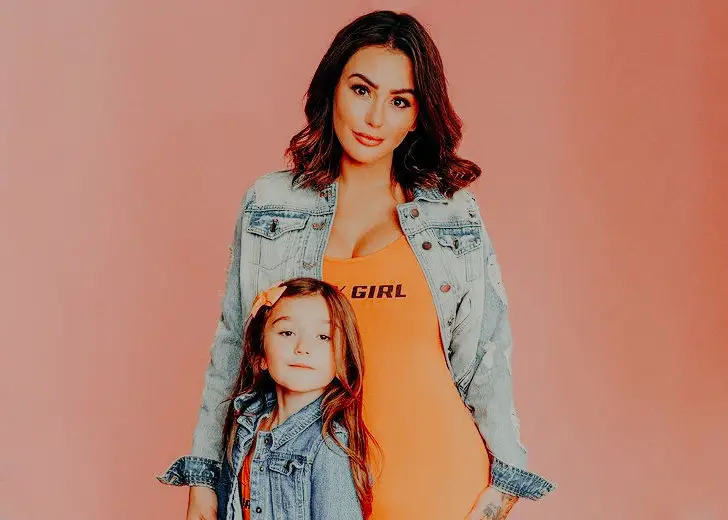 Jenni Farley's life as a mom has been a rollercoaster ride with intense highs and lows.
The Jersey Shore star, who is the mother of two children — Greyson Valor and Meilani Alexandra Mathews — revealed her ex-husband Roger Mathews' initial reaction to their son Greyson's autism diagnosis in the season 3 premiere of Jersey Shore: Family Vacation. 
Allegedly, Mathews was under the impression that Greyson was just a slow learner and did not believe that his son needed professional help. 
How Mathews Reacted To His Son's Autism
The season premiere saw JWoww talk to a friend and costar, Deena Cortese, about how she took the initiative to get Greyson professional help, which caused a rift between her and Mathews. 
Mathews was adamant that their son was completely fine right up until the couple visited the pediatrician, where he allegedly had a nervous breakdown. Farley added:
My heart broke for him because he was like, 'I just want my son to walk down an aisle and have a family of his own.'
Cortese, on the other hand, sympathized with her friend and reassured her that there was only so much a parent can do for their children. Hopefully, coming from the mother of a 6-month-old toddler, the words brought some solace to Farley. 
Mathews finally made peace with the reality, and today, he and Farley are loving parents to their son. 
A Mother's Love
The mother-of-two had already made peace with the facts and was focusing on the next best course of action. 
Farley promised she would hold her children's hands for as long as she could and when such a time comes that she is physically incapable of doing that, her money would take care of them. 
For her, it was almost like she was not saving up for her own retirement but for her children to live a comfortable life.
Jenni Farley and Roger Mathews' Divorce
Farley filed for divorce from Mathews on September 12, 2018, three years after they exchanged the wedding vows. However, Mathews was not onboard and shared an emotional video on social media just hours after the news went public.
In the video, he explained that there was no cheating or anything "juicy" that caused the reality star to file for divorce. Apparently, Farley was tired of the loop that their relationship had fallen into. 
As to what the pattern was, he just disclosed that it was "not a good one," and refused to go into details. He did, however, promise that he was not done fighting for his marriage.
According to Farley's website, Mathews exhibited physical abuse toward her over the years they were together. Moreover, he had not given their kids the proper care they needed. 
Farley Has Since Moved on
Farley has since moved on from that relationship. She dated pro-wrestler Zack Clayton Carpinello. 
The couple went public with their relationship in April 2019. Farley and Carpinello hit a rough spot in their relationship in October 2019. 
They'd put the relationship on hold momentarily when Carpinello was seen being inappropriate with Farley's costar Angelina Pivarnick. They have ironed out those qualms since. 
The two even came forth with the news of their engagement in March 2021, and can often be seen gushion over one another on their respective socials.