CNN Analyst Jeffrey Toobin Age, Wife, Nationality; Massive Net Worth Revealed
Jeffrey first met his wife when he was studying at Harvard College...The two then started dating after a year of meeting...the couple wasted no time in getting married at the Georgian Suite... things weren't so smooth in their relationship as Jeffrey got himself involved in an...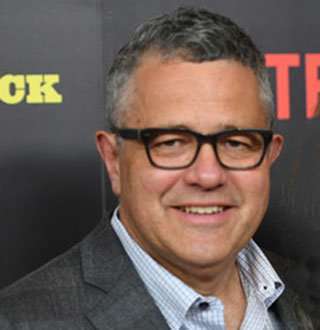 CNN analyst Jeffrey Toobin had a hard time handling his relationship with his wife of more than three decades, but he didn't back down to save his marriage as he had his children to motivate him.
Jeffrey Toobin is widely known for his serving as an associate counsel in the Department of Justice during the Iran-Contra affair.
CNN With Smart Move: Jeffrey Toobin talks about the nomination of Brett Kavanaugh that will tackle some trouble after being alleged of sexual harassment (Published on 17 September 2018)
Jeffrey stated about believing that the United States Constitution should be amended on eliminating the inequities of the United States Senate in a 2011 discussion with journalist Fareed Zakaria.
Jeffrey Toobin's Bio: Age, Nationality & Early Life
Born on 21 May 1960, Jeffrey Toobin comes from a Jewish family that makes his nationality Jewish American, belonging to Jewish ethnicity. In accordance with his ethnicity, it should be likely for Jeffrey to follow the religion of Jews.
You May Also Like: Frank Fritz Net Worth Detailed! Estimated Salary Of "American Pickers" Star, Gigantic
The 58-year-old journalist was born to parents who were both involved in the broadcasting platform. His mother Marlene Sanders was a correspondent for ABC News and CBS News (died of cancer at age 84), while his father Jerome Toobin was a news broadcasting producer (died of heart attack at age 64).
Jeffrey went to the private preparatory school, Columbia Grammar and Preparatory School in New York City and attended Harvard College for undergraduate studies.
He was awarded a Truman Scholarship after graduating with a Bachelor of Arts degree in American History and Literature.
He used to cover sports for The Harvard Crimson which led him to become an editor of the Harvard Law Review in Harvard Law School. In 1986, Jeffrey graduated magna cum laude with a J.D. from Harvard Law School.
Jeffrey & His Multiple Career Choices
Beginning his career as a freelancer for The New Republic, Jeffrey worked as a law clerk to a federal judge and as an associate counsel to Independent Counsel Lawrence Edward Walsh during Oliver North's criminal trial.
Jeffrey later served as an Assistant U.S. Attorney in Brooklyn and in 2013, he was caught for having absconded with classifies and grand-jury related documents while working for Walsh, according to journalist Michael Isikoff.
When Jeffrey wrote a book about his working tenure in the Office of Independent Counsel, Walsh objected to the idea and Jeffrey went to court to proclaim his right to publish. The judge of the court gave the opinion of that Jeffrey, and his publisher had the right to release the book. 
In 1993, Jeffrey started working at The New Yorker, and in 1996, he became a television legal analyst for ABC. The journalist joined the CNN network in 2002 and secured his first interview with Martha Stewart on the insider trading charges put against her.
He is now the chief legal analyst on CNN and the author of seven published book to date.
Jeffrey Toobin's Bragworthy Net Worth
According to sources, Jeffrey Toobin has got an estimated net worth of $10 Million, that he has amassed from his journalism career.
Read Also: CNN's Christine Romans Divorced Husband? Married Status & Net Worth
The average salary of a CNN legal analyst ranges from $82,193 to $84,146. The top earners are paid more than $85,994. So, there's no doubt that Jeffrey comes among the top earners as well.
Aside from the broadcasting platform, Jeffrey makes his fortune through his books that never cease to sell some reasonable amount of copies in a short span of time.
Jeffrey Toobin & His Wife, Amy McIntosh: Turmoils On Board
Jeffrey first met his wife, Amy B. McIntosh when he was studying in Harvard College. And although they didn't actually spark anything of interest, they did notice each other.
The two then started dating after a year of meeting, and it wasn't long before Jeffrey proposed to Amy in 1986.
Likewise, the couple wasted no time in getting married at the Georgian Suite in New York and were soon blessed with two children, a son named Adam Toobin and a daughter named Ellen Toobin.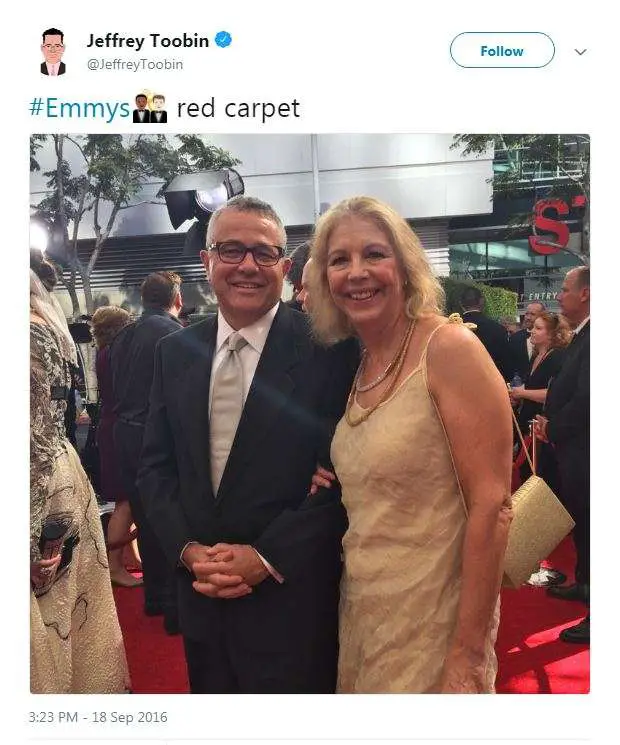 Wife Territory: Jeffrey posts a picture with his wife, Amy as they attend the Emmys red carpet event with on Twitter 18 September 2016 (Photo: Jeffrey Toobin's Twitter)
But things weren't so smooth in their relationship as Jeffrey got himself involved in an extramarital affair with attorney Casey Greenfield in 2009. They shared a son together, named Roderick Henry Greenfield but their affair didn't last much as Jeffrey didn't want to part with his wife, so it led to a massive dispute over child support.
Casey made some demands that were quite unreasonable and did not accord with the law, but Jeffrey accepted on providing liberal financial support for the child and maintains a good relationship with Roderick.
You Don't Want To Miss: Tal Fishman Bio: Is YouTuber Gay? Girlfriend, Parents, Sister, Height & Facts
Despite going through troubles with his wife over the affair, the two eventually made up and Jeffrey's wife has no problem when Roderick visits his father sometimes.
In fact, Jeffrey's family openly welcomes Roderick whenever he visits them on holidays. Overall, this proves that the bond the couple shares is more than just of two lovers.