Jason Whitlock Has Set His Priorities Straight — Career over Marriage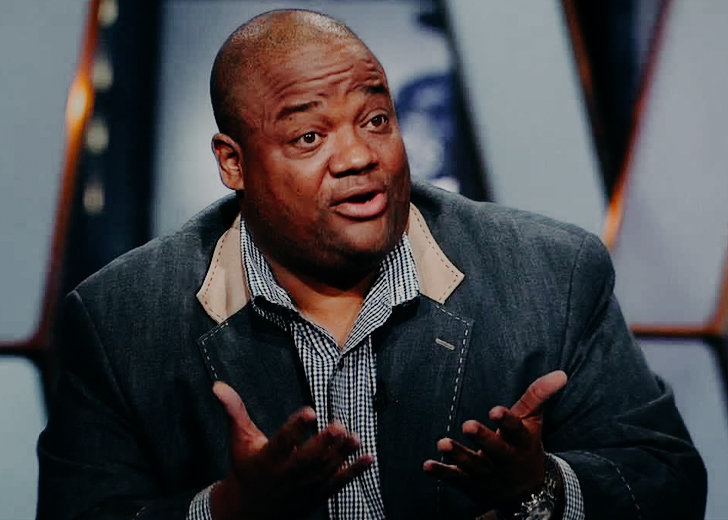 American sports journalist Jason Whitlock has set his priorities straight — choosing a career over having a girlfriend or wife.
When asked questions about settling down, Whitlock revealed he is happily living his bachelor life and has an interesting perspective behind not getting married.
Jason Whitlock on Marriage and Having a Wife
Different people have different viewpoints regarding marriage and starting a family of their own.
While some have it sorted way early in their life, others put their professional commitments above marital ones. Whitlock falls into the latter category.
The famed podcaster wants to stay far away from marriage.
In an interview with Colin Cowherd on The Herd in 2016, the sports journalist put forward his take on the advantages of being single instead of sharing his plans on getting married. 
Cowherd gave examples of some personalities who became successful after getting married and urged Whitlock to settle down with a wife.
Interestingly though, Whitlock quickly gave a befitting reply to the host. He gave an example of professional footballer Chip Kelly who is unmarried and has a successful career.
He opined the baller was successful because he could focus on football 24/7. "He thinks it gives him a great advantage in it," Whitlock added.
According to the 54-year-old author, he has more time to think than his competitors, who always worry about their wives and kids.
Not only that, but he also expressed his opinion on how his singlehood helped him to grow professionally with no distractions from a wife.
I think it's an advantage in my career. I have more time to think than my competitors. So I tell people all the time. It's not that I am smarter than anybody I just got more time to think while you are thinking about your life and kids.
Whitlock further explained his problem with post-marriage life and having a wife. The problem? He's scared his life will be out of balance.
I think I'll be honest with you. I have lived long enough to know it's not an advantage. Your life is out of balance.
He admitted that having a wife would put him in a better place, but mentioned that his problem was he would "wanna relax at home and she will be like let's hit the club."
Jason Whitlock Had A Girlfriend
Even though the radio personality has a problem exchanging vows, he surely didn't want to stay away from getting love. As per his tweet in July 2015, he once had a girlfriend.
The said relationship remained a mystery as he never officially spoke about it. However, one of his Fox Sports columns reads that he is a fan of 'June-December romances.' He wrote:
But a blossoming Mayflower certainly could be fertilized into a special, 28-year-old bouquet by a patient and attentive gardener.
For those of you who don't know what a June-December romance (or popularly known as May-December) is, it is an age-old term for a romantic relationship between two people with a considerable age difference. 
Whitlock further shared in the column that men like him are somehow attracted to younger women.
Every man I know has a little Captain in him. We see a pretty young thang working her way through nursing or cosmetology school and it's just in our nature to pay a cellphone bill, a car note or get her nails done. It's what we do.
Is Jason Whitlock Gay?
The former Fox TV sports journalist has kept his private life behind the curtains and never really spoke about it.
This has raised many questions regarding his sexuality, but didn't necessarily mean he is gay. Whitlock never really gave air to the rumors; however, he stated in 2016 that he fully supported and stood behind the LGBTQ community. 
He extended his view regarding this topic in the sports context.
According to the sports columnist, the sports world needs a prominent role model like Muhammad Ali to be a trailblazer to remove some of this hate and fear of people relating to the homosexual community.
In sports, there are opportunities, we've seen it for sports to be a leader in social change, and clearly, I don't want to avoid this man or this tragedy affected the LGBT community, and there's a reason why the LGBT community wants the sports world to embrace people of the LGBT community.
He added they needed a role model for gay and lesbian athletes.