Is Holland Roden Dating Anyone? Who Is The Mystery 'Boyfriend' She Referred To On Twitter?
The mystery around who Holland Roden is dating has not been revealed. There were rumors' of her dating the Teen Wolf co-star Colton Hays, but it was never confirmed.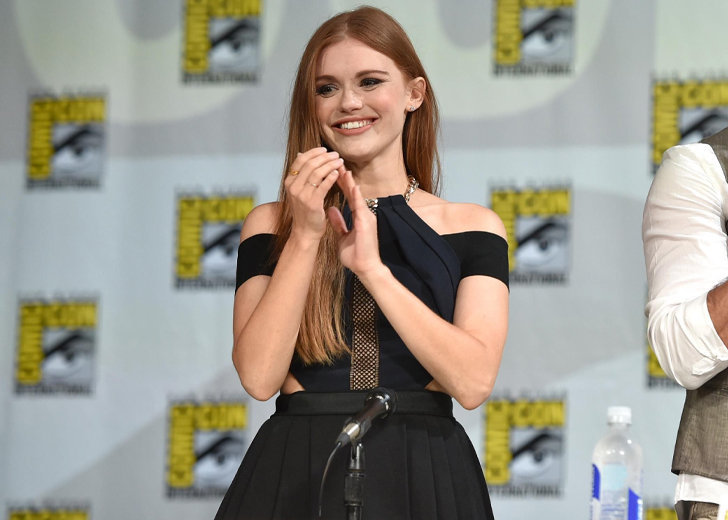 Teen Wolf Star Holland Roden has always been coy and secretive about her relationship status. When the supernatural teen drama series was at its peak, Roden's fans flooded social media with speculations—some quite baseless, whereas some with receipts. However, the actress always responded to them with grace and humor.
To stir the speculations, Roden has mentioned—on several occasions—about her boyfriend in different humorous tweets. This has turned the fans into investigators trying to solve the dating mystery. But how much truth do the actress' tweets have? Let's find out!
Fans Speculated That Holland Roden Was Dating One Of Her Co-stars
Teen Wolf fans' legions have always been vocally curious about the red-headed actress Roden's personal life.
The fans stormed Twitter to inquire if she was dating one of her co-stars, Max Carver. A fan going by the handle @PrObLeM_WoLf was one of the many fans to do so. She straight away went ahead and asked Carver and Roden if they were dating.
Another fan expressed similar curiosity about the actors' status, with added drama.
We don't really blame them for their constant curiosity as, according to various reports, the co-stars were actually dating!
Apparently, the pair, who met at the sets of Teen Wolf, started dating each other back in 2014. They also began sharing pictures on their Instagram accounts, which left many of their fans wondering about their relationship off the camera. However, they kept their relationship super low-key, and neither of them admitted dating each other. And eventually, they broke up in 2016.
Another Co-star, Another Dating Rumor!
Roden wasn't on the receiving end of dating queries regarding just one co-star. Her followers were constantly questioning her regarding her relationship with another actor, Colton Hayes.  
These repeated questions are a testament to Holland's popularity and the fans' interest in her and her co-stars' personal lives. But, thanks to Hayes being very vocal about his and Roden's friendship, we can say that these two were really good friends.
Hayes has, in a few instances, shared his appreciation towards their friendship. He has even shared a tweet stating how he loved babysitting with Roden.
It is quite transparent that they shared a very special relationship and loved spending quality time with each other. However, neither of them has explicitly confirmed or denied if they were more than friends.
Holland Roden Has Not Confirmed Any Speculation Regarding Her Relationship Status But Has Mentioned A 'Boyfriend'
By now, it is quite clear that the actress is very private when it comes to sharing deets regarding her dating life. However, she has mentioned her boyfriend several times, either jokingly or indirectly, in many of her tweets.
In an interaction with her fans back in 2014, she had mentioned celebrating April Fool's day with her boyfriend. 
On another occasion, the Teen Wolf star mentioned her boyfriend again, sharing that she liked bland eggs and that her boyfriend would attest to that. Although this was clearly a joke, this again is the kind of coy reference that sends her fans crazy.
Besides the mention of a 'boyfriend', the Teen Wolf actress has also jokingly referred to journalist Steve Kornacki as her match in her Instagram posts for his quirky, humorous TV presence.
Although the mystery around her boyfriend has not been revealed, the Taco-loving actress is surely enjoying her life. Perhaps someday, her fans will finally get to know about her relationship status and will be happier for it. Until then, all we can do is appreciate this absolute gem of an actress and her funny social media banters.