Halle Berry Might Be Ready to Take Relationship with Boyfriend Van Hunt a Step Further
After a string of toxic relationships, the Oscar-winning actress may have finally found herself in a happy one with boyfriend Van Hunt.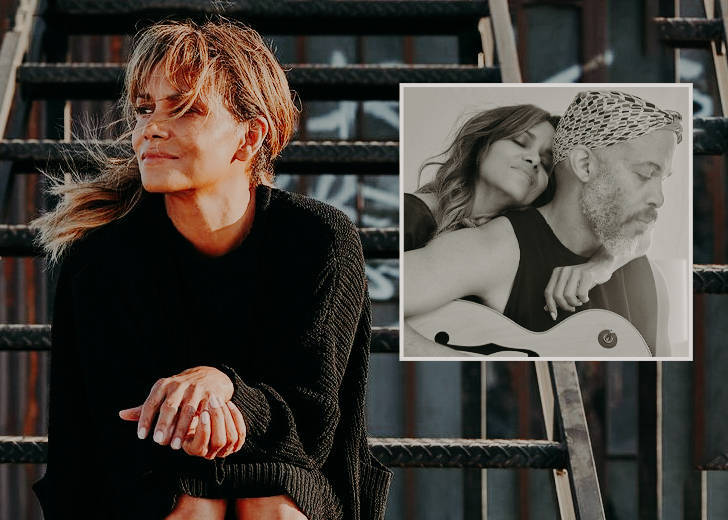 Hollywood's legendary actress and model, Halle Berry, has been on the big screen since 1991 with Spike Lee's Jungle Fever.
For the past three decades, Berry has stunned fans with fantastic performances in movies like Monster's Ball, Introducing Dorothy Dandridge, Catwoman, and X-Men: Days of Future Past. 
Berry also has had her fair share of lovers and the Oscar-winning actress has constantly been criticized for her love affairs as well.
However, she isn't one to care about what others have to say.
The Catwoman actress is currently dating Grammy-winning artist Van Hunt. The two have been together since September 2020. Despite going out for less than a year, it seems like Berry is ready to take their relationship to the next level. 
Recently, she shut her haters down in the best way possible. 
On May 15, the actress uploaded a picture of her in a bikini and heart-shaped sunglasses, kissing her beau. She penned the post to say that they would do whatever they wanted — basically her turning a blind eye to the haters. 
Even though the pair have been dating for a short time, US Weekly reported that Berry is ready to tie the knot with her boyfriend. They noted that the actress believed he was the one for her.
The model has had plenty of negative experiences with her previous relationships. Furthermore, Berry's been on a break from dating since 2016. Hunt seems to have renewed her faith in love. 
Regardless, the couple hasn't announced their marriage yet, but it wouldn't be a surprise if they do soon. 
Who is Van Hunt?
The 50-year-old is a musician from Ohio. He started playing drums and saxophone at the ages of 7 and 8 respectively. He also learned how to play the bass, keyboard, and guitar.
He attended the Morehouse College in Atlanta but soon dropped out to start his music career.
His debut album, 'Van Hunt' was released in 2004. One of the singles from the album, 'Dust,' was nominated for the Grammy Award for Best Urban/Alternative Performance in 2005. He didn't win that year.
However, in 2007 he took home the award for Best R&B Performance by a Duo Or Group, together with John Legend, Joss Stone, and Nikka Costa.
Till date, he has released five albums, five E.Ps, and nine singles. 
Hunt has kept his personal life private, and there is little information about it. He has a son named Drake, who, like his father, is involved in music. 
The singer credits Berry for making him a better singer as well as a better parent. In an interview with Entertainment Tonight, he confessed that the legendary actress had improved his life, influenced his new music, and bettered his parenting style. 
Hunt seems to have fallen head over heels in love with Berry, and the same can be said about the actress. They both appreciate, respect, and love each other, which is evident from their respective Instagrams. 
Berry's Previous Relationships
The actress doesn't have a pleasant history of past relationships.
She dated John Ronan, a Chicago dentist, from 1989 to 1991.
In 1993, Berry was sued by the dentist for $80,000, which Ronan claimed was for an unpaid loan to Berry. He had filed for bankruptcy in 1992 but had not listed Berry as a debtor. The case was dismissed. 
Berry's first marriage was to David Justice, a former baseball player. They were married from 1993 to 1997. Rumors of him abusing the actress had floated around. The marriage ended with Berry filing a restraining order against him.
The Oscar winner then went on to marry singer/songwriter Eric Benét. Their marriage lasted from 2001 to 2003. It ended when the singer admitted to cheating on Berry. Their divorce was completed two years later, in 2005. 
Berry's longest relationship was with Canadian model, Gabriel Aubry. They dated from 2005 to 2010. The actress shares her first child, Nahla, with him.
They ended up in a legal battle for custody over their daughter for almost two years. In the end, they settled for an amicable custody agreement in court. 
Berry then dated Shemar Moore before tying the knot with actor Olivier Martinez, who was also her third and final husband. They were engaged in 2012 and got married a year later in France.
In October 2013, they welcomed their son, Maceo Robert Martinez.
However, this relationship didn't last long. It fell apart in 2015. The pair filed for divorce, and six years later, it has still not ended.