Gabourey Sidibe And Fiancé Brandon Frankel Ignite Marriage Rumors after Flash of Rings on Dinner Date
The 'Precious' actress and her fiancé Frankel announced their engagement via an Instagram video on his profile back in November 2020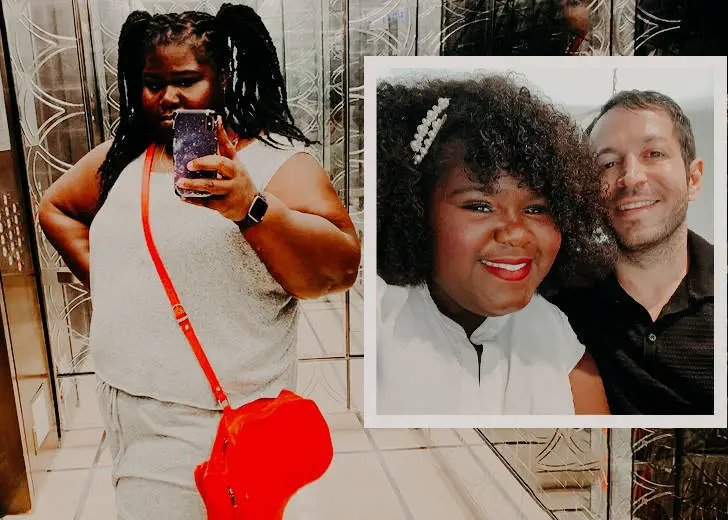 Gabourey Sidibe and Brandon Frankel have been engaged since last year. While it was expected of them to tie the knot, outlets were still caught by surprise when they saw the adorable couple walking around with what appear to be wedding bands.
The couple was caught red-handed during their dinner date in Beverly Hills on April 11, 2021.
They Finally Said, 'I do'?
In the snaps taken during their outing, the Academy Award nominee was clad in a sunshine yellow top paired with an equally eye-catching high-waisted purple paisley skirt and soft, rose-hued suede ankle boots. To accessorize, she opted for a purple face mask, diamond hoops, and square glasses.
Her beau was no less. He sported a trendy patterned jacket, a black shirt underneath, and paired perfectly with a pair of dark gray plaid trousers. All of which was complemented with a yellow mask. However, what caught everyone's eyes were the wedding bands that both their hands proudly adorned.
However, neither of the two have offered any news of their wedding. So despite the glaring evidence, their marriage is to be taken with a pinch of salt. 
Frankel Shared Their Engagement Via Instagram
Sidibe and her fiancé Frankel announced their engagement via an Instagram video on his profile back in November 2020. The video featured the beautiful Sidibe flaunting her engagement ring while Frankel shouted, "AAAA, I put a ring on it..." in the background. Finally, the couple explicitly announced that they were engaged. 
The series of absolutely adorable photos that followed described how exactly he proposed. First, he put a "Will you marry my daddy?" collar on his heart-stoppingly cute pet kitty. Second, he decorated what appears to be their bedroom with flowers and balloons that spelled, "Will you marry me." 
In between those two photos, there was a snap of an unbelievably awestruck Gabby behind whom stood a proud husband-to-be with a smile plastered to his face. 
Gabby Made Her Own Post
At about the same time, Gabby took to her Instagram to share the big news with her fanbase. Alongside the same video, she posted a selfie of the engaged couple. 
Of course, the post would be incomplete without a caption to go with it. So, she strung hers as so,
It's weird that people think we're already married, but I guess our hearts and intentions for each other are just that clear to see.
That's not all. The caption described her beau as her sweetest, funniest and best friend, much like how Frankel had complimented her as "the most amazing, hilarious, beautiful, and inspiring woman" he had ever known.