"Feeling like a Bride to Be:" Bella Thorne Asks Fans for Wedding Dress Ideas on Instagram
Bella Thorne posted a series of 5 photos on her Instagram where she said that she felt like a bride-to-be.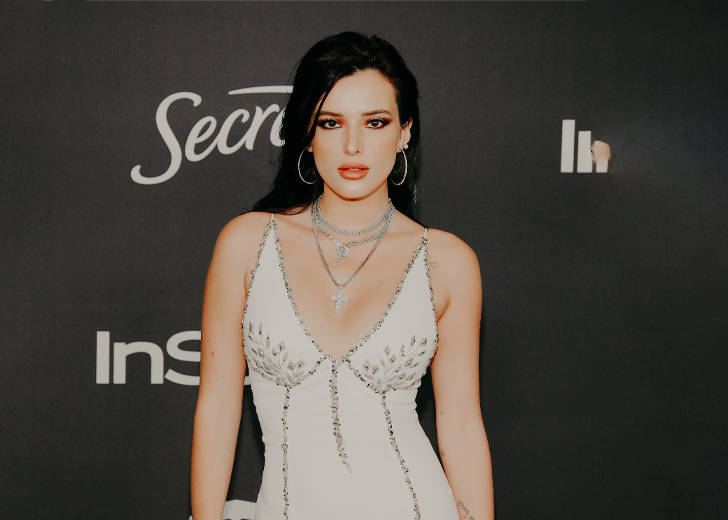 American Actress, singer, and producer, Bella Thorne got engaged to her boyfriend of two years, Benjamin Mascolo on March 21, 2021.
Thorne cannot wait to be a bride, and she already had some fabulous taste of how her wedding look is going to be like. On April 4, 2021, she shared five photos of her flaunting a stunning wedding dress.
The actress asked her fans for wedding dress suggestions and ideas.
Ready To Be A Bride
The 23-year-old posted a series of beautiful photos of her wearing a white dress while sitting on a circular wooden staircase. 


 Bella Thorne (Source: Instagram)
With her blazing red and yellow ombré hair and the train of her dress flowing down the stairs, Thorne looked like a gorgeous bride.
The railings of the stairs were wrapped with vines and colorful flowers along with fairy lights. Thorne sported a Rolex, silver earrings, and white ankle strap heels. Her soft glam makeup complimented the dreamy look.
The actress said she felt like a bride. She also asked her fans what they thought she would wear on her wedding day and took suggestions. 
While many commenters asked her to check her message, a few of them gave their suggestion in the comments section. One fan suggested she wear a dress with Swarovski crystals.


Thorne's fan suggests her wedding dress ideas. (Source: Instagram)
Fellow musician, Luna Aura suggested she wear a vintage Chanel dress, while other fans said she should check out Giambattista Valli's designs and black wedding dresses. Most fans said Thorne would look beautiful regardless of what she wore. 
Thorne also shared the post in her Instagram stories and called herself a wife material


Thorne's Instagram story. (Source: Instagram)
Thorne And Her Fiancé Benjamin Mascolo
The duo made their relationship Instagram official back in June 2019 following dating rumors.
On March 21, 2021, Mascolo announced they were engaged with an Instagram post. The Italian singer posted three photos where Thorne was seen flaunting her pear-shaped diamond cut engagement ring.

The couple's engagement announcement. (Source: Instagram)
While Thorne initially shared the news on her Instagram stories, she posted a series of nine photos on March 22, 2021, sharing some behind-the-scenes moments while Mascolo proposed.
The setting was beautiful with fairy lights and roses along with polaroids of the duo hanging around. A huge "Marry Me" glowed in the center with fountain fireworks in the background. Mascolo got her a massive bouquet of red roses in the shape of a heart with 'B+B' adorned by yellow roses.