Benjamin Mascolo Engaged to Long-Time Girlfriend Bella Thorne
Italian singer Benjamin Mascolo announced his engagement to actress Bella Thorne via an Instagram post.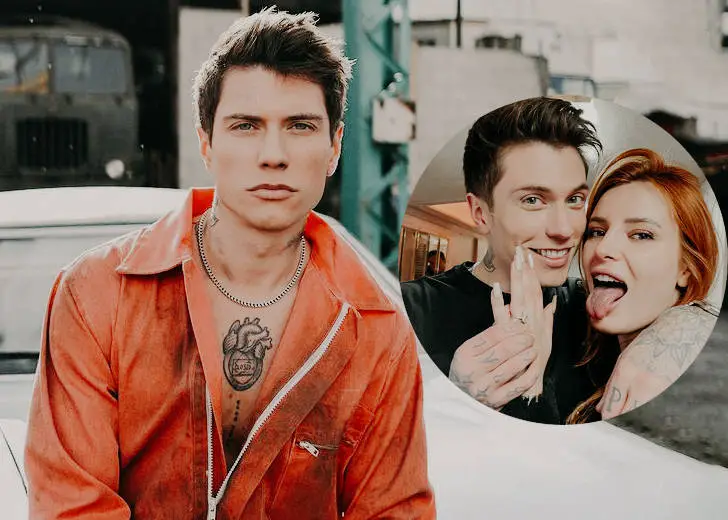 On March 21, 2021, Benjamin Mascolo and Bella Thorne made news when the former announced his engagement to the latter via an Instagram post.
In a saccharine post, the Italian heartthrob posted three images with the caption: "She said YES." The photos also featured Thorne flaunting her gorgeous pear-shaped diamond cut ring.
While Thorne did not make a post per se, she shared countless stories from Mascolo's Instagram, one of which is a video that could pass for a sequence straight out of a rom-com.
In the video, a giggling Thorne shows off her ring as the singer conveys his love for her. The video's backdrop, replete with a big heart-shaped 'B+B' decor and beautiful lights, indicated a small outdoor ceremony, presumably at a backyard or a park.

Screenshot from the video shared by Bella Thorne on her Instagram story. (Source: Instagram)
In the video, Mascolo is heard saying: "Thank you for being amazing, baby. I love you so much. Yay! we're getting married. Celebration in Italy and America both."
The big announcement was followed by Thorne's post earlier this year. In the picture, one can see Mascolo in an all-black suit, all smiles for the camera, with his hand placed on Thorne's knees. 
In the caption, the actress teased about a significant change in her relationship status by sharing three engagement ring emojis.
The Wiki of Their Romance
According to People, the couple was first rumored to be dating in April 2019, days after Thorne's split with Mod Sun. A couple of months after the rumor, the duo made their relationship Insta-official in June 2019.
On April 17, 2020, Mascolo posted a picture of the two, expressing his love and gratitude for Thorne. In the caption that accompanied the images, Mascolo spilled details about how they had first met a year ago at the Coachella Valley Music & Arts Festival.
In an interview given to Icon, the singer mentioned that he immediately knew Thorne was different from the rest.
It wasn't the first time the singer had complimented his fiance.
In an interview with Vanity Fair Italia, the singer also complimented Thorne on her ability to make him feel confident. 
The nicest thing Bella did for me was making me believe in myself ... a lot of things I thought I could never do, I'm learning now because she got me started. In music, in life. She gave me the gift of believing in myself 
Benjamin's Bio: A Snapshot of His Career & Net Worth 
Mascolo, whose parents share Italian roots, divides his time yearly between Italy and Los Angeles (where Thorne currently lives.)
Mascolo was once a part of the pop-band Benji & Fede before launching his career as a solo artist B3N. Recently, the singer also starred in the movie Time Is Up. According to Biography Daily, the singer's net worth stands at USD 4 million.
During the pandemic, the couple stayed away from one another - with Mascolo in Italy and Thorne in Los Angeles. As a result, their fans were in for some interesting Instagram live sessions between the two. 
In one such Instagram Live chat, Mascolo revealed to 1.7 million followers that he actually clicks most of the photos posted by Thorne.