CNN Fareed Zakaria Bio: Muslim Religion, Christian Wife & American Family
He is a firm believer in secularity and with his wife having Christian faith, the couple has raised their children...the family that was once strong and an example of cross-culture...Zakaria's wife of 21 years filed for a divorce in July 2018...His huge salary has boosted his net worth and stands at around...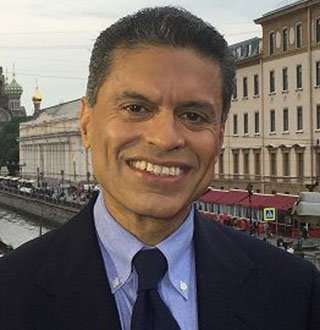 Fareed Zakaria, the voice America turned to understand the outside world, especially the Muslim world, seemed to have hit rock-bottom in this personal life as his wife for twenty-one years filed for a divorce.
The CNN TV personality is an Indian-born American journalist who hosts Fareed Zakaria GPS, a public affairs show featuring one on one interviews and panel discussion on CNN Worldwide.
CNN News & Politics: Fareed Zakaria talks to Stephen Brill, James Fallows, Deborah Fallows about whether America is a nation in decline or not (Published on 2 September 2018)
Fareed has been an expert for America in foreign affairs, coming with a concise and unbiased analysis, untainted by his religion or political affiliation.
Fareed Zakaria Bio: Parents and Religion
Born into the privileged family of politically-learned parents, his father an Indian National Congress politician and his mother the editor of Sunday Times of India, Fareed Zakaria came to America as an undergraduate student for Yale University.
CNN's Best Known Face: Openly Gay Anderson Cooper Split With Restauranter Partner; Boyfriend Still Family
In spite of being a Muslim by birth, and having an acute idea of how religion works in the world outside America, Zakaria does not like people looking at him from the tinted glass of religion.
I occasionally find myself reluctant to be pulled into a world that's not mine, in the sense that I'm not a religious guy.
He is a firm believer in secularity, and with his wife having Christian faith, the couple has raised their children without any religious beliefs.
His Blockbuster Career: Success Breed Huge Salary & Net Worth
Fareed Zakaria's life and career can be turned into super-hit biopic.
From the editor of Newsweek International to the columnist of The Times, from the host of the primetime specials like Blindsided: How ISIS shook the world? to the best-selling author of the books about liberal education, the rise of non-western worlds and democracy, it looks like there is nothing Zakaria hasn't worked and succeeded on.
His most famous, and probably most successful work, has been as a host of Fareed Zakaria GPS, on CNN Worldwide. His interviewees include the biggest names in politics from former American President Barack Obama, Russian president Vladimir Putin, Israeli Prime Minister Benjamin Netanyahu, to former British Prime Minister Tony Blair and more.
Another Multifaceted Journalist: Michael Shure Bio: Family Man With Wife Plus His Height And Net Worth
Zakaria's job in CNN has not been rewarding personally, but also financially. He is one of the best-paid reporters on the books of CNN, with the network paying him an annual salary of over $100 thousand every year. His huge salary has boosted his net worth and stands at around $8 million in 2018.
Hit On Fareed's Personal Life: Wife Files For Divorce
For someone who wasn't American by birth but by his dedication and deeds, it seems like the most American of the social problems: the breakdown of the family has finally, at the age of 54, caught him.
Married with jewelry designer Paula Throckmorton for 21 years, it looked that his married life was all plain sailing to the outside world. However, Zakaria's wife of 21 years, laid bare the problems that had in their marriage, filed for divorce in July 2018 citing 'irretrievable breakdown' as the reason.
Fareed Had Problems With Wife Previously
It wasn't the first time the couple had had problems. In 2011 the couple's married life nearly ended after news surfaced that Zakaria had brought a new apartment, a few blocks away from the family house. In an official statement, the CNN journo confirmed about his problems in marriage saying:
It's true that we're having troubles and I have taken a small apartment a few blocks away, but I still live at our house most days of the week. We're trying to work things out. Divorce is not on the horizon.
Also, the couple was reported to be living separately. The long-time married couple later reconciled settling their differences, but the rifts seem to have not been repaired entirely, which came to light only after the newest divorce saga.
How Will Fareed And Paula's Custody Of Children Be Decided?
Despite filing for a divorce, it looks like Fareed's wife Paula wants an amicable separation. The couple is not believed to be fighting over the splitting of assets as Paula during filing the divorce also included an agreement to not fight for their wealth. 
Another Celebrity Divorce: Bryant Gumbel Moved On From Acrominous Divorce! New Wife, Children And Married Life
Fareed is estimated to have a net worth of $8 million, and the couple also boasts joint assets of over $5 million. However, it is more likely that if there were any struggle, it would be over the custody of their three children, daughters Lila and Sophia and son Omar; who are all growing up and age between 10-19.

Family Man: Fareed with his wife and eldest daughter Lila (Photo: dailymail.co.uk)
It looks like howsoever they decide to share time with their children, the family that was once strong and an example of cross-culture harmony, which consisted of a Muslim husband and a Christian wife raising up children the American way, will no longer be the same!
Stay with us for more updates on the couple's divorce saga and custody battle!