Don Lemon Gay & Proud; Walks Into 2018 Hand-In-Hand With Boyfriend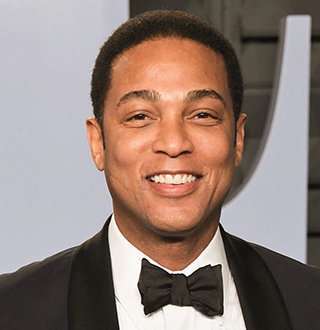 For the new year 2017, Don Lemon wanted the right balance in his personal and professional life. Plus a partner was top of his resolution. A year later, openly gay Don Lemon showed off that his year-long hunt concluded.
Don Lemon is the host for the CNN and appears daily in front of the TV sets as the host of CNN Tonight. Before CNN Tonight, he hosted various weekend segments with the network and also the Year End parties since 2014. He is well recognized for his outspoken views on African-American communities and courted controversy in more than one occasion due to his comments.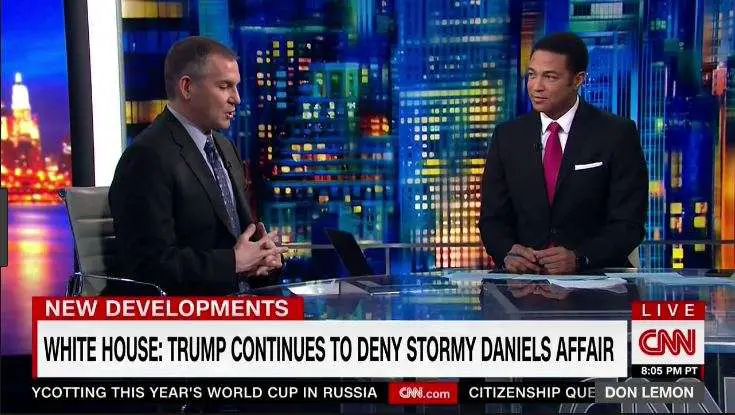 Speaking Politics: Don Lemon talks with New York Times Op-Ed columnist Frank Bruni about the president Donald Trump's alleged affair with Stormi Daniels on CNN Tonight in March 2018 (Photo: youtube.com)
You May Also Like: CNN Analyst Philip Mudd Wiki: Former CIA's Age, Married & Family Details
Beginning his career as a reporter for local channels, he later joined NBC as a reporter. He worked as a correspondent with the NBC, and also hosted Weekend Today for the network. He joined CNN in 2006, first as a correspondent and slowly made his way up to the host of CNN Tonight.
His time at CNN has been riddled with controversies, because of his outspoken comments. He created news after criticizing Afro-American community about how they handled themselves. Furthermore, his dissection of Bill Cosby rape scandal - he suggested that the victim could have tried to get him off by biting, was met with widespread condemnation.
Furthermore, a 2015 petition to get him fired from the CNN gathered more than 30,000 signatures after he made controversial comments on a police officer's use of excessive force in throwing out a student from the class.
On the other hand, the journalist's good works have also not gone unnoticed. His coverage of real estate market in the Chicago won him an Emmy. He was also awarded Edward R. Murrow Award for his work on DC area snipers.
He began his January 2018's CNN Tonight with his prologue saying:
'This is CNN Tonight, I'm Don Lemon. The President of the United States is racist.'
He was named as one of 150 most influential person of African-American ethnicity by the Ebony magazine in 2009.
Read Also: Brianna Keilar & Husband In Post Pregnant Bliss! Big-Eyes Son Steals Hearts
Don Lemon's Absolute Despise For Donald Trump's Presidency
Everyone who watches CNN knows how much Don opposes to everything that US President Donald Trump does; from his opinions to decisions. On 27 November 2018, Don questioned Trump's claims on the use of tear gas at the federal and border climate change report. He blamed the happenings on Donald Trump waging a war on reality every day as he said,
Confronted with facts that don't fit his view of the world, his strategy is this. It's simple. Deny, deny, deny.
He supported the thought by bringing up the false claim that migrant children were not tear-gassed at the border a few days before. Stating that the children being tear-gassed was the fact, Don made it final that Donald Trump was a president who not only denied reality but even denied what people have seen with their own eyes and what members of his administration told him.
And on 1 December 2018, Don stated that Donald Trump seemed unwilling to confront Russian President Vladimir Putin and Saudi Crown Prince Mohammed Bin Salman.
He went to the extent of saying that the US president was 'afraid to cross two brutal and repressive leaders who oppose everything this country stands for.' Don then, added 'Whatever happened to America first?' and ended his rant.
Don Lemon's Hesitation To Come Out As Black Gay
Born on 1 March 1966 in Baton Rouge, Don knew from an early age that he was gay and more than being a gay he knew he was black. Dreading the amount of public backlash he might have to face if he came out, he hid the secret for a long time.
You Don't Want To Miss: Rene Marsh Wiki: Age 36 CNN Beauty & Husband In Post Married Bliss
Later, in his book Transparent released in 2011, he outed himself as a gay and accepted that he had carried the burden of hiding the fact that he was gay for far too long.
He lamented that the lack of gay role models had made his outing difficult and it would not have taken him 45 years if he had someone to follow the lead.
Happy Gay Life With Partner; Reveals Realtor Boyfriend At CNN New Year Party
For his 2017 new year resolution, Don wanted to find a balanced life and a right partner. And after a year, when he was again hosting the New Year's Bash for the CNN, he revealed in a drunken state that he had found himself a boyfriend, a right partner.
After confirming that he had found love, he burst into a few lines' of Stacy Lattisaw's I Found Love On A Two Way Street. And as the clock struck 12, the partygoers screamed a combined Happy New year before running towards their loved ones to exchange wishes.
The outspoken CNN host also ran towards his boyfriend, realtor Tim Malone. The loved-up partners exchanged a swift kiss with Don saying 'I love you, baby. Happy new year.'
The couple has been together ever since flaunting their PDA at the CNN party, and Don never misses a chance to show his love for his boyfriend.
On Valentine's day 2018, he Instagrammed a picture with a heart-shaped chocolate cake, which he baked for his partner. What's more, he was flanked by his boyfriend during the 2018's White House Correspondents Dinner, where they looked adorable and madly in love.
The TV anchor is now enjoying his life after letting the cat out of the bag.
---