Is Doc Rivers Still Together with His Wife? A Look into His Family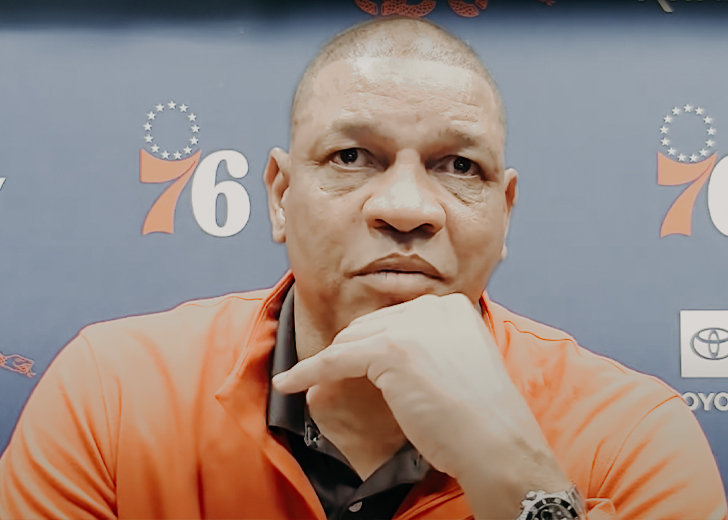 The American basketball coach and former player, Glenn Anton Rivers, better known as Doc Rivers, had been married to his college sweetheart Kristen Campion since 1986.
The two met in 1979 when Rivers was a freshman at university. 
They developed a close friendship and started dating soon after. But this was during a time when interracial relationships were frowned upon, so their union was criticized heavily.
Despite the harassment and racial abuse they faced, Doc Rivers and his wife bravely dealt with it and got married. 
Is Doc Rivers Still Married?
But in January 2020, the head coach for the Los Angeles Clippers was hit with infidelity rumors. 
It was reported that Rivers was on a dinner date with a mystery brunette at San Vicente Bungalow in West Hollywood.
The woman placed her head on his shoulder while he lovingly wrapped his arm around her waist as they waited for the valet.
Rivers and Campion did not comment on the reports. However, it was reported the two had been living apart for the past five years and were currently in the middle of a divorce.
So, is Doc Rivers divorced? Well, the couple is yet to make an official confirmation on that one. 
How Many Kids Does Doc Rivers Have?
The answer to that is that Rivers and Campion have four children, Jeremiah, Austin, Spencer, and Callie, who followed their father's footsteps and became athletes.
Jeremiah, their oldest son, played college ball at Georgetown University and Indiana University and then played in the NBA D-League for the Maine Red Claws.
Austin, their second son, played for the Los Angeles Clippers between 2015-2018.
Rivers became the first father to coach a son in the NBA, and while fans expected the two of them to have a special relationship, Austin painted a different picture.
As per ESPN, he revealed that his father did not share his life outside of basketball with him, and the two only knew each other strictly through basketball. 
People think we have a relationship like every other father and son. We just don't. That's because he's been gone my whole life, and that's fine.
After playing for the Los Angeles Clippers, Austin was eventually traded to the Washington Wizards and then to the Houston Rockets.
Currently, he plays for the Denver Nuggets. Meanwhile, River's third son, Spencer, played for Winter Park High School and UC Irvine.
Doc Rivers' Daughter Married Seth Curry 
Callie, Rivers' only daughter, is an athlete who played volleyball for the University of Florida and, after graduating, played professionally overseas.
Rivers' daughter also brought two of the NBA's most well-known and successful families together.  
On September 14, 2019, she married into another famous basketball family when she wed Dell Curry's son and Stephen Curry's younger brother, Seth Curry.
Seth is also an NBA player and currently plays for the Philadelphia 76ers, where his father-in-law serves as a coach. 
In an interview with Undefeated, Austin shared that he was initially skeptical when he heard his sister was dating an NBA player. But when he found out it was Seth Curry, he was thrilled. 
NBA players travel a lot. There is a reputation. You don't want your sister to get hurt. But when I heard it was Seth, I was relieved because he is one of the guys that act the right way.
These days Rivers is busy juggling his role as a coach and a grandfather.