Courtney Stodden Engaged to Boyfriend — Wants a Huge Princess Wedding Next
Courtney Stodden announced their engagement to boyfriend Chris Sheng on Instagram.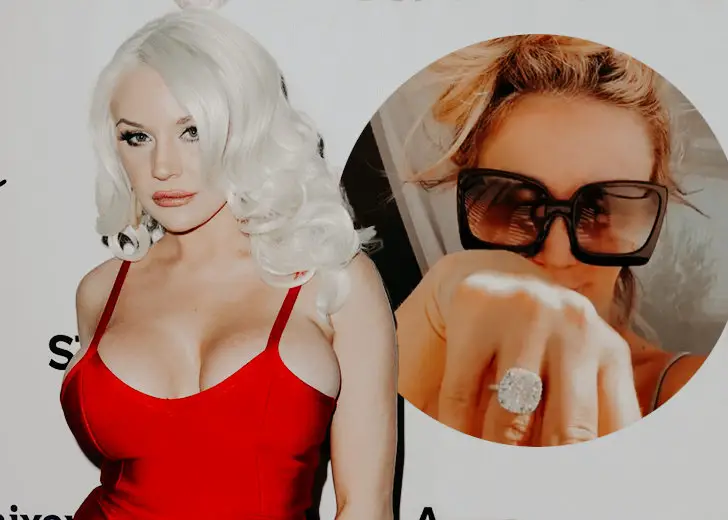 Courtney Stodden is officially engaged to their boyfriend Chris Sheng. 
The Celebrity Big Brother star shared the exciting news on Instagram on May 30, 2021, along with a Boomerang of their stunning engagement ring.
In the clip, Stodden, who came out as non-binary in April 2021, flaunted a massive halo-style cushion-cut diamond ring.
Sheng revealed he proposed on May 28, 2021, as he posted photographs of the engagement ring and their dimly lit proposal dinner to Instagram. He stated it was not how he had envisioned it, but the time was right.
He said he considered himself to be extremely fortunate and privileged. Sheng continued that they had both developed a lot since their first meeting. They had matured into better, stronger, and more secure people.
"I promise to always be your rock, support, and shoulder to lean on - no matter what. I got you. Ily," he added.
In an exclusive interview with E! News on May 30, 2021, Stodden revealed Sheng got down on one knee while they were crying their eyes out.
According to the reality television star, they were emotional because everything inside the last few weeks had brought up a lot of past trauma.
"It really was such a sweet moment," the 26-year-old continued. "He reminded me that I'm not alone and said, 'I'm never going anywhere. I'll always be here for you."
Stodden also told E! News that they never pictured getting married again, but they knew, at that moment, that it was right and that he truly loved them. 
"I said 'yes' and hugged him tight. And then I said, 'Let's see the ring!!!' My head was spinning!" the Celebrity Big Brother alum added.
The engagement ring, according to Stodden, is reminiscent of Daisy Buchanan's from The Great Gatsby, one of their favorite films.
The television personality revealed that they were planning a big princess wedding that would make them feel as if everything had been worthwhile. They further explained that it was the real deal and they were fully prepared to act like an adult and make their own decisions. 
The wedding will require some time and a lot of support to plan. According to them, they are completely overwhelmed.
Stodden began dating the 41-year-old movie producer in 2017, amid their separation from ex-husband Doug Hutchison. 
The 'Daddy Issues' singer married Hutchison, 61, in 2011, when he was 50 years old and Stodden was 16 years old. Despite their parents' approval, their marriage faced intense condemnation because of the significant age disparity.