Colin Cowherd current wife of 10 years is actually his third spouse
Colin Murray Cowherd's marital life isn't just limited to Amy Cowherd, his wife of more than 10 years. Colin was also married to Kimberly Ann for 11 years and that's not all. The sportscaster has revealed that he had also faced a divorce prior to his second wife.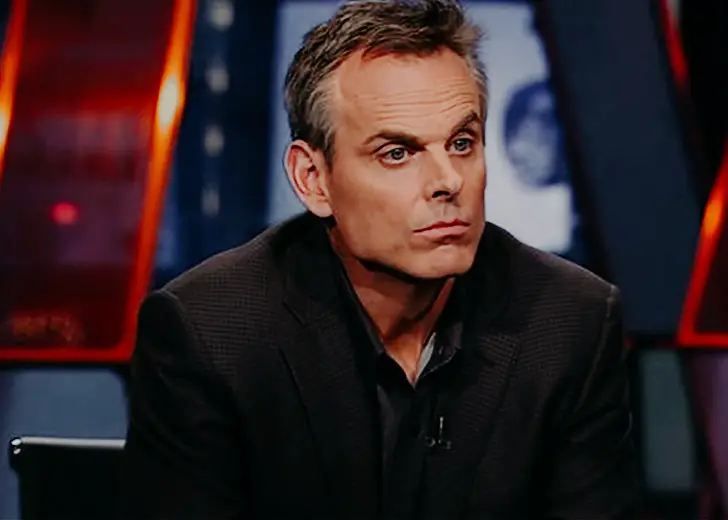 The American sports media personality, Colin Murray Cowherd, is a legally married man. Presently, he and his wife Amy Cowherd are married for more than 10 years. But, that's not it, as there is more information regarding his married life. Cowherd has been married thrice in his life, and his current wife Amy is his third spouse.
So, who are the two other ladies that the Washington native had tied the knots with? Well, keep reading to learn about it!
Cowherd's Married Life with His Current Wife Amy
The host of The Herd with Colin Cowherd show has a blissful marital life with his wife Amy for the past decade, after sharing the wedding vows on June 20, 2010.
The couple's togetherness can be seen on Cowherd's Instagram feeds, where he posts pictures with his wife and their pet dogs once in a while. In one such instance, on their 10th wedding anniversary, on June 19, 2019, Speak for Yourself's host shared a picture with Amy, and through the caption, he stated, "10 years tonight and I'm still on my honeymoon."
Furthermore, on the very next day, he reached to his Twitter handle to share that he and his wife celebrated their 10th-anniversary the night before.
My wife and I celebrated our 10th anniversary last night. I asked her tonight "How did we make it?" She answered, deadpan, "we never hated each other on the same day". 😳😳😳 — Colin Cowherd (@ColinCowherd) June 21, 2020
Details on His Past Relationships
Before Cowherd's relationship with Amy, the sportscaster was in wedlock with another woman named Kimberly 'Ann' Vadala, a spin and yoga instructor plus basketball and triathlon coach. The Washington native and his then-wife had tied the knot on March 30, 1996. And while they were married, the former couple also got blessed with two children—a son and a daughter.

Colin Cowherd's ex-wife Kimberly 'Ann' Vadala and their two children. (Source: Kimberly 'Ann' Vadala's Facebook)
However, their married relationship broke off when the two got a divorce in early 2007, after 11 years of marriage. But despite getting divorced, the ex-pair maintained a good relationship to raise and take care of their two kids.
Moreover, while talking about his divorce on the Thundering Herd on May 24, 2007, the television personality revealed that he and Ann were living busy lives, which resulted in their separation. Thereafter, he also stated that he was in a terrible phase of his life after his divorce, where he was constantly crying and throwing up in the bathroom for almost 6-7 weeks.
The sportscaster further stated that he could only get out of that bad phase with the help of his kids, friends, and career. Likewise, in the same video, he added another statement to reveal that he did not consider his married life with Ann a failure.
Between all those things, he mentioned that he had already faced a divorce before his second wife, Ann. But that was the most the sportscaster talked about his first-ever marriage and seemed hesitant to delve further into the subject. Even his first wife's information seems to be non-existent other than his own reveal.