Cody Simpson Reveals the Real Reason behind the Split with Miley Cyrus
Cody Simpson is finally opening up about his relationship with Miley Cyrus.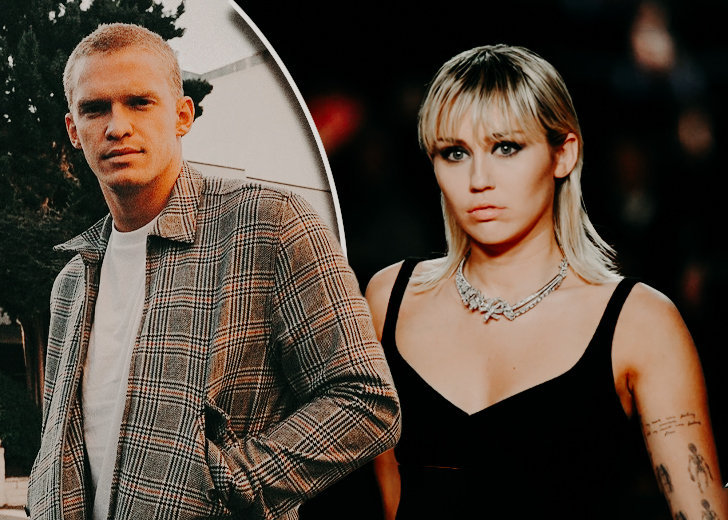 Almost a year later, Cody Simpson is finally opening up about his whirlwind romance with Miley Cyrus.
The two dated just shy of one year before calling it quits in August 2020. They were first romantically linked in October 2019, following Cyrus's split from Kaitlynn Carter of The Hills: New Beginnings and separation from ex-husband Liam Hemsworth.
The two have mostly remained tight-lipped about the reason for their split. However, on May 30, Simpson spoke candidly about his past romance with Cyrus and why they parted ways.
Appearing on 60 Minutes, the 24-year-old musician explained that the relationship was "just one of those phases."
Host Karl Stefanovic led the topic about Cyrus by asking, "What were you thinking?" to which he replied they had seamlessly transitioned from friends to lovers. 
I'd known her for a long time at that point. She'd kind of acted almost as like a, not as a mentor, but she was always a heightened creative person.
Simpson added that their separation had been amicable, and it was something that he had learned a lot from.  
A New Lady Love
5 months after his split with Cyrus, the Australian singer debuted his new relationship with model Marloes Stevens on an Instagram post. His mother, Angie Simpson, had posted a series of photos, including one of the couple during the family's Christmas celebrations on Instagram.
The swimmer also confirmed the news on December 26, after the family Christmas celebrations, by posting an Instagram story of the two in which he wrote "Ik heb het geluk je te hebben ontmoet," in Dutch, which translates to, "I am lucky to have met you."
Stevens is a model and is signed with Los Angeles-based NTA Models and Elite Models in New York City. Agencies that have helped kick-start many A-list supermodels' careers, including Naomi Campbell, Gisele Bündchen, and Cindy Crawford.
Despite sharing the announcement and making it clear he was happy, fans were reluctant to accept the news, and they took to the comments to show it by spamming the hashtag #TeamMiley. Several trolls were quick to say they preferred it when Cody was dating the 'Wrecking Ball' singer. 
Friends No More
Although Miley Cyrus and Cody Simpson amicably parted ways, things seemed to have changed. Fans of the stars noticed the former couple had unfollowed each other on Instagram. In August, Cyrus took to her Instagram Live and set the record straight about her split with Simpson amid their rumored breakup. 
The unfollows came amid rumors of Simpson and his new girlfriend. Additionally, the two left no traces of each other on their Instagram feed aside from pictures of Cyrus's birthday last year that Simpson chose to keep. 
Referring to her divorce from Hemsworth, she told fans that after their break-up the media had tried to control her narrative, but now she would not allow it.
Cyrus addressed the reports of her breakup with Simpson, saying that the two had indeed parted ways to focus on their lives. 
We've been friends for 10 years, and we're going to continue to be friends, so just don't make it something that it is not.
A double unfollow can mean serious business, but maybe they are still friends and just needed a little break from each other.