Does Chris Isaak have Wife or Girlfriend? Did He ever get Married?
Chris Isaak attributes his single life to his work ethic and admits he has no regrets about his choices.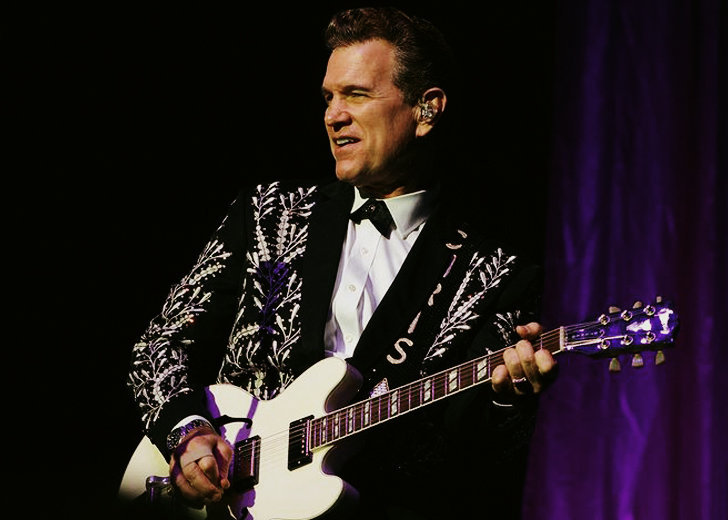 In one of the most influential love songs, 'Wicked Games,' Chris Isaak mournfully sang about how he doesn't want to fall in love. Given the famous American singer's relationship history, it seems he meant it.
In this article, learn about the holiday music Everybody Knows It's Christmas singer's personal life, his dating, and marital status, and the rumors regarding his sexuality. 
What is Chris Isaak's age?
As of writing, Chris Isaak is 66 years old. He was born on 26 June 1956 in Stockton, California, U.S., to a forklift driver father of German descent (catholic Black sea German), Joseph "Joe" Isaak, and mother of Italian ancestry (Italian American), Dorothy Isaak.
Isaak's father was from North Dakota, whereas his mother was from Genoa. 
Is Chris Issak married?
Isaak, who has made a name for himself, singing songs of heartaches, unfaithful girlfriends, and broken relationships, has never been married. There have been no reports of him marrying or having children with a wife. 
The 66-year-old singer says that the longest relationship he's ever had was with his band, Silvertone. 
Silvertone is Chris Isaak's longest relationship
In an interview with The Sydney Morning Herald in November of 2017, Isaak opened up about his personal life. He revealed that his number one priority has always been his work.
As an artist engrossed with writing, recording music, and even occasionally acting, Isaak never found time to invest in a partner or family.
Isaak mentioned the longest relationship he has been in is with Silvertone, his band. Isaak churned out several of his successful albums with Silvertone since the band started gaining traction in the early 80s.
With such a long and endearing association with his band, the singing sensation attributes much of his success to his bandmates: Kenney Dale Johnson, Rowland Salley, and Hershel Yatovitz.
On his website, Isaak acknowledges his musical companions for their support, saying he was lucky to have them as a team. 
People see my picture on the album covers and think, 'Chris goes into a room and he makes an album.' But I go into a room and make it with these guys, who've been supportive and have good ideas and good energy.
Who has Chris Isaak dated in the past?
Isaak dated Chinese actress Bai Ling for three months, from 1999 to February 2000. Although it is not known why they broke up, Ling would later in her life comment about her stance on relationships in general. 
"A one-night stand and a lifetime commitment are the same," Ling stated, adding. "Because you don't have control of the destiny of how long a relationship can be, you don't even know how long your life is going to be. So whoever makes you feel this love and this romance, you're lucky, no matter how long."
Ling would later also date filmmaker Luc Besson. On the other hand, After his relationship with Ling, Issak dated actress Minnie Driver till 2001. And from 2022 to 2003, the rock singer dated Canadian actress Caroline Rhea. 
Issak was also rumored to be dating the likes of comedian Margaret Cho, musician Anka Radkovich and model Helena Christensen. He, however, hasn't spoken regarding the rumors. 
In the distant past, he dated a girl named Carole Lowe-Enling in high school. She was his first high school girlfriend, and they met in their teenage. 
Issak and his band would later visit Carole in her Sacramento home in 1999 when she was fighting cancer. 
Is Chris Isaak gay?
Many fans have been speculating if Issak is a closeted gay because of the lack of relationship news about him for a long time. However, given his past dating history, it is less likely that his sexual orientation isn't straight. 
In March 2023, their lighting director Lane Hirsch accused Issak and his band Silverstone of not taking action against anti-gay remarks. 
Who is Chris Isaak's girlfriend now?
As of now, Chris Isaak's relationship status remains undisclosed. And he is usually seen promoting his work on social media. 
Chris Isaak has a lovely dog for a companion instead of a wife
By the looks of his Instagram photos, the Chris Isaak wife experience has yet to leave the station. However, Isaak has admitted to having thought about settling down with a wife and having kids previously in interviews.
When talking with the Independent in 2016, the singer further suggested that he was still without a family because of his work ethic. However, he did not regret his choice and said he was okay with how he was.
I never married a supermodel and divorced her, never got into cocaine and rehab, never bought a jet plane or a racehorse or boat. I'm happy with my choices. And I don't think I have had any more bad luck in my relationships than anyone else. I just whine about it more.
Isaak has also compared kids to sailboats saying that they are "like sailboats, they look good on a sunny day and in the distance, but they require a lot of maintenance."
Instead of a wife and children accompanying him at concerts or supporting him in his musical journey, the 'Wicked Game' singer has a dog named Rodney, who is as good a companion as any man or woman.
In fact, on the occasion of Valentine's day in 2019, he shared a photo of himself with Rodney sharing a box of chocolate with the caption 'Happy Valentine's Day. The furry little dog also accompanies Isaak in shows, as can be seen in multiple Instagram posts. 
Rodney, who, upon first glance, seems like a puppy, however, is already 19 years old. Nevertheless, even Isaak is shocked by how well the pet dog has maintained itself. 
Chris Isaak has no plans of retiring anytime soon
Isaak's first studio album came out in 1985, and since then has released thirteen albums and numerous singles while also bagging two Grammy nominations. With over three-and-a-half-decades worth of experience up his sleeve in music and fair acting credits in television and movies, Isaak shows no sign of letting up. 
When asked whether he had any plans to retire soon by Northjersey, the singer answered that he had no such plans.
Isaak's twelfth studio album First Comes The Night, was released on 13 November 2021. Paul Worley produced the album. Dave Cobb, and Mark Needham. He is also one of the few personas who was granted access to perform in the brand-new arena, The Halls Wolverhampton.
The Wicked Game singer was also awarded Americana Lifetime Achievement Award in 2022.