Chad Dukes Says Getting Married to His Wife Was the Best Decision He's Ever Made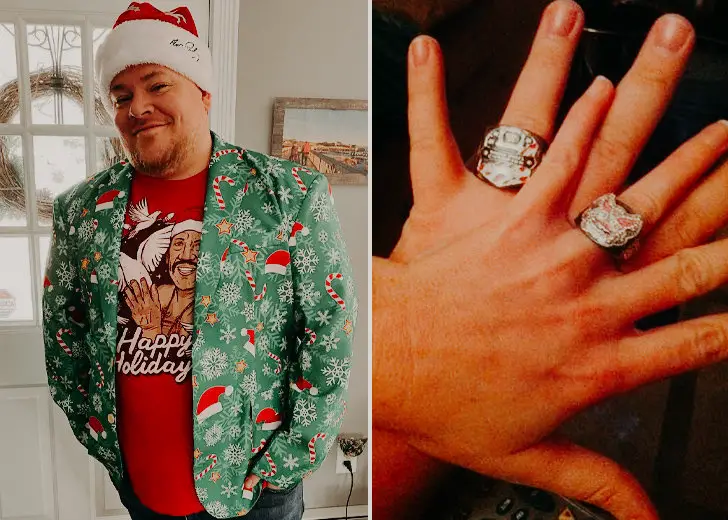 Chad Dukes has been very secretive about his wife and their personal lives.
However, on some rare occasions, the former RJ shares little details about his wife on his social media account. In one such post, Dukes mentioned that being married to his spouse was the best decision he ever made.
Chad Dukes on Being Married to Wife
On July 21, 2018, the RJ marked his sixth marriage anniversary with an adorable post on Instagram. The post featured a pair of prominent yet unconventional wedding bands on the duo's ring fingers.
In the caption, Dukes reminisced how six years ago, on that very day, he exchanged vows with the love of his life. As per his accounts, they got married in a little house in Fairfax that had an alligator head on the front porch.
The secretive RJ was definitely in a sharing mood as he further elaborated that after the wedding, they drove to Blue Ridge Seafood to have lunch with their respective brothers. 
Closing the message, the delighted husband confessed that getting hitched with his spouse was the best decision he ever made. 

Chad Dukes and his wife flaunting their wedding ring in July 2018. (Photo: Instagram)
The post revealed that the couple married on July 21, 2012. 
Sources claim that his spouse's name is Daisy, and according to one of his posts on Twitter, which has since been erased, the couple had been dating from a very young age before getting married.
Although the host of The Chad Dukes Show has never posted a picture of his spouse, he timely mentions her in his posts.
For instance, on August 2021, he posted a photo that saw him sitting outside their house with their dog Rip. He explained he was tearing up after listening to the Bennington Show when his wife took the picture.
"Its been a very odd couple of days and somehow this picture encapsulated some of it for me," he added in the caption.
Then on December 7, 2021, he mentioned his spouse once again when a follower wished him on his 43rd birthday on Twitter.
The follower wrote, "I'm sure I'm not the first...but Happy Birthday." In response, Dukes stated his wife had wished him first.
Birth Of 'The Chad Dukes Show'
With over 15 years of radio experience and millions of fans worldwide, Dukes finally decided to create his own website.
In October 2020, the RJ was fired from 106.7 The Fan after being accused of making racist comments.
As of now, no informration is available about the exact statement that got Dukes fired.
However, people on Twitter and Reddit have made some speculations and believe that Duke's comment on racial-justice protests and how the NFL handled it was what got him fired.
Currently, the radio personality has founded his podcast called The Chad Dukes Show. Started on January 1, 2021, the podcast covers movies, food, football, fighting, video games, and much more. 
Dukes' website features a set of his free weekly episodes and provides an option of premium membership at $12.99/month. The premium membership option provides his fans with access to his daily premium episodes.