This Broke Larry Elder Married Life...What Was About His Family...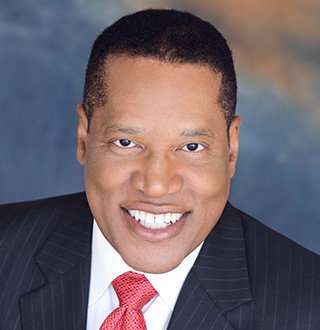 American media personality Larry Elder had a troublesome relationship with his dad that possibly added to his separation with his partner when the matter of having kids was put into the equation. Years passed by and Larry eventually learned to forgive himself and the others.
The Los Angelos, California native, is a famous American radio show host, writer, and attorney from Los Angeles, California. He names himself as "The Sage from South Central." He is popular for his reasoned analysis on many of the myths and hypocrisies apparent in our system of government, our society, and the media itself.
The Best Of Radio Star Larry Elder: All Important highlights from his more than 3 decades long career (Published on Sep 19, 2018)
Elder, the recipient of a star on the Hollywood Walk of Fame, has been best known as the host of the longest-running afternoon drive-time radio show "The Larry Elder Show" in Los Angeles since 1994.
Larry Elder Practised Law Before Radio & Television Stints
Larry did his early schooling from Washington Preparatory High School and graduated from Crenshaw High School. He earned a B.A. degree in Political Science from Brown University in the year 1974.
Interesting: Media Veteran Ron Claiborne, Married Man With Wife? Family Besides ABC
Elder also holds a J.D.(Juris Doctor) from the University of Michigan Law school(1977). After completing his education, his first job was at a Law Firm in Cleveland, Ohio. He later opened a business specializing in hiring reputed lawyers called Laurence A. Elder and Associates.
What You Didn't Know About Larry Elder Family & Parents
Talking about his family, the 66-year-old was born as the second child among three sons of his parents. Larry's father Randolph Elder was earning for himself from the early age of 13 years and worked a variety of jobs. He worked for the U.S Marines as a cook during World War II. Then he moved to California and worked several jobs to support his family. Later, he opened his own Cafe near Los Angeles, Downtown from his savings and successfully operated it for 30 years.
Likewise, Larry's mother, Viola Conley Elder, became a star, appearing on his nationally-syndicated radio talk show, The Larry Elder Show. He used to lovingly refer her as the "Chief Justice."
Know The Reason Larry Didn't Talk To His Father For 10 Years
Larry often opens up about his past dispute with his deceased father and says he has immense respect for his father. In an interview, Larry said his father was his role model. He said,
"He was the hardest working man I've ever known.... He had a work ethic that was beyond belief."
This is why people get confused why Larry remained untouched with his father for 10 years in the past despite now calling him his idol. The answer is Larry had a unique dynamic with his father growing up. When he was young, he hated his father and had a troubled relationship with him. He always thought that his father was cold, ill-tempered and thin-skinned who always seemed on the brink of erupting. To make the matter worse, Larry and his father didn't communicate much. His father seldom talked about himself and that's the reason Larry could not understand him.
You May Like: Is Greg Amsinger Married And Has Family To Show? His Personal Life
According to Larry, he was always scared of his father, and at the age of 15, he finally stood up against him and didn't talk to his old man for 10 years. Later when he got the chance to speak with his father, he discovered a different perspective about him and wrote the famous bestseller book "Dear Father Dear Son," reflecting their past and present dynamics.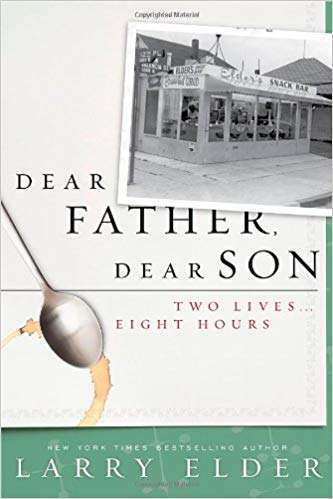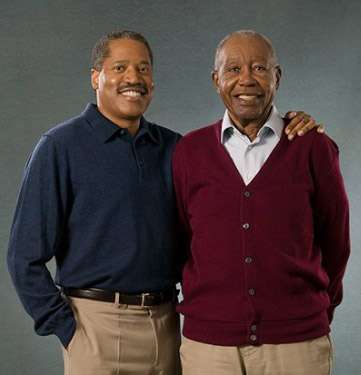 Lost Family Found: LarryElder's bestseller book(Left), Larry Elder pic with his Father Randolph Elder(Right) (Photo:mazon.com (Left) and wnd.com (right))
In the book, Larry writes that his father was a disciplined day-to-day man who had a simplistic view of life. In one of his interview after his father demise at age 96, he said,
"He didn't think of his life as being epic. He didn't think of his life as being extraordinarily difficult. He just thought of his life as a product of somebody who got up in the morning, worked hard and didn't make a bunch of excuses, and what's remarkable about that? To me it was remarkable that my dad didn't think his life was remarkable."

"Just as he didn't bitch and moan and whine when he was younger, he didn't bitch and moan and whine about the kinds of things a lot of people do when they get older. My dad was grateful that he lived as long as he lived."
Elder's father said goodbye to the world at the age of 96 with a hard-earned reputation of running a successful cafe in Los Angelos. However, he had a humble start. He had started his career as a janitor before becoming an entrepreneur
Larry Elder's Career / Age
The famous liberal conservative was born in Los Angeles, California on 27 April 1952 as Laurence Allen "Larry" Elder. He is the host of "The Larry Elder Show," a top-rated daily program broadcasting from 12 noon to 2 p.m. (PT) on CRN with a re-broadcast on KRLA AM 870. It is also available to Elder's fans via audio podcasts at www.larryelderado.com. Currently, the can be heard on more than 300 stations nationwide.
Don't Miss: CBS' Jane Pauley Career Details: Net Worth Of The Sunday Morning TV Show Host
Nevertheless, Elder has also published several best-seller books such as "The Ten Things You Can't Say in America" and worked as a writer and an editor for several media publications and websites. He had started his career hosting a topic-oriented show on PBS affiliate WVIZ in late 1980 while he was also practicing law.
His Salary & Net Worth Revealed!
Having a huge fan following and being a very talented broadcaster, Elder makes fortune from his public appearances and radio hostings. His nationally syndicated radio talk show, The Larry Elder show, alone has made him a millionaire. In addition to that, he has his own top-ranked website larryelder.com in which he writes interesting articles on the current politics as well as social issues. He names his fans as "Elderados" and facilitates them with access to a commercial-free archive of The Larry Elder Radio Show podcasts. He also owns his online Newsletter called Larry Elder Newsletter, which is available for subscription. Likewise, he earns revenue as the owner of the website elderstatement.com and writing for famous American newspapers such as The Epoch Times and Townhall.com. Moreover, his famous books which sell on Amazon and other different stores have added to his net worth.


Rising Radio Star: Elder's podcast Elderados available on his website (Photo: larryelder.com)
In the past, Elder was able to kickstart his television and tv career from the money he earned while practicing law. He likewise made riches from the business Laurence A. Elder and Associates which he opened in 1980. Starting from 1990, he was able to transcend his brand to several network and media outlets, earning him stints such as The Larry Elder show at Fox News affiliate television network WOIO, Moral Court distributed by Warner Brothers, National Desk at PBS, Making Waves at KCAL-TV, and radio syndication contracts with ABC and Salem Communications. His present net worth is $16 Million and his exact salary cannot be determined because he has numerous source of income.
Find If Larry Elder Is Married (Wife) Or Has Girlfriend In 2018?
The 66-year-old popular Media Personality rarely talks about his personal life as he is a very private person but he often mentions his unnamed girlfriend on his Twitter. He seems to have a jovial relationship with his mystery girlfriend.
Read Also: Inside Andy Lassner's Witty Family With Wife; The Ellen Show Producer Bio Reflects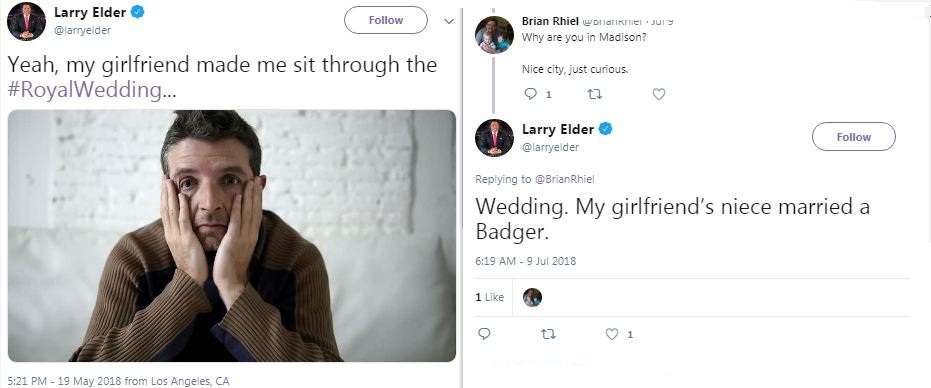 Niece Got Married: Larry Elder says he watched Royal Wedding with his girlfriend (left), his girlfriend's niece got married (right)
In the past, he was married to his longtime friend, a physician. The marriage ended in divorce in 1994 because she wanted children and he didn't, probably because he had a gloomy relationship with his dad while growing up. Later, he reportedly got engaged with someone who had a history of prostitution. She was none other than now FrontPage Index political commentator/actress Alexandra Datig.
As of now, it cannot be said whether his mystery girlfriend whom he mentions on his Twitter is Alexandra or not.
---