Cara De La Hoyde's Husband Nathan Massey Wants More Children — Inside Their Relationship
Cara De La Hoyde and Nathan Massey are parents to two children at present.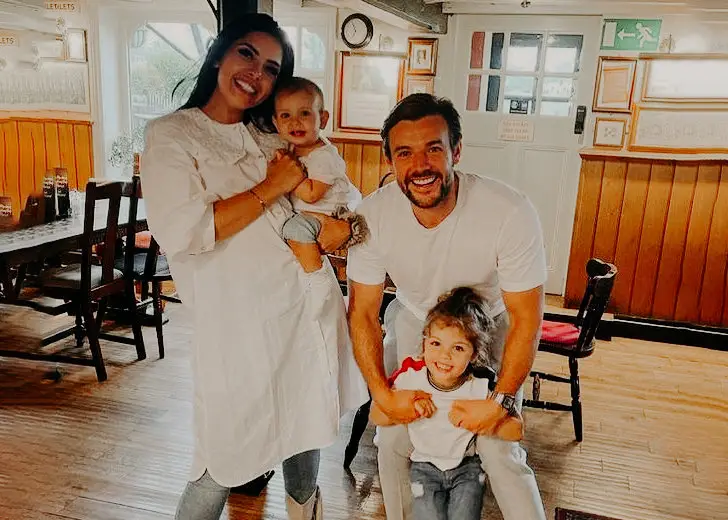 Cara De La Hoyde and Nathan Massey have completed two years of their happily married life.
Marking the occasion of their second wedding anniversary on June 28, 2021, Hoyde's husband took to Instagram to express himself.
"Happy 2 years wedding anniversary to my wife, my right hand, and my best mate," Massey captioned the post with a picture of the couple kissing each other.
The reality star further expressed his gratitude to his Love Island star wife for her contribution to the family, mentioning their son Freddie and daughter Delilah.
In his candid post, he also exclaimed his desire to spend the rest of his life with her and having more children together.
Can't wait to spend the rest of our life's together making fantastic memories and hopefully more children. Love ya girl, and can't wait for Friday.
The couple's anniversary news and Massey's special message to his wife made fans happy. One fan commented, "I love you two, [the] best thing to come out of Love Island is you two so glad you are still together happy anniversary."
Hoyde, who has 1.1 million followers on Instagram, also shared a 2 minute 15-second long video on her feed the same day. The video gave a peek at their wedding day, with Ed Sheeran's 'Thinking Out Loud' playing in the background.
Parents to Two Kids
Hoyde and Massey, who are excited for more children in the future, are presently parents to two children: Freddie and Delilah.
Hoyde announced she was pregnant with Massey's baby in May 2017. The couple welcomed Freddie, their first child, on December 13 of the same year.
"So today we met the hand we will hold forever...so in love my heart could burst," The Only Way Is Essex star wrote on Instagram while posting her first picture with the baby.
On July 28, 2020, the pair welcomed their second child, a daughter named Delilah.
Massey took to Instagram to confirm the news, saying, "Hi guys, just to let everyone know that Cara delivered our beautiful baby daughter this morning. She's done an absolutely fantastic job."
Hoyde and Massey's Relationship Timeline
Hoyde and Massey first met in 2016 after they were cast in the second season of the reality show Love Island.
The duo teamed up in the first episode since contestants were required to be in pairs to remain on the show.
And while many couples swapped their partners, the now-married pair was unshakeable and stayed together until the end. They eventually were crowned winners of the season.
Afterward, they moved in together and appeared as guest stars on The Only Way Is Essex.
Hoyde and Massey also saw a challenging phase in their relationship - they decided to end their relationship in April 2017.
But when Hoyde announced that she was pregnant with his baby, they rekindled their relationship.
On June 28, 2019, the couple took wedding vows in a secret exotic wedding, in the presence of family and friends. And the rest, as they say, is history.