Bubba Wallace Continues to Grow and Love His Relationship with Girlfriend
The love between Bubba Wallace and his longtime girlfriend, Amanda Carter, only seems to grow with time.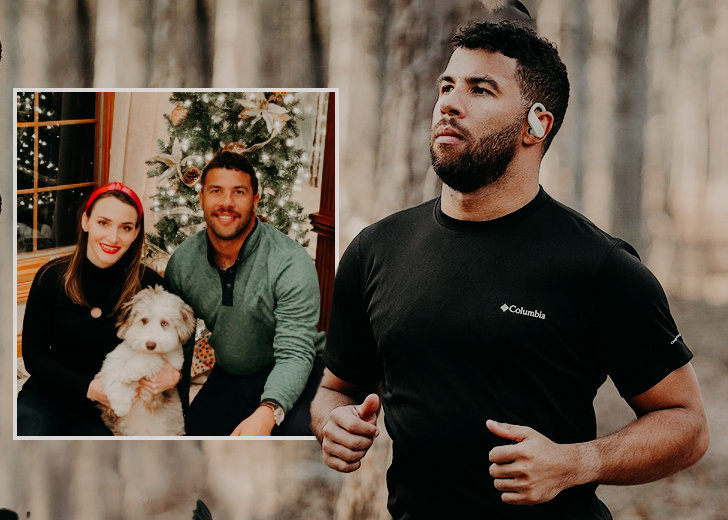 Bubba Wallace is back on track with his high-speed NASCAR life, and waiting for him back home is his beautiful girlfriend, Amanda Carter. 
The racer enjoyed some time off, courtesy of the pandemic, until the NASCAR season picked up in March 2021. Still, Wallace can often be seen doting on Carter in his socials.
His Love for Carter
Speaking of, Wallace took to Instagram back in March to wish his darling a happy birthday and spoil his fans with a series of photos of Carter. 
The first couple of snaps featured the bold lady posing in a floral-patterned red dress complete with a melange grey hat.
Her locks fell to frame a delicate chain necklace she accessorized her look with. The white high-rise sneakers completed her look as the camera saw her look gorgeous against the dark forest landscape.
The latter snaps in the series featured the couple in a loving embrace for a selfie. In the picture, Wallace was all smiles as his girlfriend placed a loving kiss on his cheeks. 
Of course, the series would not have been complete without a picture of Asher Dasher, their Aussie doodle, posing with Carter. 
Dog Parents To Asher
The couple became dog parents to Asher in July 2020, when Wallace surprised fans with a snap of the little pup on Instagram. 
The post comprised one snap, with the entire family posing for the camera. However, the video that followed was the most heart-melting thing you could see. 
Asher, the cutest white and brown puppy, was running on a grassy plain with his ears jumping up and down. He had a red scarf on his neck, which made him that much more handsome. 
Carter Is Wallace's Longtime Girlfriend
Fans have known Carter as Wallace's girlfriend for a considerably long time now. Since the fans have seen the two being head over heels for one another on social media, naturally, they wanted to know more about Carter.
According to Heavy, Carter was employed as a financial analyst at Bank of America. She graduated in Finance and Banking from the Appalachian State University.
She was also the vice president of the Alpha Phi International Fraternity. 
Carter was also heavily featured in Wallace's eight-part Facebook docu-series, Behind the Wall: Bubba Wallace. The docuseries covered the racer's early Cup Series career and the 2018 Daytona 500. 
Although she got into a relationship with the power-sport athlete early on in his career, initially, she knew nothing about professional stock car racing.
Even so, she has been by his side, providing him with love and support in the peaks and valleys of his racing career.