Armie Hammer Spotted Dating on Cayman Islands Amid Ongoing Sexual Assault Investigation
The 'Call Me By Your Name' star has found love despite previously facing allegations of sexual assault.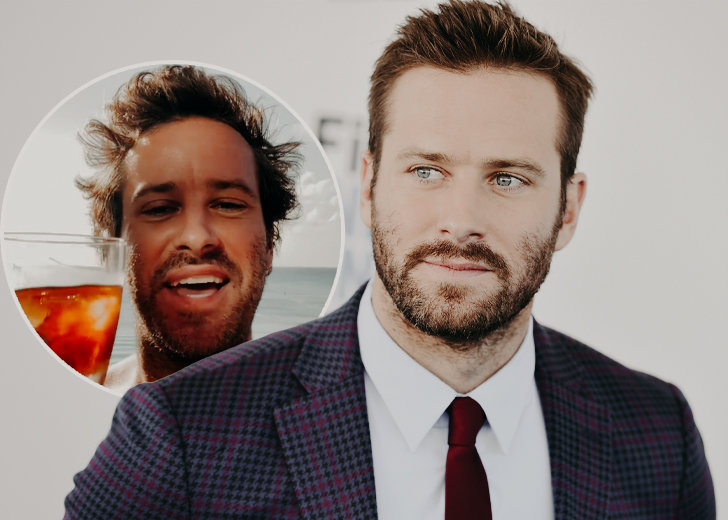 Armie Hammer is reportedly amid a budding romance despite facing rape allegations by a former girlfriend in March that instigated an investigation by the LAPD.
A source told People that the 34-year-old, who has been hunkered down in the Cayman Islands since December, has been dating a local dental hygienist on the Island since earlier this year. The source confirmed that they look happy and comfortable with each other. 
The source also added that the dentist introduces him to any friends who haven't met him before when they are out. The actor's rumored new romance comes just days after the was spotted publicly for the first time in the Cayman Islands since he was accused of rape. 
Hammer at Lunch Outing After Rape Accusations
On May 5, the Call Me By Your Name actor was seen sporting a noticeably shorter, buzzed haircut and cut a casual figure wearing a white graphic T-shirt and khaki shorts. He was on a lunch outing at Macabuca on Grand Cayman with an older couple and three lady friends. 
An eyewitness revealed that the meet-up was casual and that "no alcohol was consumed." They added that the Hammer appeared to be "nothing more than friends" with the women as well.
His estranged wife Elizabeth Chambers and their kids Ford, 4, and daughter Harper, 6, were also reportedly residing on the same Island for the past year throughout the pandemic.
On January 10, 2021, an anonymous Instagram account named House of Effie, which has since been made private, leaked DMs and audio conversations involving Hammer. Hammer discussed a fetish for cannibalism, blood-drinking, and violent and dominating sex in those DMs. 
Other women came forward on Instagram to share their experiences against Hammer that suggested that he was involved in a non-consensual and dangerous exploration of kink. While several claims were made against Hammer, the biggest one was made by Effie, the woman behind the aforementioned Instagram account. 
Effie accused Hammer of sexual assault in a four-hour incident that she says occurred in 2017.
Josh Duhamel Offers Words of Encouragement
While the veracity of the allegations has not been established, his career is in freefall. Following the leak of his messages on Instagram, the Call Me by Your Name star stated that he would not respond to the [expletive] claims.
Regardless, Hammer was dropped out of the romantic comedy Shotgun Wedding starring Jennifer Lopez and replaced by Josh Duhamel. In an interview with Man About Town, Duhamel admitted that this was not how he liked getting his roles. 
The actor revealed that he knew Hammer a little and confessed that he emailed The Social Network actor when he knew he was getting the role. 
I emailed him and said, "Listen, I know you are going through it right now, I don't like to get roles like this, and I just wanted to let you know that I am thinking about you and good luck, get through it."
The vilified actor thanked Duhamel.