How Amelia Gray Hamlin and Scott Disick Are Making Their Relationship with an 18-Year Age Gap Work
Know if the Kardashian-Jenner clan and Lisa Rinna approve of the 18-year age gap between Amelia Gray Hamlin and Scott Disick or not.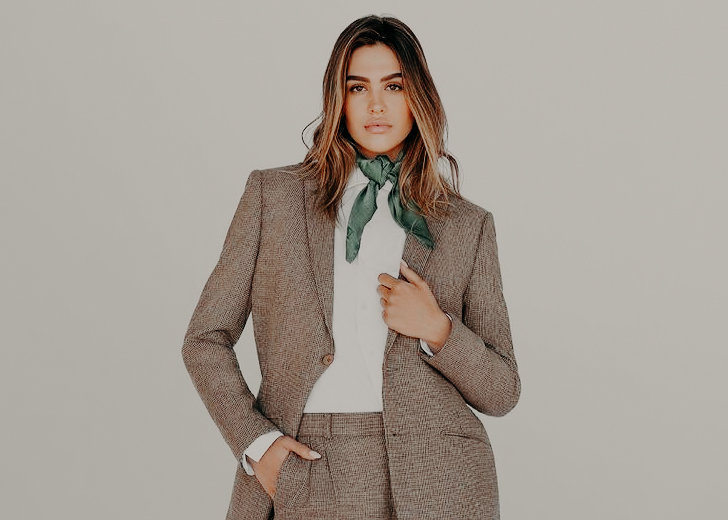 Scott Disick is a TV personality, socialite, and entrepreneur. He is best known for the critically acclaimed show Keeping Up with the Kardashians (KUWTK). 
Disick was first introduced to the show as the boyfriend of the eldest Kardashian sister, Kourtney. The two share three kids together — Mason, Penelope, and Reign. 
While Disick has had a successful career, he has not been so successful when it comes to his love life. 
He and Kourtney had a massive fallout on KUWTK as couples, but now, they are co-parenting perfectly.
After Kourtney, Disick dated Sofia Richie from 2017 to 2020. However, he had a nasty breakup with Richie.
Currently, he is dating a  20-year-old model, Amelia Gray Hamlin. Despite having an age gap of 18 years, the pair seem happy together.
Who Is Amelia Gray Hamlin?
Amelia is the youngest daughter of Lisa Rinna and Harry Hamlin. Both Rinna and Harry are famous in Hollywood and have massive net worths. 
Rinna is an actress, author, and reality TV star. She is best known for Days of Our Lives, Melrose Place, and Real Housewives of Beverly Hills (RHOBH).
Harry is also an actor, known for critically acclaimed series like L.A. Law, Mad Men, and Movie Stars. 
While Amelia belongs to a wealthy and famous family, she is successful in her own right. She is an aspiring model who has worked with notable brands like Skims, Savage X Fenty, Calvin Klein, and Levi's, among others. 
She has walked the runway with her sister, Delilah Belle Hamlin, who is also a model. Amelia also has a fashion collaboration with Boohoo. 
Scott Disick and Amelia Gray Hamlin
Disick and Hamlin started dating each other after he parted ways with his girlfriend of three years, Richie. 
The rumors of their relationship surfaced on Halloween 2020. They were photographed attending Kendall Jenner's party together. 
Since then, they had been spotted a couple of times. However, the duo had not made their relationship public. 
Rumors about their relationship flourished rapidly throughout 2020. It was reported that the Kardashian- Jenner clan were fully supportive of the couple, confirming that the two were dating. 
The pair celebrated New Year 2021 together at Cabo San Lucas, Mexico. In addition, Disick made their relationship Instagram official on Valentine's day, 2021. 
While he did not directly say they were together, he hinted at it with the two photos he posted to Instagram stories. 
The first one was of them looking at the camera seriously. Disick captioned the story "Why So Serious," and then posted another picture of them smiling with the caption "Just kiddin [sic]."
Since then, the two have not hesitated to show the world they are together. The model spends a lot of time at Disick's place as she constantly posts Instagram Stories of herself at his house. 
Hamlin has also been spending time with Disick's children. The pair have been spending a lot of time in Florida as well. 
Unlike Richie, Hamlin does not mind her beau spending time with the mother of his children. Instead, she understands his situation and supports his decisions. 
Recently, the couple celebrated each other's birthday together. On May 26, 2021, Hamlin took to Instagram to wish her boyfriend a happy birthday. 
She uploaded ten pictures which included the couple being adorable, holding hands, and some single pictures of Disick. Via the comments, she gushed she loved Disick and how he improved her life. 
Similarly, on June 2021, Hamlin celebrated her birthday with Disick in Miami, Florida. 
Lisa Rinna's Opinion on Her Daughter's Relationship
On March 5, 2021, it was reported that Hamlin's parents were skeptical about her relationship at first but later welcomed Disick with open arms. 
However, things seem to be different now. On June 30, 2021, in a new episode of RHOBH, Rinna gave her input about her daughter's relationship. 
She revealed that when the rumors about the Disick-Hamlin relationship had first surfaced, the model told her that they were merely friends. But when Rinna realized things were more than that, she warned her daughter. 
The RHOBH star confessed her husband was calm with their daughter's relationship, but she was "a lot nervous about it." She also toyed with the idea of calling Kris Jenner and talking about the situation. 
Rinna's friends also chipped in about the situation. Kyle Richards showed her disagreement with the relationship by pointing out the age difference between Disick and Hamlin. 
However, Kathy Hilton and Erika Jayne comforted Rinna, reminding her that there were worse things Hamlin could be known for than just dating an older man.