'Ink Master' Star Ryan Ashley Malarkey's Son Atheus Celebrates His First Easter — See the Cute Pictures
Tattoo artists Ryan Ashley Malarkey and Arlo DiCristina's firstborn celebrated his first Easter with Buddah the pug.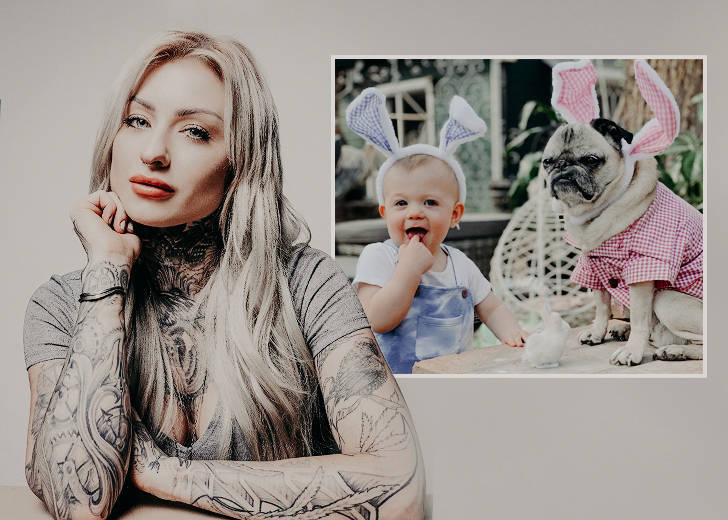 The winner of Ink Master season 8, Ryan Ashley Malarkey DiCristina, and her husband, Arlo DiCristina, gave birth to a beautiful baby boy, Atheus Omni DiCristina, on May 16, 2020.
Ever since the duo announced their pregnancy, they opened an Instagram page for their son where they posted their pregnancy journey mainly from the point of view of Atheus. 
Most recently, on April 6, 2021, a series of ten adorable photos and a video of Atheus celebrating Easter was posted. 
Atheus Celebrated Easter With Buddah the Pug 
Baby DiCristina celebrated Easter for the first time with colorful Easter eggs and Buddah, the pug of his parent's friend Madeline Sigler. 
For his first Easter, Atheus wore blue and white tie-dyed overalls with a huge fluffy ear headband. He matched his outfit with Buddah, who wore a red and white checkered shirt with a headband similar to Atheus but in pink. 
The two of them looked adorable posing for the photos. Most of the pictures are of Atheus standing on the ground while Buddah is on the ledge, with goofy looks on Atheus's face.
Two of the pictures are of both of them sitting on the ground with colorful eggs and a basket with Atheus's name on it. In one picture, only Buddah is on the moon chair while Baby DiCristina fondly smiles for the camera, while on the other one, he joins the pug on the chair.

Atheus DiCristina and Buddah the Pug. (Source: Instagram)
Atheus must have gotten agitated at some point during the photoshoot since there are two photos of him crying as well. Regardless, he looked adorable, showing his two tiny lower milk teeth.
On the 10th post was a video of Atheus, who was enjoying the swing pulled by Sigler with a string while she was having a drink.

Atheus DiCristina crying whilst celebrating Easter. (Source: Instagram) 
Ryan Ashley's Pregnancy Journey
Ryan Ashley and Arlo got married in October 2019 in a private wedding ceremony. Six months later, Ryan Ashley debuted her baby bump via the cover page of Inked Magazine, April 2020 issue, where she posed showing off her tattoo-laden body while delicately caressing her belly. 
The Ink Master star shared her story about how her pregnancy was a brutal awakening and a gift from the universe. 
Pregnancy has taught me that the value I placed on so many things was materialistic, momentary and surface level, therefore, fragile. It's been a brutal awakening learning what's most important, but it has been a gift from the universe, for the hardest lessons are the most important to learn.
Fast forward to a month later, she gave birth to a healthy Atheus, which she announced via her Instagram. 
Since then, precious pictures of Atheus have been posted on his very own Instagram: him with his parents — celebrating New Year's, Valentines' day, and many other occassions with none other than Buddah the pug.