Rally Driver Ken Block Is Enjoying Family Life with Wife and Kids
Ken Block lives with his wife Lucy and their three kids in Utah.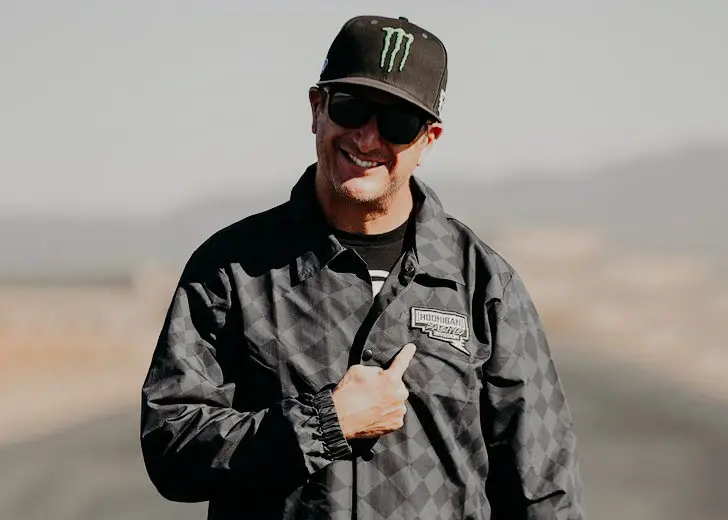 Ken Block is a professional rally driver renowned for racing the heavily modified Ford Fiesta and Ford Mustang around exotic locations.
It turns out the Hoonigan Racing Division owner is also a big-time family man.
Ken reportedly has been married to his wife Lucy Block since July 2004. He has three kids with her - two daughters and a son.
The family of five presently lives in Utah with four dogs - two French Bulldogs, and two Siberian Huskies.
Relishes Time With His Family
The 53-year-old rally driver does not miss any opportunity to spend quality time with his family. 
He often writes about the time he spends with his family on social media and expresses how relaxed he feels around them.
In one instance, he talked about his family trip to Cabo San Lucas, Mexico, through Instagram on April 13, 2021.
He shared a snap of him holding a margarita in his hands, with his wife enjoying the swing and kids playing on the beach of the Sea of Cortés.
Ken also involves his family, especially kids, while modifying his cars and filming content for his YouTube channel. And they seem to love it, too.
On May 7, 2020, the Block family came together, in the absence of Ken's camera crew, to build and film the Gymkhana practice course at home during the pandemic.
"With Gymkhana GRiD coming back to the U.S. later this year...the fam and I went full DIY to create a course," he wrote in his video description.
He Is Private About His Kids
Although the rally champion's kids appear on his social media, he is still private about them. 
Ken has not disclosed all of his kid's names or ages to date, apart from his 13-year-old daughter, named Lia Block.
Lia, the eldest amongst Ken's three children, went to an empty race track at Utah Motorsports Campus with her father in May 2020, where Ken taught her how to drive a manual in a 1978 Ford Escort Mk2 RS.
Ken also helped her learn the proper technique for doing donuts, which she adequately executed later.
His Wife Is an Organic Kitchen Owner
Ken's wife Lucy is a co-owner of Luna's Kitchen, located at Snow Creek Drive, Park City, Utah. 
The description on its website reads:
We are proud to offer the highest quality, freshest ingredients on the market. From our family to yours, we put lots of love and careful attention in each item. We hope you enjoy our work as much as we enjoy bringing it to you.
Lucy, who started her business in December 2017, received best wishes from her husband Ken. He took to Facebook to announce the news and congratulate his wife.
"Big congrats to my wife and business partner/chef Sebastian Silbereis on their new business venture: Element Park City," he captioned the post.
Ken further stated that he was backing his wife's decision to open an organic kitchen in their hometown and happy to see her follow her passion of "making and sharing good food."