Karlie Kloss Shares Rare Photos of Son Levy and Throwback Pics of Her Baby Bump
Karlie Kloss and her husband Joshua Kushner were blessed with a baby boy, Levi Joseph, on March 11, 2021.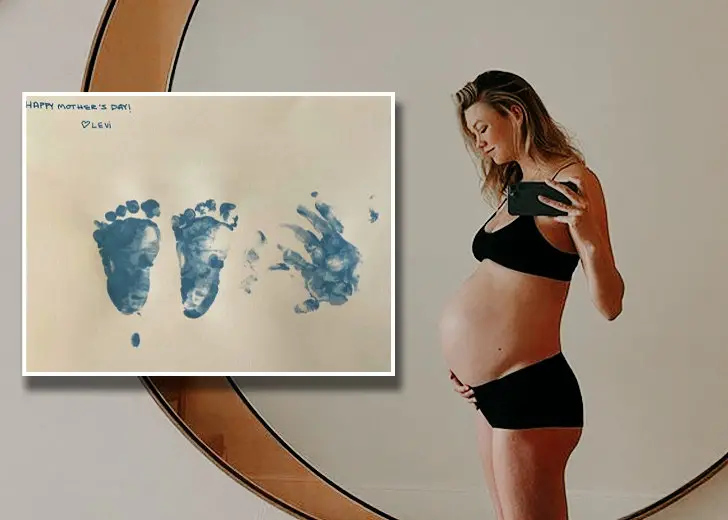 Karlie Kloss shared a special insight into her life as a first-time mother with her fans via Instagram on May 27, 2021. 
The 28-year-old supermodel posted an adorable portrait of herself cuddled up with her 10-week-old son Levi Joseph, as well as never-before-seen pictures from her pregnancy.
While Koss flaunted her baby bump in a mirror selfie in the first picture, another one showed her family members putting their hands on her belly.
The post included a cute selfie where her son was wearing an adorable panda printed onesie, lying on her chest. She also posted a photo of herself pumping milk and a Mother's Day gift featuring Levi's handprints and footprints.
The birth of their baby boy was announced by Kushner on March 14, 2021, on his now-deleted Instagram account. The new father wrote, "Welcome to the world." 
On April 17, 2021, Kloss shared the first picture of her son and revealed the name. She was seen holding her son's hand while wearing an Alison Lou ring that reads "Mama" in the picture.
The Couple Got Married in 2018
Their son was born nearly three years after the 'Kode with Klossy' founder married the millionaire entrepreneur Kushner in an intimate Jewish ceremony in upstate New York in October 2018.
For the wedding, the bride wore a custom Dior gown which took over 700 hours to create. The following June, the couple celebrated their wedding with a star-studded bash in Wyoming that included celebrities like Katy Perry and designer Diane von Furstenberg.
Kloss and her now-husband had been dating since 2012 and were first spotted at a Victoria's Secret Fashion Show after-party in the same year.
However, it's unclear how the high-profile couple met since they have kept their relationship quiet.
Unconventional Ties to Former President Donald Trump
Kushner is also the younger brother of former White House senior advisor Jared Kushner, the son-in-law of former President Donald Trump. Despite not openly opposing him, the couple has stated that they did not vote for him in the 2016 election.
In November 2016, the supermodel shared a picture of herself on Instagram filling out an absentee ballot. As a supporter of Clinton, she used the hashtag #ImWithHer. 
On the other hand, in a 2017 interview with Forbes, Kushner said, "It is no secret that liberal values have guided my life and that I have supported political leaders that share similar values."
During an appearance on Watch What Happens Live with Andy Cohen in January 2020, Kloss was asked about her in-laws' dynamic and her friendship with Jared and Ivanka Trump. Cohen asked her if she and the Trumps were "on the same political page." 
Kloss answered quickly and plainly, expressing her feelings on the subject. "Andy, I'm sure I'm not the only person in this country who does not necessarily agree with their family on politics," she said.