A Look at Late Joseph Siravo's Top 10 Movies and TV Shows According to Rotten Tomatoes
Joseph Siravo passed away at 66. Here is a rundown of the legacy he left behind.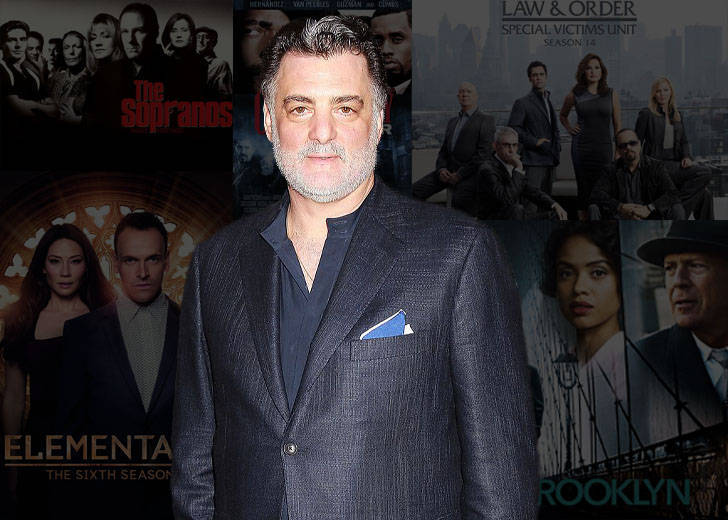 American actor, producer, and educator Joseph Siravo passed away on April 11. His death was due to a long struggle with cancer. 
Best known for portraying Giovanni 'Francis' Johnny Soprano in the acclaimed The Sopranos series, he has left behind a legacy of significant moments in both movies and TV shows. 
As a tribute, below is a list of his ten finest works as rated by Rotten Tomatoes:
Wisegirls (2002)
An aspiring doctor is compelled to return home to Staten Island and work as a server in an Italian restaurant. The restaurant, however, turns out to be a front for a mob, and the police recruit her to spy on the joint. 
Siravo plays a minor role in the movie where Mariah Carey is in it. 
Rotten Tomatoes Rating: 63%
The Search For One-Eye Jimmy (1994)
While making a film about his old neighborhood in Brooklyn, the filmmaker discovers that One-Eye Jimmy is missing. Thus, he switches the narrative of his film to Jimmy and about the people looking for him, 
Again, Siravo plays a minor role. However, the movie also features the likes of Samuel L. Jackson and Steve Buscemi.
Rotten Tomatoes Rating: 68%
Walking And Talking (1996)
A woman is jealous of her best friend and roommate and thus moves out to live with her fiancé. Soon, however, she has a pessimistic outlook on life and has negative opinions about the men she dated in the past. As her cat develops cancer, she puts aside envy and retreats to her best friend for support.
Siravo plays a minor role in this comedy-drama, with Liev Schreiber in it as well.
Rotten Tomatoes Rating: 70%

Siravo in Carlito's Way (Source: YouTube)
Motherless Brooklyn (2019)
A lonely private detective with Tourette's syndrome sets out to solve the murder of his only friend and mentor. Combing through seedy jazz clubs and the slums of the city, he uncovers a web of conspiracies that tie thugs, corruption, and the most notorious man in Brooklyn.
Another minor role for Siravo, but the motion set by Edward Norton as the lead is pure art. 
Rotten Tomatoes Rating: 80%
The Blacklist (2013 -)
An ex-government agent has been on the run from the FBI for decades. He has been working for many criminals worldwide, but he suddenly surrenders himself, promising to help catch a terrorist who was thought to be dead long ago. 
Siravo played his role for the first two seasons in it and is phenomenal. 
Rotten Tomatoes Rating: 80%

Siravo in For Life (Source: Youtube)
Elementary (2012 -)
A modern take on Sherlock Holmes as he investigates crime in present-day New York City as a private consultant to the NYPD. He is assisted by former surgeon John Watson, whose primary task is to keep Holmes sober.
The late actor appears briefly in this one as well.
Rotten Tomatoes Rating: 89%
Law and Order: Special Victims Unit (1999 -)
The long-running series focuses on New York City detectives who deal with sexual assault, domestic disputes, and kidnappings. As the first spin-off of the Law and Order series, this is a show that features many A-List star appearances.
Siravo makes appearances in two different episodes: Coerced (2003) and Turmoil (2009). 
Rotten Tomatoes Rating: 89%
Carlito's Way (1993)
An ex-criminal serves his time in prison and gets out as a free man. However, his past catches up to him against his will and sucks him back into the dark underworld of New York City. As he tries to run away from it all, it sets him further down a dangerous path. 
Siravo stars next to legends Al Pacino and Sean Penn and is an absolute rollercoaster to watch.
Rotten Tomatoes Rating: 91%
In Treatment (2008 - 2010)
The series follows a psychotherapist in private practice who sees patients from Monday to Thursday. As he treats them, he questions his motives and abilities. To treat himself, he takes Friday sessions with his former mentor. 
Siravo's character gets treated on Wednesdays along with his son, a high-schooler who believes his parents hate him for being gay.
Rotten Tomatoes Rating: 95%

Siravo in The Sopranos (Source: YouTube)
The Sopranos (1999 - 2007)
A crime boss tries to find balance with his mob life and family life. He eventually comes at odds with his uncle and other mobsters within the crime family, as well as a rival family, who all put his life at risk.
Perhaps the crowning jewel of Siravo's career, he plays the sensational Johnny Soprano, father to the boss Tony Soprano. 
Rotten Tomatoes Rating: 98%