Joe Buck and Wife Michelle Beisner Are Bouncing off Nicely Together in Life
Joe Buck and his wife Michelle Beisner are bouncing through life together.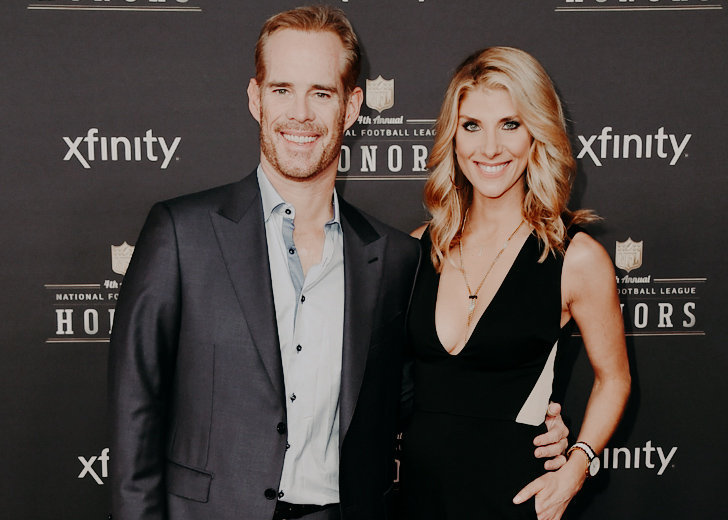 The NFL play-by-play announcer Joe Buck recently celebrated his 52nd birthday. He took to Instagram to celebrate the occasion where he was joined by his wife Michelle Beisner Buck.
The married couple could be seen having fun in a bouncy castle. Both of them expressed their excitement at Buck turning 52 and even sang a little in celebration. 
Buck and Beisner, who is a feature reporter for ESPN, tied the knot on April 12, 2014. The two sports talents are parents to twin brothers — Blake Andrew Buck and Wyatt Joseph Buck.
Joe Buck And Michelle Beisner Buck
Like her husband, Beisner is also involved in the world of football. She was a member of The Denver Broncos Cheerleaders from 1997 to 2003. Out of those six years, she served as a captain for four years. She was also the Pro Bowl representative in 1999.
Beisner started working as a studio host and field reporter for NFL Network in 2006. She appeared in a variety of programs and specials during her time there, including Game Day First and NFL Fantasy Live.
While working for the network in 2012, Beisner caught Buck's attention who approached a colleague of hers to ask for her number. When she first learned of it, she shared she wasn't thrilled about the idea because of her impression of Buck as seen on the TV screens.
The NFL features reporter opened up with The Ringer about her initial thoughts about Buck.
He had this look on his face that seemed so smug and arrogant. [Buck] is the furthest thing from arrogant or smug that any human being could be. I mean, the complete and opposite end of the spectrum.
The two started dating in 2013 and got married the next year. They welcomed twin sons four years into their marriage via in vitro fertilization (IVF). She described it as a very grueling, gnarly process.
Buck Was Previously Married 
Before getting together with Beisner, the NFL play-by-play announcer was married to Ann Carolyn Archambault, who too was a former NFL cheerleader. The two married in 1993 and had two daughters together — Natalie Buck and Trudy Buck.
Buck and his first wife's marriage lasted for nearly eighteen years and they went their separate ways in 2011. They did not reveal the reason behind their divorce but are still very close. They sometimes even spend holidays together with their children.
Carolyn Archambault remarried Scott Kitchel in June 2018 and welcomed daughter Evelyn in November 2019.
Though the age difference between Buck's daughters from first marriage and twins with Beisner is big, they seem to get along very well and have even posted pictures of their giant family together on multiple occasions.