Hunter Rowland Was Once Dating Lea Elui Ginet — His Dating History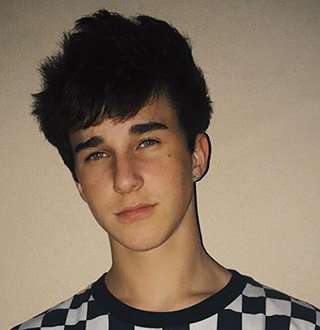 Hunter Rowland is a famed social media personality, with a fanbase on Instagram, YouTube, and live broadcasting sites YouNow.
Actually, he is one of the first popular content creators of the latter social media platform. 
Thanks to his dashing looks and engaging content, Rowland has amassed quite a heavy fanbase. His Instagram alone boasts a fan following of over 2 million. 
And more the numbers of fans, more are the queries regarding his personal life, especially his dating status and his girlfriend. 
Fans Swoon over Hunter Rowland's Shirtless Pictures 
Rowland may be a young influencer. He was born on April 5, 2001, and is at 20 as of this time of writing. 
But don't let the age fool you! Rowland, who has a height of 5 feet and 8 inches, has got quite an impressive number of fans, swooning over him — or his shirtless pictures. 

Hunter goes shirtless in an Instagram post dated January 2022. (Photo: Instagram)
Rowland timely posts shirtless pictures on his Instagram and the comments section gets nothing but praises and dating proposals for him. 
For instance, Rowland posted a shirtless picture on January 28, 2022, flaunting his toned muscular body and abs. He wrapped a towel around his waist and wrote 'ya' in the caption. 
The comment section of the post was flooded with praises. "you so fine," wrote one Instagram user while another added, "hunter ur so handsome I can't."
A third fan showed concern over his shirtless look, saying, "it's cold outside cover up or you'll catch a cold." 
The other one took the matter a step further and asked Rowland to "marry me now."
No wonder, Rowland has a huge fan following, especially females. But has he been anyone's fan? 
Who Is Hunter Rowland's Girlfriend? 
Rowland may have female fans who would want to be his girlfriends but is seems like the social media star hasn't yet found his lucky one. 
That is to say, Rowland doesn't have a girlfriend as of this time of writing. His Instagram has no mentions of a girlfriend or even dating.
That being said, he has spoken of his singlehood out loud through his Twitter.
On January 12, 2021, when Joey Birlem stated he was single in a Twitter post, Rowland replied with "single buds."
Months later, on September 24, 2021, his brother Brandon Rowland also confirmed his singlehood. Brandon posted his picture and announced, "ladies.. he's single @HunterRowland."
Maybe, Rowland doesn't have a girlfriend now because he may be busy enriching his net worth through professional endeavors and tours. 
But he did have a girlfriend in the past. 
Hunter Rowland Was Once Dating Lea Elui Ginet
In early 2018, Hunter started dating fellow social media star Lea Elui Ginet. 
Although Lea lived in France and Hunter lived in America, both managed time for each other.
They were even vocal about their relationship and timely posted pictures on one another on their social media handles.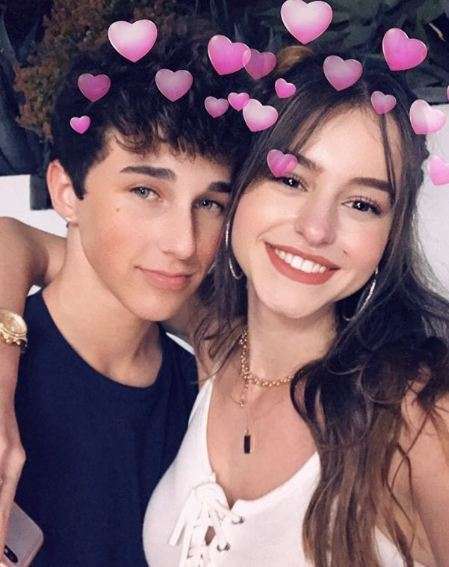 Hunter Rowland referred to his then girlfriend, Lea Elui Ginet, as monkey love on Instagram. (Picture: Lea Elui Ginet/Instagram)
Not only that, but they would hang out on Instagram with their fans. Also, they went to Paris together and spent some quiet time away from social media in 2018.
But their budding relationship took a nasty turn when Rowland broke up with Ginet allegedly without letting her know.
In early 2019, he posted he was single on Twitter.
Soon after the shocking tweet, Ginet took to the Instagram story to say she didn't know about their breakup until she found his tweet. 
Then she started expressing her grievances towards Rowland in his IG Live. "You break up with me on twitter and go live?" she questioned in one of her comments. 
Following that, Rowland invited her into his live session, and she joined. She questioned out loud why he would make their personal matter public, before breaking into tears and ending the call. 
In the light of the split, Rowland and Ginet unfollowed each other on social media, deleted their pictures, and parted ways.
While Rowland is currently single, Ginet is dating fashion model Scott Morton.