Criss Angel and Wife Shaunyl Benson Are Parents to a 'Superhero'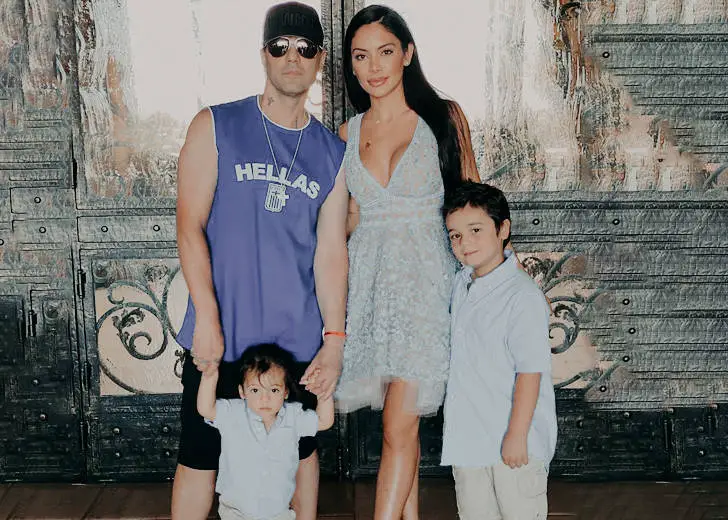 Illusionist Criss Angel and his wife Shaunyl Benson are the parents of a cancer warrior. The couple's oldest son, Johnny Christopher Sarantakos, was diagnosed with cancer in October 2015.
Angel, whose real name is Christopher Nicholas Sarantakos, has since partnered up with Olivia Hope Foundation and Redline Steel to raise money to fight childhood cancer.
He also runs a charity foundation named after his kid, Johnny Christopher Children's Charitable Foundation, whose goal is to raise awareness regarding pediatric cancer, provide funds for research, and ultimately cure it.
While Angel and his wife Benson are both actively working towards helping cancer patients and their son, the fact that he shared a son with her was completely unknown just until he shared his kid was battling cancer.
Criss Angel's Son Was Diagnosed with Cancer at 20 Months Old
Angel was previously thought to be single until early 2015 when he got married to his girlfriend Benson on February 17, 2015.
The famed magician was in his late 40s while his wife was 23 at the time of the wedding.
Just days before the wedding, he had admitted that he shared a child, Johnny Christopher, with the Australian actress and that Johnny was diagnosed with acute lymphoblastic leukemia.

Criss Angel's eldest son Johnny Christopher Sarantakos. (Photo: Instagram)
Johnny was just 20 months old at the time, and the magician revealed the news via Twitter.
It was also the first time Angel spoke publicly about having a child. Since then, both Angel and Benson have worked actively to raise awareness for pediatric cancer.
Benson describes herself as a "mother to a cancer warrior" on her Instagram. She wished Johnny Christopher a happy 7th birthday on February 17, 2021, and called him her hero.
Angel and his wife Benson welcomed their second son, Xristos Yanni Sarantakos on January 22, 2019. 
"Born January 22nd 5:03pm, 8 pounds exactly!" Benson wrote announcing the arrival of their kid on Instagram. She posted a family picture of their newborn baby boy and shared that she had given a natural birth at 39 weeks. 
Two years later, the married couple welcomed the third addition into their family — daughter Illusia Angelina.
Angelina was born prematurely at 35 weeks on November 5, 2021.
She was delivered through an emergency C-section and was admitted to NICU right after birth and hospitalized for two weeks. 

Criss Angel's family: wife Shaunyl Benson and their three children. (Photo: Instagram)
After she was brought into their house, Benson uploaded an Instagram post, celebrating her daughter's recovery. 
"the scariest night of my life since my oldest son Johnny was diagnosed with cancer in 2015," Benson wrote, referring to the night her daughter was born.
She then thanked God that their daughter was alive and safe.
"She truly is a miracle," she penned, thanking her spouse for his unwavering support, "another traumatic experience together but I wouldn't want anyone else by my side but you."
Criss Angel and Wife Help Families Battling Pediatric Cancer
The Mindfreak magician and his family has been waging his battle against pediatric cancer.
He and his wife teamed up with Olivia Hope Foundation and Redline Steel in 2020 to raise money to fight childhood cancer.
His wife spoke up about the partnership with People and mentioned that helping organizations dedicated to raising awareness for childhood cancer meant a lot to her family.
She urged everyone to get together and pool their efforts to beat pediatric cancer.
The illusionist has also contributed a fair share towards the cause of beating childhood cancer through his Johnny Christopher Children's Charitable Foundation.
On top of raising awareness and funds for treatment and cure for childhood cancer, the foundation also helped families in need during the pandemic. Angel talked to Extra TV about their family effort.
Because of the COVID-19 virus, they [family of pediatric cancer patients] lost their job. And they had to make really… decisions that no one should ever be faced with you know. Am I gonna buy a drug to treat my son or daughter or am I gonna put food on the table. So, the Johnny Christopher Children's Charitable Foundation… we fed over 50,000 meals for 150 families for approximately 8 weeks.
Benson too has been doing her best to raise awareness regarding childhood cancer and often posts about her son's battle against leukemia.