Criss Angel Kept His Marriage to Shaunyl Benson and Their Son a Secret for 2 Years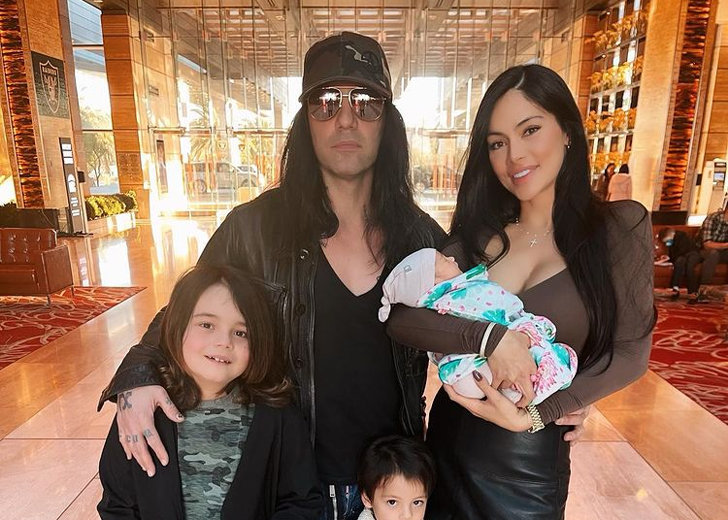 News that Criss Angel had a wife and son came out in 2015. But he'd been married for a year by that time.
TMZ claimed to have acquired a marriage certificate that stated Angel had tied the knot with his wife, Shaunyl Benson, on February 15, 2014.
The revelation came right after the celebrity magician admittedly said he was the father to a 20-month-old son, Johnny Crisstopher Sarantakos.
Criss Angel Revealed His Wife and Son
Prior to making the news related to his private life public, the Mindfreak magician announced the postponement of his show in Las Vegas.
"In the light of a family emergency, the news I was going to announce this weekend will be postponed. Thank you xc," he tweeted.
Later, in a follow-up tweet, Angel revealed his baby boy had cancer by sharing a picture of Sarantakos, who was on his fourth day of Chemotherapy.
"4th day chemo treatment - Johnny [Sarantakos] & I can't thank u [you] enough for the overwhelming outpouring of love, prayers & support #amazing #curecancer," Angel wrote.
Sarantakos was diagnosed with acute lymphoblastic leukemia, a common type of cancer affecting young children, reported the Daily Mail.

Criss Angel with his wife Shaunyl Benson and his children posing for a photograph. (Photo Credit: Instagram)
However, three weeks before his announcement, the entertainer denied being a father during his conversation with a Cleveland-based radio station.
Angel was previously married to JoAnn Winkhart, but unfortunately, the couple decided to go their separate ways following a 2006 divorce, ending their marriage of four years.
Presently, he is also a father to his other two kids, a son, Xrtistos Yanni, born on January 22, 2019, and a baby daughter, Illusia Angelina, born in the early week of November 2021.
Criss Angel's Son Is In Remission
On January 18, 2022, Angel announced his seven-year-old child's cancer was in remission.
The magic man took to his official Instagram account and posted an emotional video accompanied by a lengthy caption.
In the opening exchanges of his text, Angel wrote, "Today our son Johnny Crisstopher will finally ring the bell symbolizing his remission and the end of his treatment."
Further, he claimed that no television network or streaming platform would be airing the short film they made documenting his little boy's fight with cancer.
Therefore, Angel asked his fans' kindness in reposting or sharing the video's YouTube link on their social media accounts so that the nearly fourteen-minute clip would get a wider reach.
Toward the end, the television personality asked for support in the form of donations to raise awareness and money to help other kids battling cancer.
"THIS IS THE MOST IMPORTANT POST I HAVE EVER MADE," Angel wrote in the YouTube video's title while the short film was named 1095, in recognition of the number of Chemotherapy Sarantakos underwent during his treatment.
The video showcased the family's multiple visits to the doctor, his son's treatment, and Angel's emotional exchanges with his wife.
Also included are his messages claiming he hoped to raise "hundreds of millions of dollars" to help kids with cancer because he wanted to be remembered as someone who was selfless in helping kids with such chronic illness rather than a magician.
Before his recent remission, Sarantakos had a brief remission in 2019, but unfortunately, the family's happiness was short-lived after his cancer came back.