Aidy Bryant's Husband's First Meeting with Her Mom Didn't Go Well
Aidy Bryant recalls the disastrous first meeting of her mom and husband Conner O'Malley on 'Late Night with Seth Meyers.'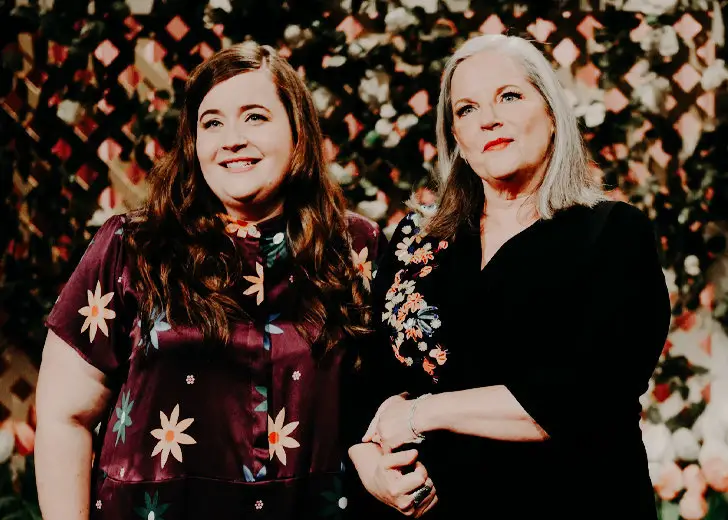 SPOILER WARNING: Plot and ending details for Shrill follow
Since her debut on Saturday Night Live, Aidy Bryant has entertained viewers with her slew of characters, including the recurring Girlfriends Talk Show sketch.
As a comedian, she cannot help but dish out jokes wherever she's presented with the opportunity to do so, especially on TV show interviews. 
In an interview on Late Night with Seth Meyers, Bryant recalled the disastrous time her then-boyfriend, now husband, Conner O'Malley met her mom for the first time. She shared that her mother was in town, and they were going to dinner with O'Malley, who picked them up in his jalopy. 
On the way back home from dinner, it started raining profusely. The comedian explained that since the windshield wipers were not working, she and O'Malley, sitting in the front, had to control the wipers manually, making a lasting impression on her mother. 
Relationship Goals
This is not the first time Bryant has shared stories about her husband. She frequently talks about him and their lives during interviews. In April 2018, Bryant married her then-boyfriend and fellow comedian O'Malley, which she later announced in an Instagram with a wedding photo. 
The pair met in 2008 while working on a show together. She revealed on Live with Kelly and Ryan that the next day they saw each other again. O'Malley asked for her number and the rest is history.
Bryant recounted her engagement story during an appearance on Late Night with Seth Meyers in April 2017. 
The starlet shared that she came home from work and saw her dog wearing a bow tie, which she found odd.
Basically, the second I shut the door, a man, who I discovered was Conner, frantically came around the corner and was just like, 'Will you marry me?!' No box. No 'I love you' ... just a man in full terror.
She initially thought Conner was pulling her leg, but she eventually said yes when she realized O'Malley was serious. 
While O'Malley is not as renowned as his wife, he is one of the Vine stars who went to have major careers. Back in 2014, he was hired as a writer and performer on Late Night With Seth Meyers after his comedy videos on Vine gained a following.
The Final Season
Besides being renowned for her SNL sketches, the comedian was busy wrapping up her own show, Shrill. The last and final season aired on May 2021.
For three seasons, viewers saw Portland writer Annie (Bryant) and her BFF Fran (Lolly Adefope) navigate relationships, celebrate triumphant successes, and learn from professional failures. In the final scene, the besties are seen sitting on a park bench and sipping warm champagne directly from the bottle, commiserating over their messed up loves lives while celebrating the fact that they always have each other. 
The ending was considered somewhat ambiguous, but Bryant told Refinery29 that the purpose of the series was not to show happy endings but rather to show that both women had matured and now have the tools to either repair their relationships or move forward learning from them, which had been impossible for them at the start of the series. 
Despite the bittersweet feeling of Shrill ending, Bryant is excited about new possibilities.